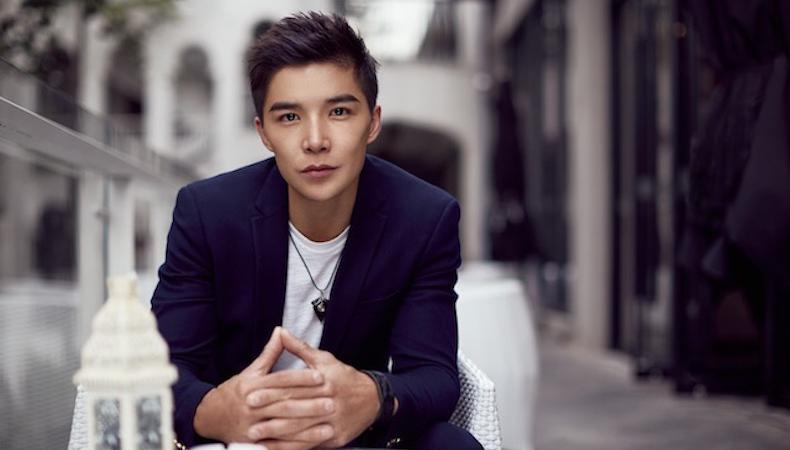 Go, go Ludi Lin! The Chinese-Canadian actor—who's starring now as Zack (AKA the Black Ranger) in Lionsgate's "Power Rangers" reboot, in theaters now—swung by Backstage's Downtown Brooklyn offices to chat about his early acting inspirations, how he stays so fit, and the importance of diversity in Hollywood.
He's bringing depth to the Black Ranger's new origin story.
"I remember when I was watching the 'Mighty Morphin' series, not that it doesn't have its own magic to it [with] these kids suddenly getting zapped at random, right? But I was really excited [to play Zack]. A lot of people have asked me if I feel a responsibility to the series, but I was just excited because I get to go back and really deepen these characters and tell their story and tell their background and where they're coming from and put my, for lack of a better word, own art into it, myself into it, and really make this character happen."
He was inspired by watching his mother perform in China.
"[My mom] sang Chinese opera in my own hometown. And I just remember being mesmerized by her onstage. She had full makeup and they always had banners sticking out the back. She'd come out onstage, and this banshee scream would come out of her throat. It's really attention-catching, you can't not watch it. Ever since, I've moved around a lot. I was on my own, but I was always fascinated with film and TV and stories. I liked to tell stories and I loved to hear stories. And I started studying theater in Vancouver. And then when my mom found out, she was like, 'You can't do theater, you've gotta do something for real. Either doctor or lawyer.' So I started studying dietics, but I never gave up on theater. I did both at the same time. And then after I finished theater, I started studying film, and I actually liked that a lot more as a medium. I find it way more interesting. And hopefully someday I might go into producing. I'm learning how to write right now."
He says you have to be relaxed to nail an audition.
"I find that a lot of actors get into this struggle. They're struggling artists, this vicious cycle. 'Cause man, I feel ya—acting classes aren't cheap…. Acting classes are great, but I think also, you can't be mired in this heavy weight when you're acting. Especially as an Asian actor myself, I find that if you get mired into this melodrama all the time, you only get melodrama or, like, slapstick comedy. Those are the two modes. But you lack all the complexities and intricacies of being a real person. And that all goes back to say in acting classes, you do a lot of relaxation, and I didn't understand why relaxation was so important in the beginning, but basically, it's to take all that weight off. When you take that weight off, you really do goofy things. The riskier choice you can make and if you can really make that work, then that really leaves an impression. So just relax and go for it."
He does most of his own stunts.
"All the cast, we did as much [of our own stunts] as possible. When we were filming, the director really wanted a specific vision for the way he wants the action to take place, so we did a lot of [single shots]. A lot of the camera crew just came off of 'The Revenant,' so they were perfect for shooting that. So it's hard to splice stunt doubles in between. But our stunt doubles, every time there's action, they're always there with me. Like, my main stunt double, Brian Ho, he was there all the time making sure I'm safe, and for the things that I can't do insurance-wise or otherwise, or I'm just incapable, he takes over. Sometimes I joke that I'm just a face double for him, but it's true!"
He stays fit through functionality.
"I think looking fit is fairly easy. Being functional, that's another thing. But I have this one rule for myself: If I can't do anything [and] make it last for the rest of my life, then I don't start doing it at all. Any results you get from a short-term thing, that's going to go away, and that's not what I'm after. So my secret? There's really not a secret. I truly enjoy exercise. I try to do different things and gain function and never really focus on how I look, although for some shows, I really have to watch my appearance. Like, for 'The Power Rangers,' to make sure that we could still fit into the suits, we had weekly measurements taken. But yeah, nutrition, in terms of looks, is a huge part of it."
He wants to contribute to diverse Asian narratives in film and TV.
"Conversations like [diversity in film] I like to stand up for because…the whole subject of whitewashing, that doesn't exist in China. China is not an immigration country. But working here, and being Canadian, as well, I do believe that people deserve to be represented in their community and within the place that they live. They're not outsiders. It doesn't make sense for someone to want to get rid of your own people. They're Canadians just like you, they're Americans just like you. So I do feel an injustice. And obviously for selfish reasons for myself I do want to play more complex roles and roles that people actually put more time and thought into."
Want to play a superhero on the big screen? Check out our film audition listings!