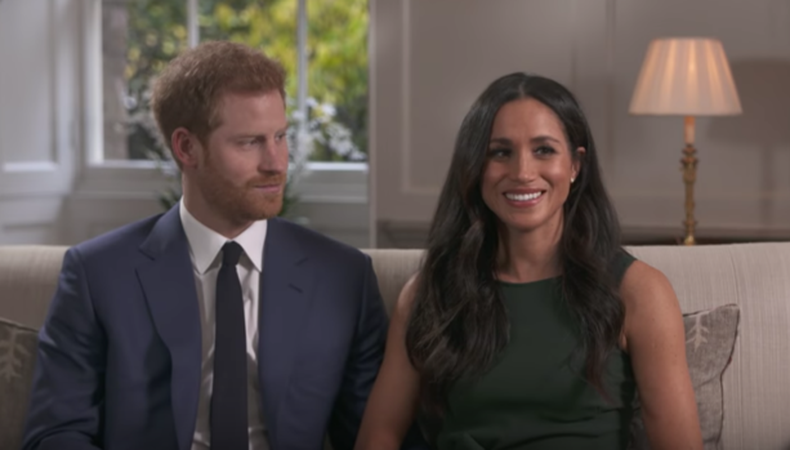 The story behind the upcoming royal wedding sounds like the plot of a movie. In fact, it is sort of the plot of several movies out there already. Meghan Markle and Prince Harry's love story may mimic so many fairy tale fictions, but Lifetime is turning things around and making a movie out of this true story in "Harry & Meghan: A Royal Romance."
It's no surprise they threw this film into production in advance of the May 19 nuptials. Back in 2011, the prolific TV movie network released a movie based on Prince William and Kate Middleton's roller coaster relationship that led them to the altar at Westminster Abbey soon after its release. Prince Harry and Meghan Markle's relationship created a media frenzy practically overnight when the news of the relationship leaked in the fall of 2016. Lifetime is tapping into the ongoing worldwide interest with a ripped-from-the-headlines small screen romance that will show a fictionalized account of what happened behind closed doors.
The official news of the film was announced last month with few details beyond who would write and direct the story (Scarlett Lacey and Terrence Coli, and Menhaj Huda, respectively), but just a few days ago came the news that the cable network found their prince and future princess. Parisa Fitz-Henley, a true Markle lookalike, and Murray Fraser will play the royal couple, and an Instagram post from Fitz Henley herself confirmed that production began this week in Vancouver, Canada.
With only about three months until the movie airs, the shoot is likely to move quickly. As of now, there are only two other actors that have been announced in addition to the leads attached to the TV movie, Trevor Lerner as Tom Markle and Robert Lawrenson as "Reynolds." Rob Kelly and Kerry Mailey, who (appropriately) cast the upcoming season of "The Royals" (a show Huda has directed, also appropriately), are filling out the movie's roster.
The plot of the film, although "unknown" is more or less known, but because there has been no confirmation of exact details and events that will appear in the film, it's also hard to say which supporting players in Prince Harry and Markle's lives will get cameos in the movie. Markle and British royal family lookalikes should try to get into that audition room regardless. While additional casting continues in the coming weeks, there will also likely be background work available in Vancouver during the course of filming. Keep an eye out!
Check out Backstage's TV audition listings!