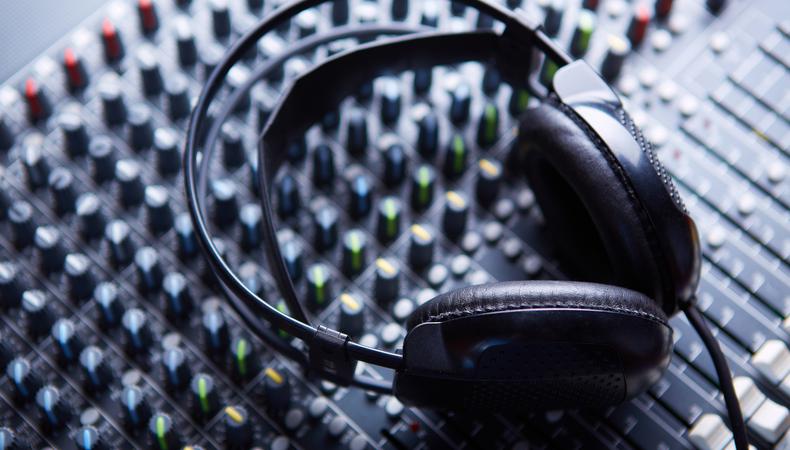 Production Sound Mixer Job Description: What Does a Sound Mixer Do?
If you're looking for a sound job that puts you in the heat of production, aim high for a job as the production sound mixer, the most important sound position during a project's pre-production and production period.
A mixer is responsible for pre-production tasks like choosing the audio equipment, visiting locations to evaluate potential audio-related problems, and hiring the sound team. They will also meet with the director to determine the desired sound, what technical requirements there will be, and budget.
During production, they are responsible for recording audio effects on set, including dialogue, background noise, and room tone. Part of that means they have to mix audio in real-time, balancing volume and quality to ensure the audio will work in editing for the final product. As a result, the mixer/recordist will be responsible for evaluating the quality of audio in each take and asking for retakes as needed.
Throughout production, the sound mixer maintains a log of audio-related that cannot be correct in real-time, working closely with the re-recording mixer and other post-production sound crew members.
A production sound mixer has to be as much of a filmmaker as the cameraman has to be, understanding context and the director's intent. According to "The Hateful Eight" production sound mixer Mark Ulano, your ability to understand intent and context—and to respond intuitively—is what will create flow on the set.
"It all goes towards the idea of constructing…a mix in the moment that's a lot like playing a musical instrument that keeps us inside that character," he says. "That's my threshold: when we watch it as an audience, are you believing that this is this character and they're in this environment having this journey? Everything that we do supports that."
Department
Sound
Alternate Titles for Production Sound Mixer
Location sound mixer, location sound recordist, location sound engineer
Crew Hierarchy
The production sound mixer is the senior-most sound position and the department head of sound in pre-production and on set. They report directly to the director and DP while managing the sound team, including boom operators and sound assistants.
Production Sound Mixer Salary
Audio and video equipment technicians earn a mean hourly rate of $23.53 or an annual mean salary of $48,940, while sound engineering technicians receive a mean hourly wage of $30.53 with a mean annual wage of $63,500.
A sound mixer's earning potential will depend on several factors, including the size and budget of a production, as well as experience. For these reasons, PayScale puts a sound mixer's annual salary between $34,000 and $128,000 (an average of $59,173), with an hourly rate between $12.22 and $75.99 (an average of $29.48).
Sound mixers are represented by IATSE Local 695, which covers sound and video engineering and studio projection technicians and sets standard minimum rates for union productions.
How to Become a Production Sound Mixer
There's no one way to get started as a sound mixer. In George Wilson's case, the Oscar-winning sound mixer for "1917," he found his first jobs by knocking on the doors of production companies, asking if he could help out.
"Most of what I've learned has been on the job," he says. "If you're starting out, it's good to keep working on all kinds of projects: any shoots that are going on, amateur or professional. You'll be expanding your skills, your contacts, and your reputation, then one thing leads to another."
In Wilson's case, he began volunteering on professional shoots until he got on a trainee scheme where he was attached to various production assisting in different departments— not just sound. From there, he worked as an assistant until he began recording sound for videos and documentaries.
Most sound mixers will follow a similar trajectory and will usually work in entry-level sound team positions, such as boom operators, production assistants, and sound trainees. The key is to be open to all experiences and all departments as you climb the ladder.
Production Sound Mixer Required Experience + Skills
Like Wilson, when you get started in the field, you may have to work in other departments, so training in as many production and post-production areas as you can is a major benefit. This can include educational and/or field training; there are no educational requirements to becoming a sound mixer, but audio training of some form will be required.
Part of this will include acoustics training and learning sound equipment and devices, as well as sound's relationship to the environment. "You can't select what is recorded with a microphone the same way you can with a camera lens," says Wilson. "A microphone records the movement of the air all around it. The conditions need to be right to record the appropriate sound for the scene."
The sound mixer must also be able to understand the sound's relationship to the visual. According to Jeff Wexler, veteran production sound mixer of such films as "Independence Day" and "Almost Famous," the first thing he does when he gets a script is to do a script breakdown, reading based on his experience and highlighting the scenes that may be difficult.
"It's to try and get early control over the shooting environment," he says. "One of the big rules of production sound recording is it's much easier to add things to a soundtrack than it is to take things away from it."
The most essential skills you can have as a sound mixer—in addition to listening—are respect, cooperation, and negotiation. A good sound mixer will be self-motivated and able to work with every other member of the film unit to create the best product, including the actors. And vice-versa: according to "American Crime" production sound mixer Ben Lowry, working with sound mixers can make you a better actor because the sound mixer supports the actor's performance.
For more on how to get work on a film crew, visit Backstage's crew hub!