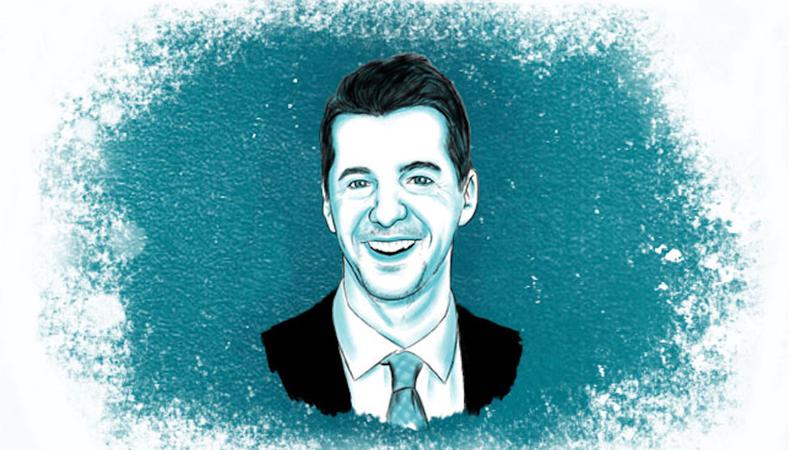 After his first Broadway run with Jim Parsons, God is coming back to the Great White Way in "An Act of God"—this time in the body of Emmy winner Sean Hayes ("Will & Grace")—to communicate his updated Ten Commandments. Here, Hayes discusses bringing the show from the West Coast to NYC and what he'd be doing if he hadn't become an actor.
Tell us about bringing "An Act of God" to Broadway.
This is such an opportunity and such an important play to me because I've been fascinated with religion my whole life. I love the message in the play, and I love that it's delivered in such a smart, witty, clever, funny way. I haven't been on Broadway in six years and I'm thrilled to be back. I get to see all of my friends and be immersed in the Broadway community that I missed so much. I truly love everybody in it. They are the warmest, friendliest, funniest group of people anyone would be lucky to be associated with.
On whom do you have an acting crush?
I have talent crushes on Fred Armisen and Kyle Mooney. [I love] everything Fred does, and I'm just a huge fan of Kyle's on "SNL." And I have a huge talent crush on Martin Short, Tom Hanks, Steve Martin—all the legends.
How do you typically prepare for an audition?
The only thing that's required of an actor for an audition is to memorize your sides with confident choices, and then the rest is not up to you. You're either right for a part or you're not. So the only thing I do to prepare is go in with confident choices and go in completely off-book. I think now it's more competitive than ever before. I think actors will go in completely memorized, and that says a lot about somebody who's holding the sides and referring to them. That tells me that you didn't want to take the time to take this seriously.
What do you wish you'd known before you started acting?
I just wish I would've known how to write, and I wish I would have known the business better. We all have the opportunity to educate ourselves about the business, but a lot of actors don't want to and just like dealing with their agents and that's it. That's a wonderful life to live, but I want to know more. I've always been thirsty to know why decisions are made, why decisions haven't been made, what goes into making decisions, what makes things go forward, what makes them collapse—all of the information. I just like to know as much information as possible, and that's a blessing and a curse.
In the alternate universe in which you aren't an actor, what would you be doing?
I enjoy construction and the process of building things, so maybe I'd be a developer of some kind—residential and commercial. Because I produce a lot of television now, I enjoy building things from the ground up, whether it's a physical structure or a show, and seeing them and realizing them.
How did you get your SAG-AFTRA card?
I got it doing a McDonald's commercial. It was two guys—me and my buddy—taking two girls out on a date, and he was the good-looking one who had all the money and the car and all that. It was called "Don't Worry About It." I was like, "Where are we going?" and he was like, "Don't worry about it." I was the worried nervous guy, which, clearly, is obvious typecasting. I was coming up with the questions and then my date got in the back seat and I leaned up to him and I said, "How are we gonna afford it?" And he said, "Don't worry about it." I don't remember the rest of it, but it was so funny because he was a gay guy as well.
What was your most memorable survival job?
I was the music director at a dinner theater called the Pheasant Run Theater in the suburbs of Chicago, and that was my side gig while I acted. When I moved out here I was a food runner at a restaurant in L.A. I had odd jobs. I delivered flowers for a second. I got a lot of accompanying gigs because I play piano. I accompanied choirs and kids' shows and stuff like that. My major in college was piano performance; I studied it for like 20 years.
Which of your performances has left a lasting mark on you?
Definitely this one. "An Act of God" is just… I can't emote enough about how personal it is to me, and I love the humor of it, and I love the message [to look within yourself for the answers]. This role and Jack McFarland on "Will & Grace" are probably two of the most important things I've done.
What's your go-to audition song?
Still, to this day, it's "It Only Takes a Moment" [from "Hello, Dolly"]. It's B flat and just fits perfectly in my voice, you don't go higher than an E flat or an F. That song, just the vowels and everything, fits perfectly in my voice.
Like this post? Check out more of our Backstage 5 interviews!