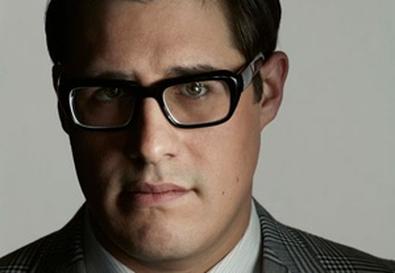 Even after embodying the awkward but likeable Harry Crane for five seasons (and counting) on AMC's "Mad Men," Rich Sommer knows the '60s will have to come to an end eventually, so he's girding himself for the inevitable day when he leaves the offices of Sterling Cooper Draper Pryce for good. The actor has augmented his growing resume with guest spots on TV shows like "The Office" and "Ugly Betty" and appearances in web videos for "Funny or Die"; he is now in New York rehearsing for this summer's Broadway revival of "Harvey," while also attending the world premieres of his new films "Fairhaven" and "The Giant Mechanical Man" at the Tribeca Film Festival.

In the final chapter of our three-part Q&A with Sommer, Back Stage asked the actor about preparing for life after "Mad Men," how fictional onscreen friendships become real off-screen relationships, and his tweet heard 'round the world.

Back Stage: It seems the cast of "Mad Men" has as much of a bond behind the scenes as you do on screen. Do you credit the casting directors with inadvertently creating new friendships?

Rich Sommer: Absolutely. Michael Gladis [who played Paul Kinsey in the first three seasons of "Mad Men"] is one of my best friends in L.A., and that is 100 percent because of "Mad Men." Michael and Aaron Staton, who plays Ken Cosgrove, and I were all cast at the same time in New York. Aaron had been on Broadway for a year at that time doing "Mamma Mia!," I had just shot "The Devil's Wear Prada," and Michael had been working in the city for nine years and had been in a billion plays. We were all coming at it from our own little place, and we found each other and we all hit it off famously. Bowling/Miscia Casting, ["Mad Men" creator and executive producer] Matt Weiner, and Alan Taylor, who directed the pilot, have been a big part of creating what have become long term friendships.

And then on top of that is putting parts of our relationships behind the scenes into our characters. Michael Gladis and I are very snippy with each other, we give each other a lot of grief about everything, and Paul and Harry were very similar to that. Matt could pick up on those rhythms pretty easily, and there are even certain lines that we've said to Matt that then got written into the show.

Back Stage: When Gladis left the show at the end of season three, but you and Staton remained in the cast, did it affect your relationship with each other?

Sommer: We always talk about the "golden handcuffs" on "Mad Men," or any show that you're contractually tied to. You're locked down, but it's not a bad way to be locked. We can't complain. So it was a bummer that Michael was leaving the show, but also exciting for him to kind of be the first baby bird out of the nest. We were raising glasses to his newfound freedom, in that he was one of the first to get to go out and capitalize on what "Mad Man" had done for his career. He's done several independent films, he's done a bunch of guest spots on TV, and he really has full freedom.

I'm nervous and excited to see what happens when I'm not a part of the show anymore. If you offer me the two options, I choose to stay with the show forever. But who knows? There's a lot of fun TV being made right now, there are a lot of fun movies being made right now, and it will be exciting to be in a position to at least be available for those things.

Back Stage: Before production began on the current season of "Mad Men," you caused an Internet uproar when you tweeted, "I have no idea if there will be a season 5 of 'MM.' I am operating under the assumption that there won't be, until I hear otherwise." We understood that you were speaking as an actor who is always uncertain about booking his next gig, but did you get in any trouble from AMC?

Sommer: I did get in trouble from AMC, especially the PR people. The phone just began ringing and ringing and ringing, and I can understand why that was frustrating to them. But I maintain, and always have maintained, that I said nothing wrong.

Back Stage: Were you worried about losing your place on the show as a result?

Sommer: I got in zero trouble from Matt Weiner. Matt was in support of it, because everything I said was true. The show had not been picked up yet. I was saying, yes, "Mad Men" has a loyal following, which we are very grateful for, but there are no guarantees. If nothing is written on paper, then there's no way to know what's going to happen. So as an actor, I have to prepare for that possibility at any time. The rumor was we were going to be picked up [for a fifth season], but people were always asking me in person and on Twitter and in interviews, "When are you going be picked up?"

My mistake was trying to say this in under 140 characters, but my response was basically, "I don't know when we're going to be picked up, I don't know if we're going to be picked up, and as far as I'm concerned I have to operate under the assumption that we won't." That's all I said. As an actor, I am used to jobs going away. I'm more used to being out of work than having work, and that hasn't changed with "Mad Men." I'm very, very fortunate to be in the job that I'm in, and I would love for it to continue forever, but it won't. I have to financially and emotionally prepare for the day that "Mad Men" will go away, because who knows what my next job is going to be? The work that I've gotten in the hiatuses seems to indicate that I will have a little more work after "Mad Men" than I did when I was scraping by while I was temping in New York, but who knows? People very easily could be like, "Meh, we're done with that. We've got Jon Hamm. We're good without the weird one with glasses." So I'm ready for that, or trying to be ready for that.

Before "Mad Men," I definitely had very dry spells and I know what those feel like, and I don't think that ever leaves you as an actor. I think Dustin Hoffman said in an interview a year or two ago that he's always afraid that whatever job he's on is going to be his last job. Shit, if Dustin Hoffman says that, Rich Sommer better say it.

Q&A Part 1: How 'Mad Men' Actor Rich Sommer Creates His Characters

Q&A Part 2: Rich Sommer on Improv, Auditions, and "Harvey"

For the full 2012 Tribeca Film Festival schedule and to purchase tickets, visit TribecaFilm.com.