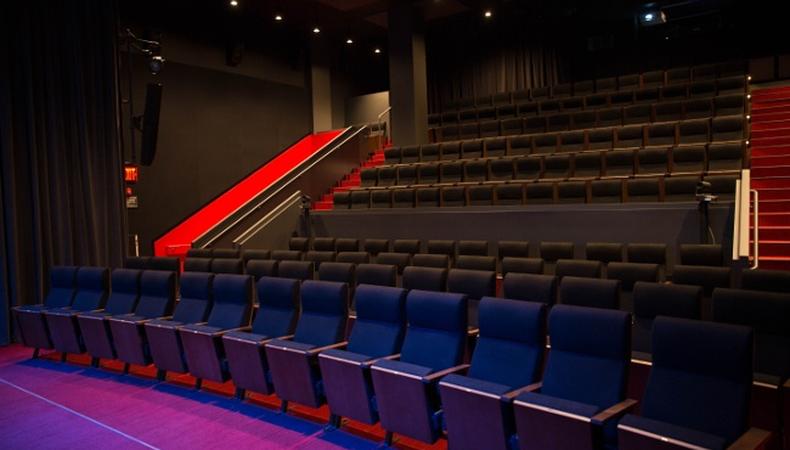 Big news for New York–based SAG-AFTRA members: Oct. 5 marked the SAG-AFTRA Foundation's grand opening of its New York City screening room and education space, the Robin Williams Center for Entertainment and Media.
Named after one of the industry's most legendary talents, the Center is officially the new home of the Foundation's "Conversations" and "The Business" education initiatives and a 154-seat, 4,000-square-foot screening room and theater. According to a press release, this space will hold "intimate Q&As and career retrospectives with the world's greatest actors, casts, and industry leaders."
"It's a tremendous milestone, and really cements us in the heart of the city, letting actors know that they now have a home," SAG Awards Committee Chair JoBeth Williams told Backstage of the Foundation's new space. The Center will be where over 150,000 union artists can now find free professional programming for the next 20 years thanks to a currently running capital campaign to raise $16 million. (For more information on how to donate, visit sagaftra.foundation.)
"We want all of our union members to know that this is their space. This is their home," Williams continued. "No one really gets actors except other actors and people in the business, and it can be very lonely and isolating. This Center will help change that."
READ: "5 Reasons Why You Should Register for the SAG-AFTRA Foundation"
Technologically speaking, the Center also boasts state-of-the-art design and execution with "the newest technology in every field," including 4K HD Christie Digital Cinema projection, digital cinema surround sound, fully programmable theatrical lighting, and a 25-foot wide screen.
"What we may be most excited about is the multicamera recording and broadcasting so that we will now have the capability to not only record, but to livestream our New York programming," Williams enthused.
The new Robin Williams Center is located at 247 W. 54th St. between Eighth Avenue and Broadway, conveniently on the ground floor "to be accessible to the multitude of actors hitting the streets looking for work," Williams said. "It also plants a flag saying the SAG-AFTRA Foundation is here to support the community of actors and performers who we serve." But don't worry, SAG-AFTRA members are still invited to take advantage of the Foundation's offices and educational facilities at 1900 Broadway for its EIF voiceover lab, casting courses with noted industry casting teams, and tech courses in website design, Photoshop, audio and video editing, and more.
Benefits aside, the Robin Williams Center for Actors, Broadcasters and Recording Artists will also serve as a lasting honor to the late Academy Award–winning actor. When the time came to name the Center, there were several worthy actors up for consideration, but "the name that kept surfacing again and again was Robin Williams," said Williams.
READ: "Robin Williams Talks Broadway and Club Comics at the Comedy Awards"
"He is a touchstone for every member of our community and someone whose legacy will live on through the years," she continued. "What was especially touching about this process was the response we received from his family. This is the first time they've agreed to lend his name and we were so incredibly honored that they granted us this privilege without hesitation. It really pushes the bar higher to ensure the Center lives up to Robin's amazing legacy."
Inspired? Check out our film audition listings!