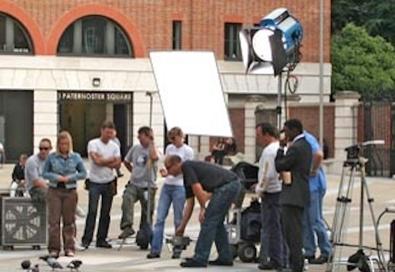 Jonah Hill had no idea what day it was until his phone began exploding with calls and texts. Armie Hammer was asleep when he got the call, as was Demián Bichir.
Bérénice Bejo was in the midst of Skyping with her father when she got the news. Octavia Spencer admits she tried to ignore all the hype but woke up at 2:45 a.m. and couldn't go back to sleep. And Nick Nolte didn't find out until the following day, when a publicist broke the news.
All six actors are worthy nominees for a 2012 SAG Award for their recent film roles. Bejo charmed her way into voters' hearts as a rising star in the silent black-and-white hit "The Artist." Bichir earned his nomination for perfectly embodying an undocumented gardener raising a combative 14-year-old son in "A Better Life." Hammer, a nominee for his work in the ensemble of last year's "The Social Network," scored an individual nod this year for his touching portrayal of J. Edgar Hoover confidant Clyde Tolson. Hill received a nod for a rare dramatic turn as a statistical genius in "Moneyball," in which he steals scenes from Brad Pitt. Nolte has been nominated twice before—as part of the ensemble of "Hotel Rwanda" and individually for "Affliction"—but his heartbreaking turn in "Warrior" earned him recognition this year. Spencer landed her nom for bringing life to the frank and funny maid Minny in "The Help," a role she helped inspire.
A few days after the nominations were announced—which also happened to be Hill's birthday—the heralded actors sat down at Smudge Studios to talk with Back Stage about the roles that brought them such acclaim.
Back Stage: Now that you're all SAG Award nominees, can you recall how you got your SAG cards? Demián Bichir:
I did this Jack in the Box commercial where I was actually talking to a taquito. "Hey, little taquito." At the same time, I was thinking, "I was doing Shakespeare a year ago in Mexico. I don't think this is working."
Nick Nolte:
I'm really not sure. I think it was "Death Valley Days," the Ronald Reagan show. It could have been that, or it could have been this Disney thing, "Feather Farm."
Armie Hammer:
It was a small, tiny, tiny, tiny, tiny little independent film. I don't know if it actually was ever finished or released in any way. It was called "Laura Smiles" or "Laura's Smile," something like that. I played a waiter, and you only saw me from the nipple down. And I had a line, which was "You done with that?" And he goes, "Does it look like I'm done?" And then I turn around and walk away. That's how I got my SAG card.
Jonah Hill:
My SAG card was a David O. Russell film called "I Heart Huckabees." That was my first movie. Dustin Hoffman recommended me for it.
Hammer:
How did you know him?
Hill:
I was friends with his kids from school and from college. I wanted to be a writer, and Dustin was like, "You should be an actor, not a writer." He called up David, and he said, "You should meet this guy; he's really talented." And I went in and auditioned, and I was awful, and for some reason David took pity on me and let me be in the movie.
Octavia Spencer:
I had one line in "A Time to Kill" with Sandra Bullock, and then I did a short that she directed. The DP on that was doing a Disney movie, "The Sixth Man," and I had to join after that. Even though I was cut out.
Nolte:
How does it feel to be cut out?
Spencer:
Well, let me tell you, it made me take an acting class. I was in class three to four times a week after that.
Nolte:
You want to hear a good story? Adrien Brody in "Thin Red Line" was cut out. He came out to the house, and he said, "Am I a bad actor, Nick? Is it because I'm bad?" I said, "No, Adrien, Terry Malick has enough for three films. He just couldn't go down that path; that's all the reason." I don't know if he believed me or not, but shortly after, he won an Academy Award. If I see him again, I am going to say, "Adrien, do you still wonder if you're a good actor or not?"
Back Stage: Can you talk about your process of booking your roles? I believe for some it was an audition, for others it was an offer?Bérénice Bejo:
I slept with the director.
Back Stage: Okay, but you're married to him, so that's fair. Did he tell you he was writing the part for you?Bejo:
Yeah. We worked together for six years. But I felt like I was doing the audition during the movie, because, of course, all the crew was like, "That's the wife." Everybody was American, and nobody knew me. So my first big scene, I was like, "Okay, Bérénice, you're going to have to be really good, because you have to show to everybody that the reason you're on set is because you're the character, not because you're the wife of the director."
Back Stage: Demián, I know director Chris Weitz wanted you for "A Better Life," but did you still have to audition?Bichir:
Yeah, I slept with Chris. [Laughs.] He called me to audition for "New Moon," the vampire thing; then he started talking about this gardener. I didn't know if it was a vampire gardener or what. Then he explained he was talking about this other film—it was called "The Gardener" then—and he had wanted me to play the role since day one. I had to read for the rest of the guys, the producers and everyone. And then I got it. But I didn't get "New Moon."
---
WATCH EXCLUSIVE VIDEO WITH SAG AWARD NOMINEES
---
Back Stage: Jonah, did you have to audition?Hill:
No, I didn't audition. Catherine Keener kind of set up the whole movie. Catherine is friends with myself and friends with [director] Bennett [Miller], and friends with Brad, all independently. And she was like, "Brad, Bennett should direct 'Moneyball.' You should meet this guy." And then Bennett got hired as the director, and then they needed to cast a second lead, and Catherine was like, "Bennett, you should hire Jonah."
Spencer:
Is she a producer on the movie?
Hill:
No, she is just the coolest lady I know. And we were making a movie called "Cyrus" at the time together.
Hammer:
Which is awesome.
Hill:
Thank you, I appreciate that. And she was like, "Jonah is doing this thing in this other movie that you've never seen him do; I think it's going to be pretty cool." The film was unfinished, and I said to the directors, "Can I show my parents before they go away? They're not going to be able to come to the premiere." And they felt bad, so they said, "Yes, you can do a friends-and-family screening." But it was actually all for Bennett. And then Bennett watched it and then cast me.
Back Stage: Armie, is it true you almost skipped your audition?Hammer:
Yeah, they sent it to us and asked me to come in and read, and I initially turned it down just because I felt I didn't understand it well enough. I recognized that it was great, and I thought it was a fantastic script, but I didn't quite understand the character as well as I wanted to if I was going to go in and do an audition for Clint [Eastwood]. So I turned it down. And then Fiona [Weir], his casting director, called and was like, "Please, just come in. I want to show Clint this tape; ask any question you want." So I went in with her and had like a two-hour conversation and just asked her all the questions I had on the script. And later that night I went to dinner with a friend of mine who was older and gay. I asked him a ton of questions and finally started to really understand it and understand the complexities of what it was like to live then. And I just started to fall more and more in love with it. So I went in and did an audition, and they called me a week later to read some more scenes. A couple weeks later, I got a call saying, "So Clint's going to give you the job; show up on Monday." It was like Thursday or something like that.
Back Stage: Nick, Gavin O'Connor wrote the role for you, so you got to skip the audition process, correct?Nolte:
Yes, which skips a lot of anxiety and worry about it. But then there's also something good about the audition process too, because you get keyed up, and you get the passion up for the piece. So when you miss that, you better have it all full when you get to the set. Gavin is wonderful. I was supposed to do an earlier film with him, "Pride and Glory," but I backed out.
Back Stage: And he still wanted to work with you?Nolte:
He understood. I got to a point finally where, if there's chaos, I won't join up. Once I'm there I'm locked, but if I see it coming, I'll back away from it. Because even if the film is great, it's not worth that pain.
Back Stage: Octavia, many people think your role was written for you because you knew [Kathryn Stockett], the author of "The Help." Spencer:
I did whatever it took to get this part; I slept with the writer, the director, everybody. [Laughs.] But no, the role wasn't written for me. When I met the author of the book, she was thinking about characters. I'm best friends with her childhood best friend, Tate Taylor, who directed the film, and he decided that we should meet. When we met, I was a hundred pounds heavier, it was 108 degrees, we were in New Orleans, and Tate thought it was a good idea to do a walking tour of the city. So she met me on a day where I was just complaining and combative. So Minny's physicality and that combative nature was based on me. But I still had to audition for the role. Tate wanted me, Brunson Green the producer wanted me, Chris Columbus wanted me, but those guys aren't writing a $25 million check. That was DreamWorks and Participant, so I had to go in and sell them on that idea.
Nolte:
Do you know who DreamWorks wanted?
Spencer:
Well, you know, they never said that they didn't want me. I read everywhere things like "Octavia Spencer beat out Queen Latifah and Jennifer Hudson!" I don't know if that happened; I just know that in my own mind, it would have gone through all these famous actresses before it got to me. But it worked out, and everyone has been very good to me; I'm thrilled.
Back Stage: What was the hardest part of making your film?Spencer:
Well, for me, it was the time period of "The Help." Being a very modern woman, I can't imagine what it was like. My family and friends are Asian, white, black, Greek, gay, not gay—they're just the gamut of people. And to be playing in such a homogenous society where society dictated who you had to be was really, really tough emotionally.
Hammer:
I also had trouble understanding the mindset of such an antiquated way of thinking. Especially when it came to homosexuality in the 1920s; it was the kind of thing that if you came out or got caught doing anything, it would cost you your family, your job, your social standing. Your life. It was a very hard thing to understand, having to live that sort of closeted life for so long and to protect yourself so vehemently. But physically, I think the hardest part was actually just doing all the makeup. It was like Super Gluing a quarter inch of latex to your face. Sitting perfectly still in a chair for eight hours and then starting your full workday, those were long days.
Hill:
There's one scene, it's my favorite scene I've ever shot in a movie—it's the hardest scene I ever shot. It's a scene where my character has to tell someone he's been traded. Up until that point, my character, Peter, has been plucked from obscurity and given all of this power, and all he's known about responsibility has been really fun and exciting and exhilarating. And now, for the first time, he has to be told there's a real ugly side to becoming a man, and there's an ugly side to responsibility. And you need to go tell a man that your ideas have negatively affected his life. And it was only 30 or 45 seconds long, but it was so hard.
Bichir:
I had two difficulties. The physical part of it was, Chris and I wanted him to be bigger and have this tummy because, you know, they don't have time to take care of a diet or anything. I had just lost a bunch of weight that I had gained to play Fidel Castro in "Che." That was hard. But then emotionally, it was a really difficult ride too. I'm an immigrant, also, but I didn't cross the border through the desert or through the river or anything, so I needed to really feel what it's like being invisible and keeping your life in a low-key kind of manner and understanding that feeling. Again, coming from playing Fidel Castro, that was a big leap for me. So the whole ride was really, really difficult in that sense.
Nolte:
The toughest part is if you are working on a bad film. Fortunately, I didn't have to worry about that here. But that's when it's tough. If you've convinced yourself it's a good script and it's not, and somebody is yakking in your ear that you've got to do it, you just pay so much for doing it. Because those situations are impossible to get right. To think you can go in without the script locked down tight—it's only worked once in my life, and I don't know why it worked.
Hill:
What movie was it?
Nolte:
"48 Hrs."
Bejo:
I totally agree with you; when you have a great script, it's easy to have fun. So for me, I guess the most challenging part was the tap dancing. We worked for six months almost every day.
Nolte:
But that's fun, though, isn't it?
Bejo:
It was a lot of fun, but it's a lot of work. But when you have a good script, a good director, when everything is done—costume, hair—to make you feel the best you can, it makes it so much easier.
Back Stage: What's the best advice anyone's given you about acting?Bejo:
Have fun. Have pleasure. It's all about pleasure. Because at the beginning of my career I just wanted to be the best I could, and I was always thinking about the result. When I learned to let go and concentrate on working with others, it really changed things for me.
Bichir:
Right—have fun and don't take it too seriously. And of course, the key words for any aspiring actor: patience and perseverance.
Hammer:
For me, I think it was the opposite. I got into acting with just the idea of fun in mind. Like, how fun it will be to be an actor; I'll lay around and watch movies all day as research. That was my attitude for a long time, way too long, until someone finally sort of explained to me that it's like, this is an art, just like any other sort of creative art form is an art. And you can take it as far as you want to take it, but you have to choose to take it, you have to inform yourself, you have to learn about this.
Bejo:
But having fun does not mean that you don't take your job seriously.
Hammer:
But that's the thing. Like Winston Churchill said, "You find a job you love, you never have to work another day in your life." And that's exactly how this feels. Like you wake up every morning excited to go to set. That's a great feeling. And that makes it worth all the stuff that you have to do at this job that we're not good at—like photo shoots. You're like, "How do I stand? Where do I put my hands? This is not what I do, I am an actor, but I guess I have to do this to perpetuate my job." If I could have fun at a photo shoot, I'd be a damn model.
Spencer:
I love that you guys are saying that, because I feel the same way in photo shoots. I guess the best advice I was given as an actor would be to live in the moment, whatever that moment is—both in your private life and in your professional life. And the best advice that I would give an actor is probably in tandem with what Armie was saying. I think believing in yourself is probably 30 percent of it; the other 75, 95, 150 percent is know what you're doing. Study, study, study hard. That way you can be free to enjoy the living-in-the-moment part of it. And I'm having a great time now.
Nolte:
Enjoy it. This should be fun. I'll tell you about the best time at an awards show I ever had. The year I was up for the Oscar for "Affliction," Ian McKellen was up for "Gods and Monsters" and Ed Norton was up for "American History X." We kept running into each other at all these awards shows and got to know one another. And the night of the Academy Awards, Ian said, "Nick, I don't care if you get it, or if I get it, or if some kid with a bald head and tattoos gets it, but if that little fucking Italian guy gets it, I'm going to have a shit fit tonight." I said, "Okay, that's good; I'm with you on that." And then we're sitting there, and they go "Roberto Benigni!" And he's doing his bit, walking over the chairs. I look over, and I saw Ed was gone and Ian was gone, so I got out of the chair, I walked off, and I knew they'd be at the bar. As I walked up to Ian he said, "Nolte, I don't know why you thought you'd get an award; you only play yourself." And Ian was playing a gay guy, so I said, "Look who's calling the kettle black." And we both turned on Ed and said, "What, did you think you'd win just because you shaved your head and got tattoos?" And Ed said, "Well I'm just proud to be here with you guys." And we laughed and had a great time, a great time.