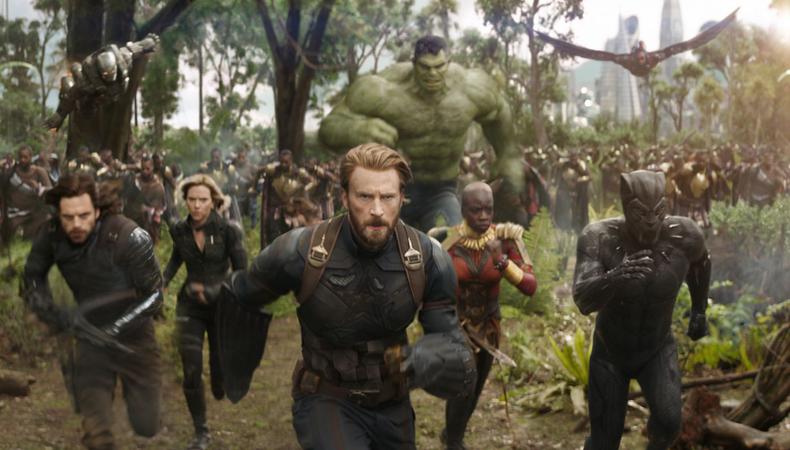 In the wake of "Avengers: Endgame," no Marvel Cinematic Universe title appeared on the big screen in 2020. Instead, an exciting new phase of the popular franchise has both challenged the way we see our beloved super-characters and introduced a fresh, more diverse chapter for future adventures. With the influx of TV series on Disney+, as well as the distributor's vast slate of upcoming film projects in the works, now's the time to get in on the superhero action you've been geeking out over.
While the idea of setting foot into such a gigantic, star-studded world is daunting, you have a better chance of getting cast than you might think. According to the MCU's primary casting director, Sarah Finn, "The landscape has changed, for sure. I think that with the proliferation of all these outlets, there's so many opportunities for people." She's brought on huge names, like Robert Downey Jr. and the "Guardians of the Galaxy" crew, plus newcomers like Letitia Wright, who played Shuri in "Black Panther," and Lexi Rabe, who played Tony Stark's daughter in "Endgame." But she says her main priority is simply finding the best actor for the part in order to bring the director's vision to life.
"We were so lucky to have Robert Redford, Michael Douglas, and Michelle Pfeiffer; so many incredible, legendary actors joined these films," Finn says. "But there were also times when we engaged in a huge search, sometimes lasting a year or more, sometimes covering thousands of actors, to find the perfect person."
While landing a principal part in a major Marvel project isn't exactly a Thanos snap away, don't knock the opportunity for nabbing supporting roles or background work. Consider that, as recently as 2013, Simu Liu was an extra in Guillermo del Toro's "Pacific Rim"; now, he's headlining "Shang-Chi and the Legend of the Ten Rings," Marvel's first large-scale title featuring Asian talent. "There's no small part; they're all really important. Every moment is important," says Finn.
If you feel ready to take on the obstacles of the audition room, check out this in-depth guide for getting cast in a Marvel project. We'll walk you through the casting process, let you know which series or films are currently casting, and provide some audition tips from MCU stars and casting professionals alike. Actors, assemble!
When it comes to being seen by a casting director like Finn for prominent speaking roles in Marvel projects (lead, supporting, or recurring), the best avenue is to go through an agent or talent agency. While there may be exceptions, like if a particular project is seeking a fresh face and is aiming to find talent in a different way, it's less likely that Marvel will rely on public casting calls or random submissions; instead, an actor's representation can get them through the door. But keep in mind just how difficult and competitive Marvel's casting stage is, and that most actors chosen are those who've proven themselves for years with steady work, busy résumés, and demo reels to show for it. (If you need help finding an agent, here's how to get one.)
Even Drax the Destroyer needed an agent's help to get in the running. Before Dave Bautista landed his career-making role in "Guardians of the Galaxy," he was a struggling pro wrestler–turned-actor. "I had lost all my money from wrestling, and I was desperate to get a job," he told the Daily Actor. "I finally got an agent, like, two weeks before I got the audition for 'Guardians.' My agent says, 'You know, I really had to fight to get you this audition…. It was really hard to get. They didn't really want to audition you.' " Luckily for Bautista (and us), the audition with Finn went well.
Among the many that he beat out for the role of Drax was the late Chadwick Boseman, who would become a Marvel legend just a few years later in "Black Panther." In an interview with Jimmy Fallon in 2019, Boseman said that "sometimes that's the way it works as an actor: You go in knowing you're not gonna get the part, but you're meeting the people that might be like, 'It's not this, but we'll put him in this other thing.' " Finn echoed this sentiment: "In the Marvel world, there were many actors who auditioned for one part in a Marvel film or another project and got cast years later in something else. When you do good work and show up every day, we take note. We remember that, and hopefully it turns into something down the line."
Jacob Batalon, who stole the show as Peter Parker's best pal Ned in "Spiderman: Homecoming," had recently moved from Hawaii to Los Angeles when he found a manager, who encouraged him to hone his craft at the New York Conservatory for Dramatic Arts. While in the midst of the school's two-year acting program, he went on the first real audition of his life: a vague call for an untitled Marvel project that his manager came across, which asked for someone of any ethnicity or body type who could believably play a teenager.
"The specs were so general. It was like, 'Any body type, any age, as long as you look like you're 17,' or something crazy," Batalon told ComicBook.com in 2017. "You could've been anything. And then you [get] these fake sides for a self-tape, and then I got a callback self-tape and they gave me the actual script. When they gave that to me, they were like, 'You know what? Scratch that; just do a screen test instead.' So I did a screen test with Tom [Holland] and Sarah Finn, the casting director who I love with all my heart. She was the person who said, 'Oh, yeah, just wait two weeks, and then we'll let you know either way'…. Two and a half months go by, and I'm like, Wow, this is the most depressing…period of my life."
The process is naturally different for big names like Mark Ruffalo or Scarlett Johansson; but Teyonah Parris—who was a standout on "WandaVision" as Monica Rambeau and will star in 2022's "The Marvels"—caught the attention of Finn by steadily working in the industry. Not only that, but Parris had, as she told Collider, "put many Marvel [auditions] on tape over the last decade" by the time she tried out for the Disney+ original. Due to the secretive nature of the project, she didn't know what the part was when she auditioned with random sides.
"With Teyonah, she is an actress that I've known for a long, long time and admired all her work and had been discussed for Marvel projects before, as is often the case as we're looking to see what the right role might be," Finn told Backstage.
Liu, who played the latest Marvel hero to debut, Shang-Chi, didn't get the acting bug until 2012, when he worked as a background actor making minimum wage. He subsequently acted in short films and music videos, and even dressed up as Spider-Man for kids' birthday parties before landing an agent.
Liu has starred on the Canadian sitcom "Kim's Convenience" for the past six years, but he always had an eye on Shang-Chi. Amazingly, back in 2014, he tweeted at Marvel: "Great job with Cpt America and Thor. Now how about an Asian American hero?" and then in 2018, he tweeted: "OK, @Marvel, are we gonna talk or what #ShangChi." But those at Marvel claim to have not seen these messages until after he was cast. Liu had to go through an arduous series of auditions, screen tests, and physical training, beating out hundreds of other actors before ultimately proving to be the right man for the job.
The primary casting director behind all your favorite Marvel movies and shows has been Finn, the MCU's go-to talent seeker since "Iron Man" kicked off the franchise in 2008. Her eye for heroes spans every film entry in the MCU, as well as the series "Agents of S.H.I.E.L.D.," "Agent Carter," "WandaVision," "The Falcon and the Winter Soldier," "Loki," "What If…?" and the upcoming "Hawkeye." Other Marvel CDs have included Laray Mayfield ("Daredevil," "Luke Cage," "Iron Fist," "Jessica Jones," "The Punisher"), Mary Gail Artz ("Spider-Man: Far From Home"), Randi Hiller ("Iron Man," "The Avengers," and more), Patrick Rush ("Runaways"), and Krista Husar ("Loki," "Moon Knight," "Hawkeye," "Ms. Marvel").
With a whole new phase of Marvel stories coming to both the big screen and streaming services, there's no shortage of opportunities for actors and those interested in background work—many of which will span various casting agencies. In previous years, Backstage has posted casting calls for "Ant-Man and the Wasp" and "Avengers: Infinity War," while other notices for background actors and stand-ins recently popped up on Project Casting.
In August, Tammy Smith Casting, based in Atlanta, made a Facebook post announcing a casting call for short actors (adults 18 and up, between 4'0" and 5'3") to play "child types" in "Guardians of the Galaxy Vol. 3," roles which include full prosthetic makeup. The agency directed interested actors to apply here. The upcoming James Gunn movie also recently sought child actors aged 9–12 in the Atlanta area and held a virtual open call via photo selection. "Black Panther: Wakanda Forever" was also recently in need of actors.
A casting call on behalf of the Sarah Finn Company was posted in search of "two female deaf Native American or Latinx characters" for "an undisclosed Disney+ series" (believed to be "Echo"). The project will begin filming in February 2022 in the United States. The casting call description read as follows:
Jessica: "Female, 15-18 years old, Native American or Latinx, deaf, strong, fiercely independent, and unwavering. Can tend towards sullen at times. Fluent in ASL."

Iris: "Female, late 20s/early 30s. Native American or Latinx, deaf. Warm and nurturing. Fluent in ASL."
Any and all actors who feel they qualify for either role are asked to send a recent picture of themselves and a bio to [email protected].
In order to keep track of upcoming casting calls and auditions from Marvel, be sure to check Backstage, Finn's Instagram page, and Marvel's Twitter page. Also, if you're interested in auditioning for Marvel-adjacent gigs, check out similar projects that are casting now.
Similar to those of Netflix, Disney, the DC Universe, and other huge outlets, the road to landing a Marvel superhero role is a long and difficult one that requires hard work, charisma, physical fitness (depending on the part), and some credits to your name. Just as Batalon, Liu, and the other Marvel megastars have done, you should:
Have a

website

and/or

social media

presence through which you can showcase your talents to agents and CDs with updated headshots, a résumé, and demo reels.

Find representation

, as it not only gives you legitimacy, but will open the floodgates when it comes to audition opportunities.
When it comes to the audition itself, Lyrica Okano, who plays Nico Minoru on "Runaways," says that when you audition for the studio, you'll most likely not know what role you're reading for. Due to that limitation, Okano pushed ahead and treated it like any other audition: "I read the sides, and if I get a full script, I read the full script and I do as much as I can to imagine my life as the character—like what she's gone through and what's made her get to the place where she's at—and I ask myself a lot of questions."
On that note, Finn says of the audition room, "A question we ask a lot is, 'Did you accomplish what you came in here wanting to do today? Do you feel like you did the work that you prepared?' Hopefully, we can honor that. I understand and have an amazing amount of compassion for what actors go through and how hard they work—what it means to them every time they come in for an audition. We want to honor that and let people know that when you're doing your best work, you never know where that's going to land you."
If you need a little pep talk from the team before the big battle in the audition room, check out these pieces of wisdom from Marvel's biggest superheroes, both on and off the screen.
Preparation is key. "Be prepared," says Finn, who has seen thousands upon thousands of hopeful actors for more than 10 years. "And also, make it your own. There is never a right way to do things. Of course you want to pay attention to the scene, the character, and whatever notes you have; but beyond that, what takes flight in a room is when actors allow their own inspiration to come into their reading."
Be ready for anything. When Jeff Ward first went in to read for a part on "Agents of S.H.I.E.L.D.," he was "super excited, because the character description said: 'Think: Han Solo.' And I was like, Cool—that's my childhood dream. So I went in and I read for it, and while I was in there, they were like, 'Can you actually read for this other part?' And I read for the other part, and I got the other part, but [it] was much smaller. I was going to shoot two days and just be in two scenes, and I went to the table read.
"And as I sat down, I was immediately scared because all these people from Marvel and ABC and the show were there. I [later] got a call on the way to my car that said, 'Hey, could you come back and read for that original part one more time?' One of the showrunners called me. And I did—I went back. At 11:30 that night, I found out that I was going to do the bigger part. It was supposed to be eight episodes, but now it's turned into the whole season and past that. It was crazy. I was supposed to do two scenes and die, and now I'm doing a lot more."
Don't dwell on your audition afterward. As daunting and exhausting as the act of auditioning is, Parris told Collider: "Part of my process is: Once you do an audition, once I do one, it's done. It is what it is. I have to let it go spiritually and for my mental health…. I try not to operate in the space of fear."
Don't overthink it beforehand. Similarly, Brianna Hildebrand from the two "Deadpool" movies (which are based on the Marvel comics character, but not officially part of the MCU) says by the time she got the opportunity to read for the first one, she had been to hundreds of auditions. "Oddly enough, 'Deadpool' was the one audition where I finally convinced myself that it didn't matter if I got it," she says. "I think you kind of have to get into that mindset of 'it is what it is' so that you're comfortable in the room auditioning. I feel like we're all our own worst critics, and for me, I sometimes have raging anxiety, so it's been a helpful skill to learn to let it go."
You've prepared; now let it go. On that same wavelength, Emily VanCamp, aka Sharon Carter in "Captain America: Civil War" and on "The Falcon and the Winter Soldier," noted the importance of preparing for an audition. But she also emphasized "letting it go so that you're free to play…. You have to almost abandon your preparation to be able to really feel free as an actor to do what you do. I missed that step for many years. I was over-prepared and focused so much because I would be so terrified of not remembering lines or not being prepared. Then that became my main focus rather than letting go [and] being free in the moment. Yes, I'm a big advocate of being prepared, but I'm also a big advocate of letting it go and allowing the scene to go where it goes in the moment."
A little Spidey sense goes a long way. Tom Holland, the MCU's Spider-Man, used a cheat in the audition room when he was starting out and aiming to impress CDs: "I would get something really wrong in the first take in the room, so that the casting director would be like, 'You should try and do it a little bit more like this.' And then I would do it how I'd actually planned on doing it, and it would show them that I was really good at taking direction. That's a little trick that I used to do, just to kind of show people that I was malleable and able to work with others."
Let CDs see you in your performance. Finn says that being memorable in the room is all about actors "[honoring] their own authentic voice." She adds, "An actor should always follow their instincts and follow their impulses, because as long as an actor is drawing on their own life experience and connecting with what's real in them and bringing that to what's real in the character, it's going to be unique. It's going to stand out. I think the most important thing is to bring their own original inspiration and creativity to anything they're doing and to the role. That's what makes them stand out. There's really no way to try to guess what someone's looking for or to try to figure out how to do it right. There's no right. There's only making it your own and bringing it to life."