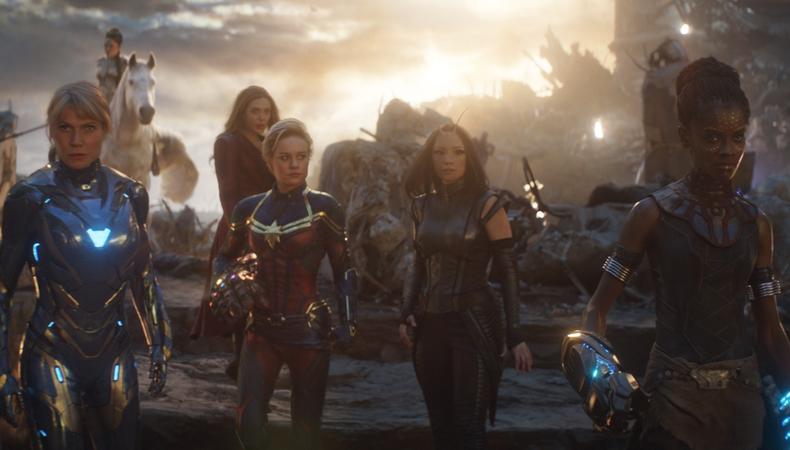 With this Year in Review, we at Backstage have picked through the weeds and found 2019's true gems of the best big- and small-screen ensemble work. And don't worry: We've got you covered with everything else you need to know this awards season right here.
Distributed by: Walt Disney Studios Motion Pictures
Directed by: Anthony Russo, Joe Russo
Written by: Christopher Markus, Stephen McFeely
Casting by: Sarah Finn
Cast: Josh Brolin, Don Cheadle, Robert Downey Jr., Chris Evans, Jon Favreau, Karen Gillan, Danai Gurira, Chris Hemsworth, Scarlett Johansson, Brie Larson, Gwyneth Paltrow, Jeremy Renner, Paul Rudd, Mark Ruffalo, Benedict Wong
"Avengers: Endgame," in addition to being one of the highest pinnacles of mainstream movie history—making $1 billion in five days, becoming the highest grossing film of all time—may also have set the record for Hollywood's biggest acting ensemble ever. "Biggest" in the sense of megawatt star power, of course, as its cast is no stranger to both blockbusters and award-winning fare. But also "biggest" in the sense of sheer numbers; its final credits sequence presents elaborate title cards for a whopping 54 actors.
After all, the superheroic extravaganza from directors Anthony and Joe Russo and adapters Christopher Markus and Stephen McFeely is the literal endgame of the 22 installments preceding it, films in what is known as the Marvel Cinematic Universe, brought to fans by Stan Lee and Jack Kirby's cherished "Avengers" comics and Disney's Marvel Studios. No fewer than 54 stars were needed to conclude this epic chapter of a pop culture phenomenon. And when the powers that be at Marvel set out to bring their superheroes to the big screen, from 2008's "Iron Man" onward, they knew they needed stars with real acting talent.
Robert Downey Jr. as Iron Man, Chris Evans as Captain America, Mark Ruffalo as Hulk, Chris Hemsworth as Thor, Scarlett Johansson as Black Widow, and Jeremy Renner as Hawkeye—plus Samuel L. Jackson as superhero supervisor Nick Fury—constituted the original titular team in 2012's "The Avengers." In that epic first assemblage of characters from multiple franchises, the actors understood the tonal tightrope these films required: a steely determination worthy of comic book heroes punching bad guys, and a fun, often offbeat sense of humor. They took world-ending threats seriously while having the time of their lives.
Joined in more Marvel flicks by eventual "Endgame" stars Don Cheadle as War Machine, Karen Gillan as Nebula, Paul Rudd as Ant Man, Brie Larson as Captain Marvel, and more, the growing Avengers team continued to walk that line between seriousness and fun. When Thor is wallowing in guilt after failing to save humanity, Hemsworth hams up the character's drunken transformation while allowing us to see glimmers of real grief. Even Josh Brolin as Thanos, the big baddie of "Avengers: Infinity War" and "Endgame," mixes menace with moments of camp. And it's because of the wry wit Downey and Johansson bring to Iron Man and Black Widow that their final, fateful moves land like the gut punch of a prestige drama.
And when, at the movie's rousing crowd pleaser of a final showdown, Evans' Captain orders the Avengers to "assemble" (spoiler alert: They're rejoined by fallen heroes, including Chadwick Boseman's Black Panther, Letitia Wright's Shuri, Benedict Cumberbatch's Dr. Strange, Tom Holland's Spider-Man, Elizabeth Olsen's Scarlet Witch, and Chris Pratt's Star-Lord), it feels like he's assembling the most impressive ensemble in all of cinema. It's an onslaught of charisma, the ultimate payoff of watching actors bring beloved heroes to life. These stars work together to blend comedy, tragedy, and fist-pumping action, united in both their mission to defeat the bad guys and entertain the heck out of moviegoers.
This story originally appeared in the Nov. 13 issue of Backstage Magazine. Subscribe here.