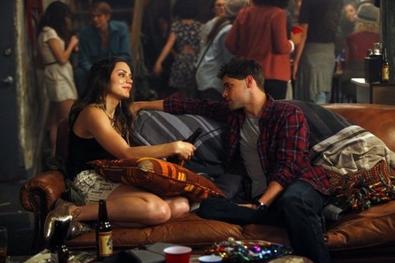 Welcome back to "Smash," our fellow gluttons for punishment, hate-watchers, and Jeremy Jordan obsessers. Season 2 begins in Boston, where "Bombshell's" pre-Broadway tryout is ending and everyone is going home. Karen still hates Ivy. The show is a wild success. And all is right with the world, that is, until we get back to New York.
Things start out okay – "Bombshell" is transferring to Broadway, Karen has met a cute waiter boy with a jawline of beautifulness named Jimmy (Jeremy Jordan) -- and end up in the toilet when the Feds stop Bombshell from moving forward because Eileen was using funny money to fund it.
Now no one has a job. Derek is being sued for sexual harassment by a bunch of dancers, and Julia's broken-again marriage has sent her into the depths of a duvet in Tom's apartment. At least Karen can distract herself with Jimmy, a douchey (but clearly sweet and wounded) young composer who she decides is her next project, or The Next Big Thing, or whatever.
Then, miraculously, "Bombshell" is back on. That's mostly because Eileen admitted defeat, confessed to breaking the law, and handed the production over to creeper/nemesis/ex-husband Jerry. To celebrate, the creative team crashes an American Theater Wing Gala. Ivy Lynn shouts a song at the crowd in a terrible outfit/hair combo (some things haven't changed this season...), and Karen is nowhere to be found, because she is in the godforsaken depths of Brooklyn at Jimmy's party and missing her chance to perform. Boys ruin everything!
Karen's trip to Brooklyn was worth it for us, though, because she managed to convince Jimmy to let her share his new musical with Derek, and that means we all get to see lots more of Jeremy Jordan. We wrap things up at Derek's apartment, where Ivy Lynn shows up all smug to offer Derek some "emotional support." Too bad Karen is already there, pitching Jimmy's musical, and Ivy has to leave all awkward-like, because clearly that dull-as-dirt Ivy/Karen drama can't just die now, team, because we've only just started the second season!
Here's a closer look at the exceptionally long season premiere of "Smash."
The Awesome
The Humbling of Ivy Lynn
The opening of Season 2 gives us an Ivy who seems like she went to rehab. Not for her pill problem, but for her personality problem. Ruthless, insecure, concrete-haired Ivy has given way to a girl who seems downright contrite after losing the "Bombshell" lead to Karen. And thank goodness. Last season's Ivy the Heartless was wearing thin -- and giving us very few reasons to root for her.
Everyone Is in Love with Jeremy Jordan
When we first meet Kyle (Andy Mientus), he's being the most accurate representation of a theater fan we can even think of -- yanking out a stack of Playbills and begging for an autograph. We loved him at first sight. Then, he intimated that he wants people to think he and his roommate/collaborator Jimmy are a couple. Our reaction? "OMG, Kyle! We're in an imaginary couple with Jeremy Jordan, too! Let's be besties!" And we were totally on board with all things Kyle. Forever.
Joe Iconis, Here I Come
Anything that lets Jeremy Jordan belt that handsome face off is a win. But "Broadway Here I Come," by composer Joe Iconis, was so much better than we ever dared to dream. It was the perfect way to truly introduce Jimmy to the audience, but more than that, it was a great representation of Mr. Iconis' work. It felt both modern and like it belonged in a musical, and told a great story without beating us over the head with it. Plus, it made Jimmy sound like a star, because it showcased the best of Mr. Iconis and of Mr. Jordan and we're swooning forever.
The Awful
The Brooklyn Apartment of Unreality
We've been to lofts in obscure parts of Brooklyn where broke young people live. And even the best ones don't look like this. There's a lot of exposed plywood and persistent leaks. Paint is a suggestion. There are no beautiful old windows with perfectly battered frames, or pastel colors artfully splashed about. The joint where Kyle and Jimmy live looks like a set designer -- who has never left the island of Manhattan -- figured they could buy out the local Pottery Barn and with enough sandpaper and elbow grease, make it seem authentically Broke Brooklyn Bros. Jimmy and Kyle couldn't afford this apartment in their wildest, drug-addled dreams, and even if they could, it'd never look this Shabby Chic.
The Wesley Taylor/Andy Mientus Pairing of Obviousness
So, there are four openly gay main characters in this show. Two of them are already dating each other (Tom and Sam), one is an inexplicable troll (Bobby), and the fourth is brand spanking new (Kyle). So obviously, the moment Bobby lays eyes on Kyle, we have an instant love connection. Because that's interesting and unexpected. While we understand Andy Mientus' instant and enduring appeal, we still think this is an undeniable snoozefest and hope it goes away immediately.
But Why Is Michael Riedel Here?
Without Ellis, "Smash" needed an instantly-hateable bad guy. So instead of writing a good one with three whole dimensions, they just called Michael Riedel and asked him to be on the show. Our question, though, "Does anyone who's NOT obsessed with theater -- like, so bad that they're drooling in a corner clutching a stack of Playbills -- even get the reference?" And why does Riedel's face look like it's been coated with nonstick cooking spray?
The Aggressively Unfashionable Ivy Lynn
We get that Ivy is supposed to be the straight-and-narrow "traditional" theater girl and that Karen is supposed to be cool. (Never mind that this makes zero sense, with Karen straight off the turnip truck from the Midwest, and Ivy the New York-bred daughter of a famous actress.) But why does Ivy look like she shops exclusively on the clearance rack at TJ Maxx? Don't get us wrong. We spend more time there than is strictly necessary ourselves, but we're not making a living as pouty, needy starlets.
The Fierstein Run-In of Non-reality
Harvey Fierstein's a smart, Tony-winning guy. So why does his run-in with Tom make him seem like such a bumbling fool? We get that he's playing Character Harvey Fierstein in "Smash" Land, where everyone and everything is a little dumber and duller than real life, but you'd think that having him on in the first place would help make the show smarter and not... the same as it always is.
The Inexplicable
Jennifer Hudson's Blinding Stagedoor Moment
Things in Jennifer Hudson's dressing room start off hilariously unreal -- That wallpaper! The poster of her own face hanging there! But they get absolutely insane the moment she opens the door to her dressing room, which is apparently also an exit to the street, and gets blinded by a wall of camera flashes as intense as the Tony Awards red carpet. Because a two-time Tony winner who doesn't have a Hollywood career totally merits a shouting cadre of papparazzo on the streets of New York. Oh. Wait. In reality, it would be 15 overzealous fangirls and a few confused tourists waving their Playbills in her face. Don't worry, Karen, you don't have to get ready for anything like that.
The Musical Number of Insanity
This show has historically had mixed success with musical numbers not directly a part of the show-within-a-show "Bombshell." (Like the totally realistic and logical Bollywood number in Season One. Or that moment where Ivy Lynn was cool enough to sing Crowded House's "Don't Dream It's Over" in an audition.) But the moment where Derek Wills -- supposedly knocked unconscious by the gentlest of shoves -- is being serenaded with some Eurythmics by Ivy/Karen/a zillion chorus girls, all dressed like they're in a Robert Palmer video -- is actually the biggest WTF we can even think of. And seriously, did those neon pink shoes come from Payless?
The St. James Is Awesome?
We love the moment when Tom and Julia have their little spaz over how Broadway's St. James Theatre, where "Bombshell" is likely headed, has "good juju" because it's been home to scads of highly successful musicals. Clearly they live in a highly fictionalized universe where "Finian's Rainbow," "On a Clear Day You Can See Forever," "Bring It On," and "Leap of Faith" never happened. We kind of wish we lived in that fictionalized universe too.
Laura Motta and Aileen McKenna blog as Lucky and The Mick on their Broadway-themed blog of insanity, The Craptacular.