We had a busy year here at Backstage, filled with the brightest stars across film, television, and theater, all of whom doled out their best first-hand advice just for you. From Bryan Cranston to Sandra Oh; Kelli O'Hara to Billy Porter; Charlize Theron to Nicole Kidman; we rounded up a list of the best soundbites from our cover stars in 2019; so many fascinating stories about life and career, and you can find them all right here!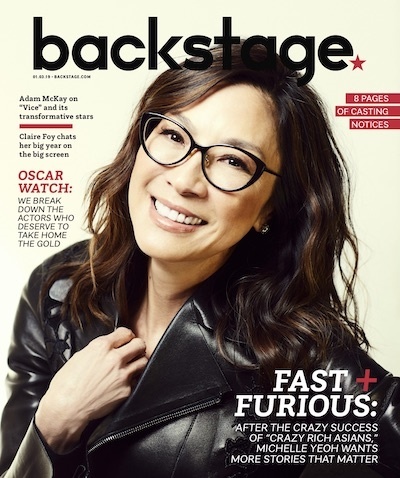 Michelle Yeoh (Jan. 2)
Yeoh kicked off 2019 with a deep dive, in which she discusses how diversity enriches filmmaking as well as reflects on her decades-long journey in the biz. She sums it up: "If you truly love what you do, 30 years goes by so quickly. I mean, I can't imagine I've been in the business that long. It's been so rejuvenating." Read the full story here.
Carmen Ejogo (Jan. 9)
Ejogo's career has been a slow and steady build, which this year led to her biggest role to date: co-starring om Season 3 of HBO's "True Detective" alongside Mahershala Ali. And she did it all without ever yielding to the discrimination she faced along the way. "It was so obvious for me [in the beginning] what I was working against," she says. "But the rebel in me wouldn't straighten my hair, wouldn't play the game. I would just walk into auditions with my hair as crazy and curly as could be." Read the full story here.
Frankie Shaw (Jan. 16)
Shaw, who created and starred in her late Showtime series "SMILF," sat down with Backstage to dive deep about how how her experiences own experiences as a single mother—and working actor—ultimately led to the creation of her own cable series. "If you are a writer and you write partly what you know, it doesn't exactly have to be your story," she says, "but the characters come from experience." Read the full story here.
Bryan Cranston (Jan. 30)
From "Breaking Bad" to "Trumbo," Cranston is obviously one of today's best screen actors. But while performing in his Broadway hit "Network"—which notched him is second Tony this past June—Cranston explained why he actually prefers acting onstage rather than on-camera. "You get to convey a full beginning, middle, and end to your audience," he says of theater. "What I want to do, and what I want our company to do, is to be on our toes, to lean into the play, be slightly ahead of it and present it to the audience—not prematurely, but at just the right time. That takes energy and that takes rest." Read the full story here.
Hasan Minhaj (Feb. 6)
Minhaj has long been showing off his comedic chops in various film and television appearances as well as comedy specials, of course. But with his Netflix series "Patriot Act with Hasan Minhaj," he gets to flex that comedy along with all that he learned in his former poast as a correspondent on "The Daily Show." "I think the power of these shows is that we're able to condense it into something that is really palatable and quick to digest," he says of political-minded series. Read the full story here.
Kelli O'Hara (Feb. 13)
Tony Award winner O'Hara spoke with Backstage last winter just before she went into rehearsals for the revival of Cole Porter's "Kiss Me Kate" on Broadway, going against the "uptight leading lady" archetype to discuss everything from representation in the field to her own acting journey. "I don't want to stop working—ever," she says. "But right now, I'm in this nostalgic place where I'm thinking about every step of what happened, why I'm here, that I'm lucky, [and] that I should move over." Read the full article here.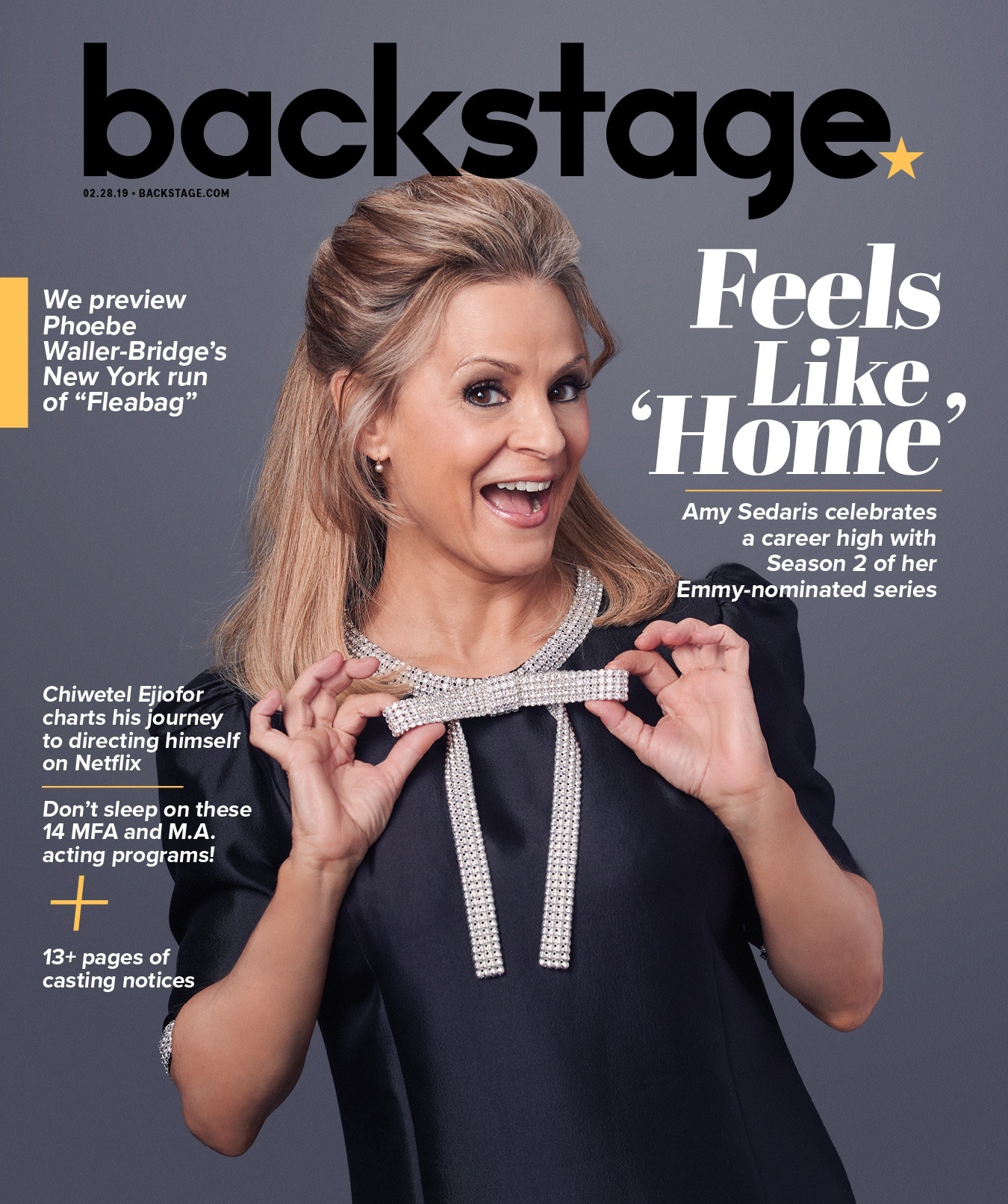 Amy Sedaris (Feb. 27)
For her Backstage cover, comedy legend Sedaris spoke about forging her own path the way that only she could. "Sometimes I'm like, 'That's too much to memorize.' Or I'm just lazy," she says. "Or they want me for one day but I have to be there for nine. I'd rather clean my apartment; I can't leave my rabbit for two weeks. It never makes any sense. My first instinct is: 'I can't do it.' Or I just don't think I'm right for it. I always think you've hired the wrong person. That's why I like to create my own [work]." Read the full story here.
Stephanie J. Block (Mar. 13)
Just a few months before she would go on to (finally) win her first Tony Award for the role, Block sat down with Backstage to discuss how she made her own Cher for "The Cher Show," and her hard-fought battle to become one of the theater's most dazzling leading ladies. Read the full story here.
Zachary Levi (Mar. 27)
The "Shazam!" actor nabbed the cover back in March to chat his undisputed love of acting. "I'm just grateful that I'm finally in a place in my life, on a personal level, where I've done work on being a healthier, stronger, happier me," he gushes. "Which is why I think everything is timed to that. All of it opened up when I tried to get healthy. Because this business can beat the shit out of you—life can beat the shit out of you." Read the full story here.
Aaron Sorkin, Jeff Daniels, Celia Keenan-Bolger, and La Tanya Richardson Jackson (Apr. 10)
This spring cover was one of our all-time heftiest, featuring the three stars of the Broadway adaptation of "To Kill a Mockingbird," as well as its esteemed writer Sorkin. It's a wonder that much theatrical brilliance can exist in one single story. Read the full story here.
Beanie Feldstein (May 8)
From "Lady Bird" to this year's "Booksmart," Feldstein is quickly becoming one of our brightest young stars. "I feel so lucky that I found the right next thing, because I didn't want to settle," she says of her first leading film role in. "I wanted to do what I felt was a continuation of the art I want to be a part of. And 'Booksmart' feels so right in that journey." Read the full story here.
Amber Gray and Eva Noblezada (May 22)
Gray and Noblezada both went on to nab Tony nominations for their underground-set folk musical "Hadestown," but weeks prior, there was not a trace of hellishness about either of these women. At the height of the spring theater season—and for our Tony Awards issue—the duo talked career highs and lows, and how to tend to yourself in this wacky business. Read the full story here.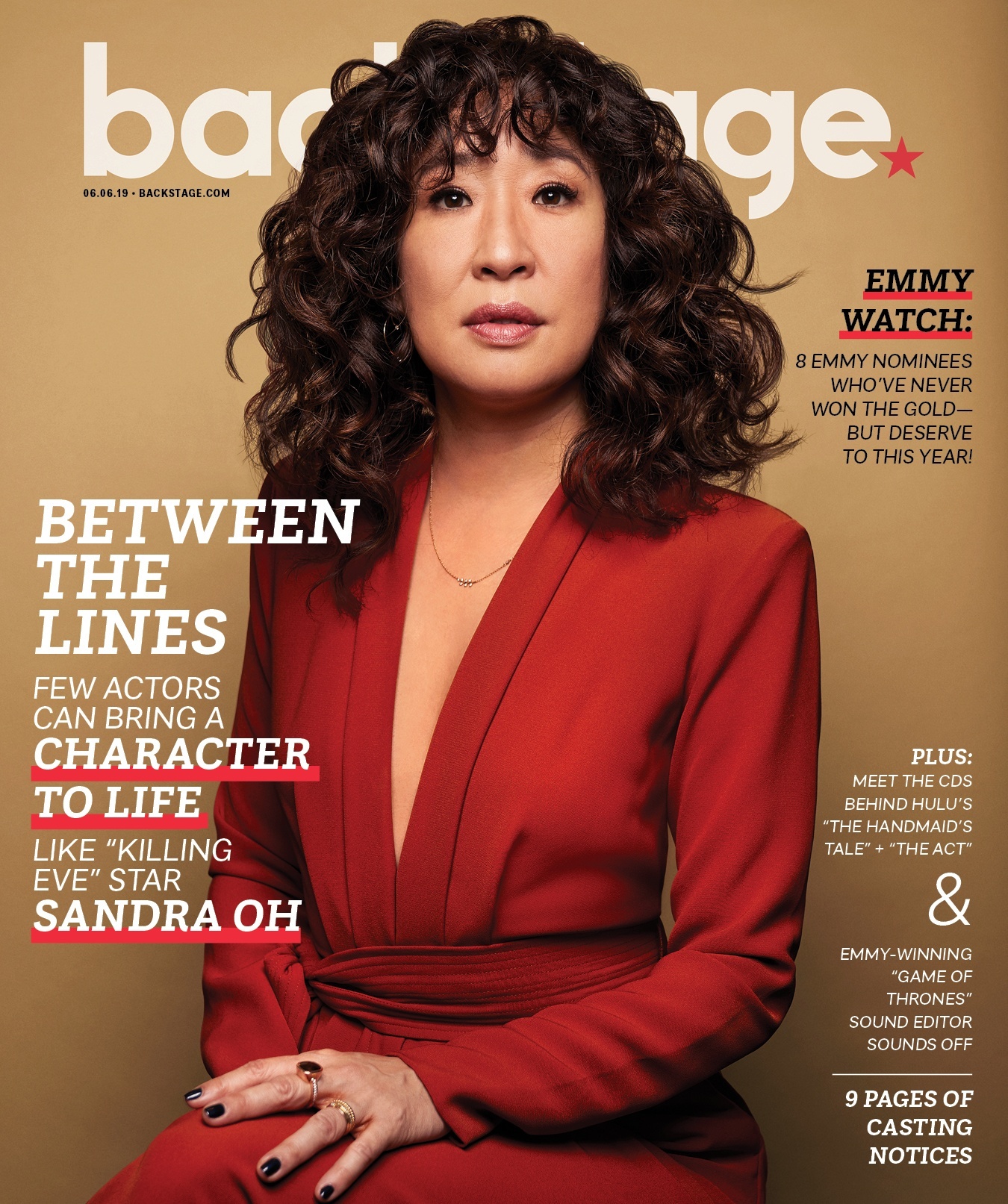 Sandra Oh (June 5)
Oh has been killing it of late in Phoebe Waller-Bridge's spy series "Killing Eve," but she's been in the game for decades now, and she let us in on some of the script analysis tricks she's been honing for years. "You have to do the work to stay completely truthful with the character," she says. "When you're like, I don't believe why I'm doing this, you lift it from the reality. For me, you put it into [something like] myth." Read the full story here.
Natasha Lyonne (June 12)
Lyonne has been to hell and back, and she opened up about it all with Backstage; from her massive Netflix hit "Russian Doll" to her long stint on "Orange is the New Black," Lyonne knows how vital it is to be invested in your work. "I've never worked so hard on anything in my life. It's shocking how much work it is," she says of "Russian Doll." "And because you're made of the fabric of the arts, you're constantly in a self-doubt, bashing your head against the wall," she said. Read the full story here.
Betty Gilpin (June 19)
Gilpin has gone from New York stage emblem to small screen superstar (and Emmy nominee!) in just a few short years. How'd she do it? "This time in my life has felt very front-footed and conducive to a person who has more 'alpha' energy than I do," she says, speaking to her hit Netflix series "GLOW." "Working 80 hours a week for a year straight has been so incredible and I feel so lucky to do that. But doing that in a job that requires creativity and pulling from a well of more 'beta' energy, it feels like you then have to go, 'I'm just going to stare out the window and fill that beta creative well so I'll have something to pull from when I've got a 6 a.m. crying scene.' " Read the full story here.
Niecy Nash (July 10)
Nash had her own truly stellar 2019 thanks to standout performances in both her TNT series "Claws" as well as Ava DuVernay's Netflix mini-series "When They See Us." The latter, about the wrongfully accused boys known as the Central Park Five, was difficult to nab, having been seen as "the funny girl" for years. "Once they found out I was funny, it was like, 'You're just that,' " she says. "But because I wanted to work, that part of my gift opened the door first. I rode the wave of that for quite a long time before it finally manifested into what I saw in my head at the beginning." Read the full story here.
Billy Porter (July 31)
It's Billy Porter's world, and we're all just living in it. The Tony, Grammy, and now Emmy-winning actor/singer sat down for lunch and a splash of bubbly during press for the new season of "Pose," getting real about his late-career success. "I think the greatest part about what's happening to me right now is that I've just really been set free," he says. "I'm being myself without apology; I'm just being who I am." Read the full story here.
Julia Garner (Aug. 7)
New York-born Garner tells us she is drawn to deeply complex characters, like her character on "Ozark" (for which she won for her first Emmy this year). "People aren't as aware of themselves as they are with others because they can't be objective, so you have to treat that character like it's not a character—it's a person," she says. Read the full story here.
Tony Shalhoub (Aug. 21)
Though Shalhoub is an emblem of the small screen, over lunch in Manhattan this summer, you would never know it. Before he went on to win yet another Emmy for "The Marvelous Mrs. Maisel," the actor discussed the rollercoaster that is a life in the arts. "I don't think of myself as having a career—a career is what other people have," he says. "On the inside, I'm either working or I'm not working or I'm wondering if I'm going to work. I'm not thinking of it as a continuum; I'm thinking of it more as a roller coaster." Read the full story here.
Bill Skarsgård (Aug. 28)
Just like the maniacal dancing clown he plays in "It," Skarsgård is excellent at putting on a compelling and frightening to performance to get a good scare, and he does so in accordance with a motto: " 'It is what it is'; you adapt and you're spontaneous and you change things." Read the full story here.
Jake Gyllenhaal and Tom Sturridge (Sept. 11)
Amidst the Broadway run of their very sensitive monologue play "Sea Wall/A Life," Sturridge and Gyllenhaal took the time to share a meal and their best acting advice with Backstage. "We're trying to present these words and these ideas as if they are truly in the present moment. This is a very nonperformative performance, as best as we can get it, and over time, we've chipped away at the rhythms and behaviors that keep us safe," says Gyllenhaal. Read the full story here.
Giancarlo Esposito (Sept. 25)
Fans of "Breaking Bad" and "Better Call Saul" know him as the menacing Gus Fring—and Esposito is very grateful for that, despite the fact he couldn't be more disparate from his on-screen counterpart. "Everyone thinks I'm so serious because I'm this dramatic actor," he says. "They've seen some stuff that I've done that may have intimidated them. Well, that just means I'm good." Read the full story here.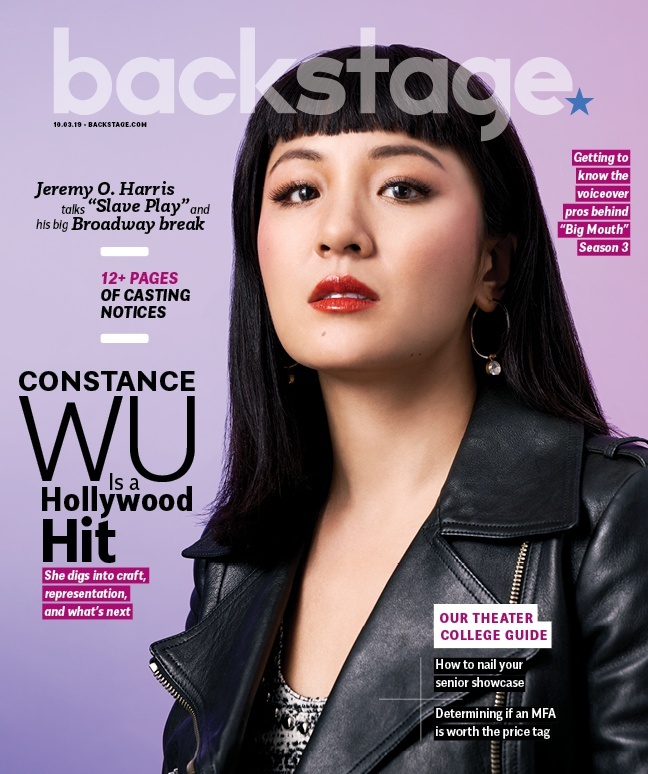 Constance Wu (Oct. 2)
Promoting her second starring film role—the mega-hit "Hustlers"—Wu brought her signature realness to a conversation that spanned working with co-star Jennifer Lopez and her methods for script analysis. "It is in the script; you just have to find it," she adds. "It's not in the line, but it is in there if you build an emotional history of language." Read the full story here.
Edward Norton (Oct. 30)
Norton has made it a point to learn all angles of the filmmaking process, and with "Motherless Brooklyn," he got the chance to direct himself in his own passion project—oh, and he also wrote it. "There was a psychological liberation in knowing that I would sculpt and calibrate my own performance," he says. "It let me experiment very freely with no self-consciousness, no external mind trying to judge the arc of my performance—just [the ability to] do anything and know that I'm giving myself the raw materials to sculpt my own performance in a different dimension later. That was very nice for me." Read the full story here.
Jonathan Pryce (Nov. 6)
Between his Broadway play "The Height of the Storm" and Netflix feature film "Two Popes," Pryce has had a particularly busy fall. Speaking to "Two Popes," for which he is generating Oscar buzz, he says, "It's not necessarily about religion; it's about how we live our lives. It's about society and it's about politics as much as anything." Read the full story here.
Pedro Almodóvar and Antonio Banderas (Nov. 13)
The director and actor pair re-teamed this year for "Dolor y gloria" ("Pain and Glory"), and sat with Backstage to discuss their professional—and personal—relationship with one another. "It was very surprising, actually, when I got that first call from Pedro," says Banderas. "He said to me, 'I'm going to send you something that you will find very familiar: situations and people.' I didn't know he was talking about himself." Read the full story here.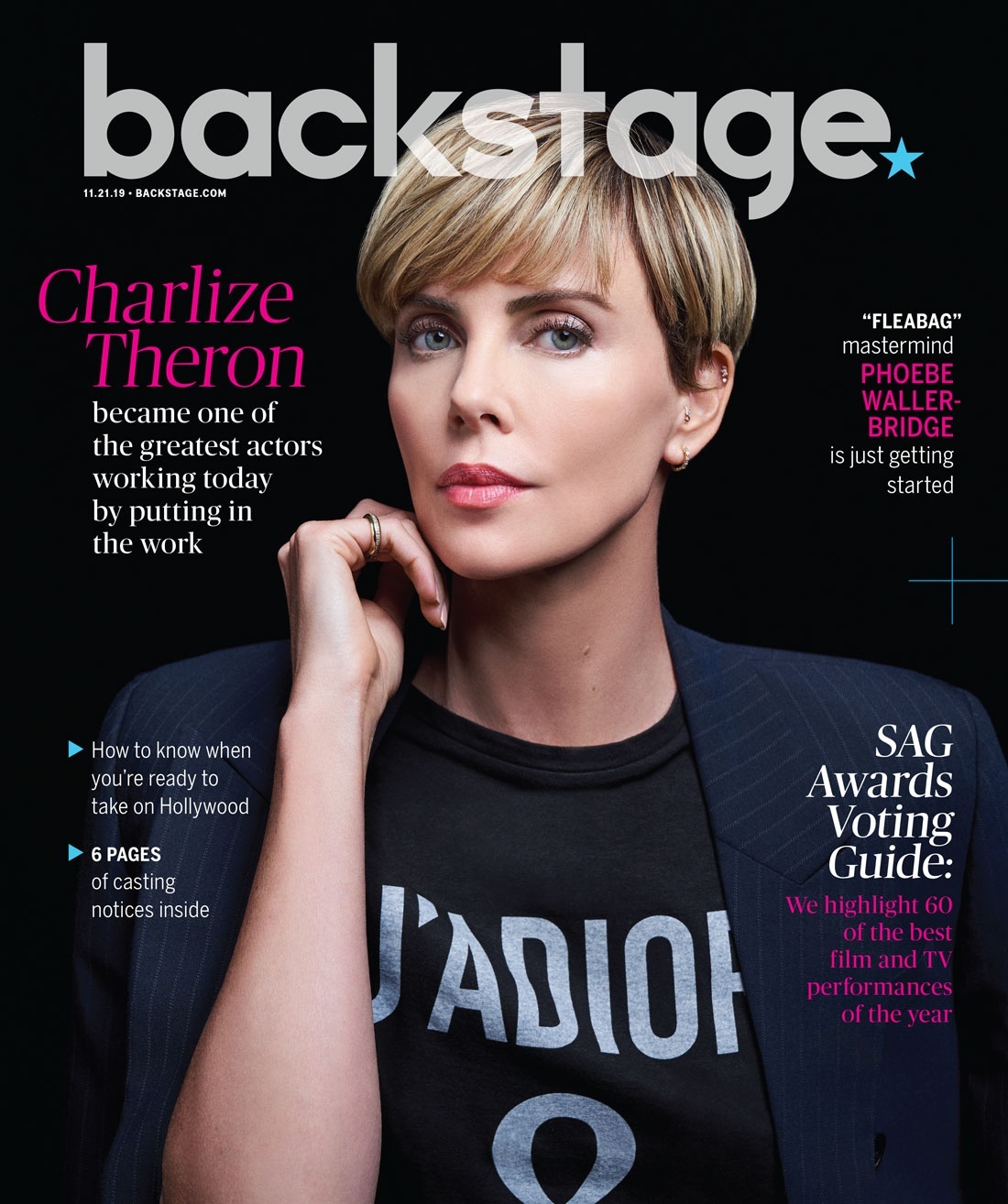 Charlize Theron (Nov. 20)
Amidst the press tour for her latest feature "Bombshell," Theron broke down her Oscar-winning career and the process that has carried her this far. "I almost treat it like studying," she says of acting. "I will find space where I am alone, where I can be focused, where there's nobody in my house, and I can really just sit down and study and play and look at my face and hear my voice and walk around and be a fucking idiot and my dogs are the only ones who are seeing that." Read the full story here.
Nicole Kidman (Nov. 27)
There are movie stars—and then there's Nicole Kidman. The Oscar winner spent a Saturday afternoon this fall talking shop about process, all the reasons she loves acting, and the gratitude she has about her career. "You're existing in almost this other realm when you act, when you come into another person's psyche and the director's psyche in such a deep way," she says. Read the full story here.
Patricia Arquette (Dec. 4)
Starring on a prestige and award-winning series is for many actors once-in-a-lifetime, so what does it say about Arquette's talent that she starred on two—in a single year? With both Showtime's "Escape at Dannemora" and Hulu's "The Act," the Emmy and Oscar winner is seemingly only getting better. "As an actor, the whole ride is so weird," she admits. "So much of it is out of your hands. All you can do is just try to prepare and do the best you can." Read the full story here.
Eddie Murphy (Dec. 18)
With the release of his awards-buzzy "Dolemite Is My Name," Eddie Murphy graced the cover of Backstage; what else could you possibly need to know? Read the full story here.
Robert Pattinson (Dec. 25)
Ending the year—and the decade—on a high note, our final cover of 2019 was "The Lighthouse" star Robert Pattinson. From "Twilight" to Oscar buzz, Pattinson has upheld one true acting ideology: "My only technique is sprinting up to a cliff and just jumping off it." Read the full story here.
Ready to get started with Backstage? Become a subscriber here!