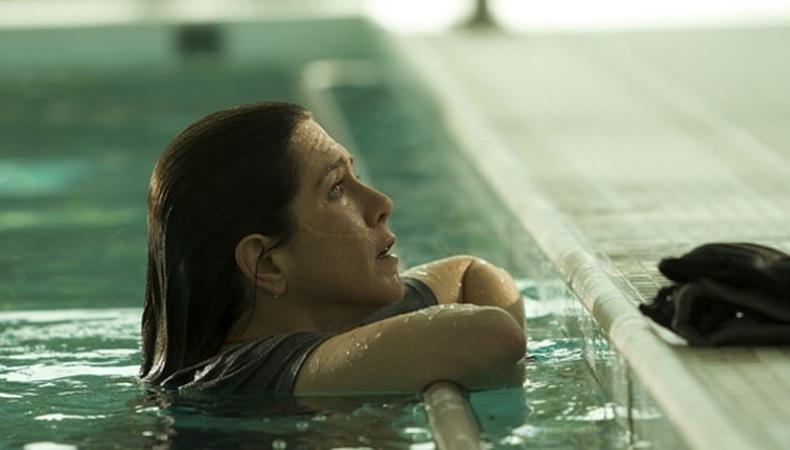 If you were to pick up a tabloid in the past decade, nine out of 10 times you'd see a headline with Jennifer Aniston's name in it. The titles would range anywhere from championing her red carpet outfit to spotting her exiting the gym sans makeup. In her latest film "Cake," the paparazzi won't have to be hiding in the bushes to catch a glimpse of her going au natural.
Aniston sheds the Maybelline to play the film's lead character, Claire Simmons, a woman who suffers from chronic pain – wincing with each step she takes.
"While I knew that Jen was the best actress to play Claire, I also recognized the challenge of downplaying Jen's own physical beauty," said Director Daniel Barnz. "But my concern turned out to be completely unfounded because Jen just went for it."
"She was stripped down emotionally as well as physically, sans makeup, beautiful hair, etc. She was able to see the unusual kind of beauty that exists in Claire that is unlike the beautiful Jen Aniston that we all know," he said. "When you look at Claire's face and you see these scars—no makeup and just her blue, blue eyes—I've never found her more beautiful."
In "Cake," Claire isn't in just physical pain, but emotional torment as well. She's blunt, to the point, and seethes with disdain at nearly every interatcion. Claire has driven away her husband, her friends, and has even been kicked out of her chronic-pain support group. The character can surely be described as dark, and after seeing Aniston in the black comedy "The Good Girl," Barnz knew she could handle it."
"Claire is really a dream role for a woman in her forties," Barnz said. "I had this gut feeling about her and I sent her this very passionate letter about why I thought this role was perfect for her. We sat down with her quickly thereafter to discuss it, and I took her through this elaborate mood book I had created as a way to show her my vision for the film and character.
"Cake" is set to debut in theaters January, 2015.