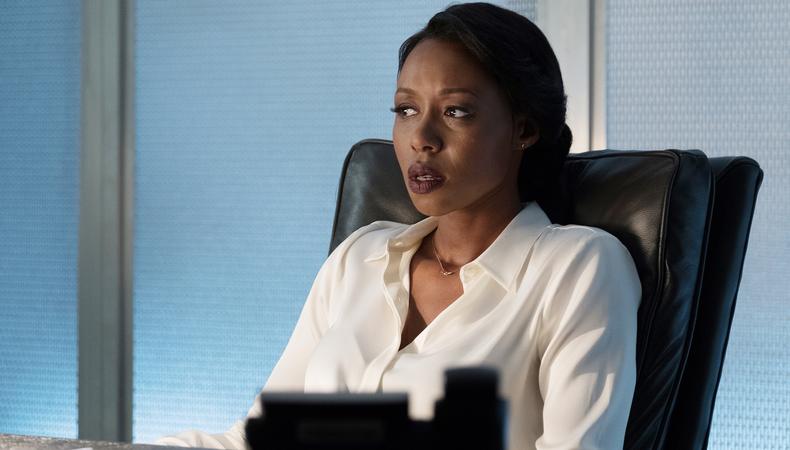 While Amanda Warren's résumé boasts some of the buzziest film and television projects of recent memory—among them "Three Billboards Outside Ebbing, Missouri," "Black Mirror," "The Leftovers," and "Mother!"—her latest starring turn on USA's "The Purge" gave her a new and exciting challenge: being a part of a franchise (and one of today's most successful horror ones, at that). The New York native came by Backstage HQ to discuss playing Jane, who takes advantage of the titular holiday's legalization of crime to climb up the corporate finance ladder; the significance of "The Purge" today; and how she approaches her scenes—even through inevitable stressors.
She's always wanted to be a part of franchise storytelling.
"Being a part of a major franchise is something that I've always wanted. If you look at my body of work, it's mainly indie features, arthouse cinema, especially coming off of 'Mother!' and 'Three Billboards' and 'Roman J. Israel, Esq.' And then there was also 'Black Mirror,' 'House of Cards'—so there were a lot of things of really great substance, very popular television. But on the features side, I was coming out of a lot of arthouse, independent cinema, so that was always a goal for me, to do some sort of a franchise work. And with 'The Purge,' which has a very horrific premise, I got really excited about it."
In her character she found a strong, disciplined woman.
"She's young, she's driven, she's self-made, and she does things without compromise. And she's got a really strong moral compass. But she's hit this roadblock with one of the partners at the firm, played by Billy Baldwin, and she wants to remedy that situation by doing what is her right, which is to purge on this night."
"The Purge" is escapist entertainment that resonates today.
"Without getting into politics, people are extremely sensitized [today]. We're not listening to one another as much as I would like us to…. With that said, because there's so much of our own mayhem that we're dealing with in the world, I think people are exploring different avenues of how things can go. But we've taken this premise and we've explored the human condition and [are] saying, 'Well, what if this is what it was?' "
Rely on your script and your scene partners to succeed.
"I just follow the line, to be quite honest. I know that sounds really artsy-fartsy, in a way. But if you follow the line and what the situation is in the moment and understand that a moment is as long as it needs to be, you change with the changes and [won't] be so sacred with everything…. [Training provides] tools; they're not rules. So you have all of these things, and then you can throw them away or keep 'em in your back pocket for a rainy day. If you just change with the changes and stay supple and just remain vulnerable and open to what your partners are giving you, to what the writers are giving you on the page, and to your director, then you should be OK."
Don't take yourself so seriously.
"[Actors should know] it'll work out in its own time. But pack your patience and just keep doing what you're doing, which is just as simple as doing the work—working at home so you can play on the day. And just knowing that it's gonna be cool, man. I don't know how many years I've lost off my life worrying about this damn thing, but it's just art. It's not the key to the Kremlin, it's not the cure for cancer. It is art. Don't take yourself so seriously. Have fun."
Ready to get to work? Check out Backstage's TV audition listings!