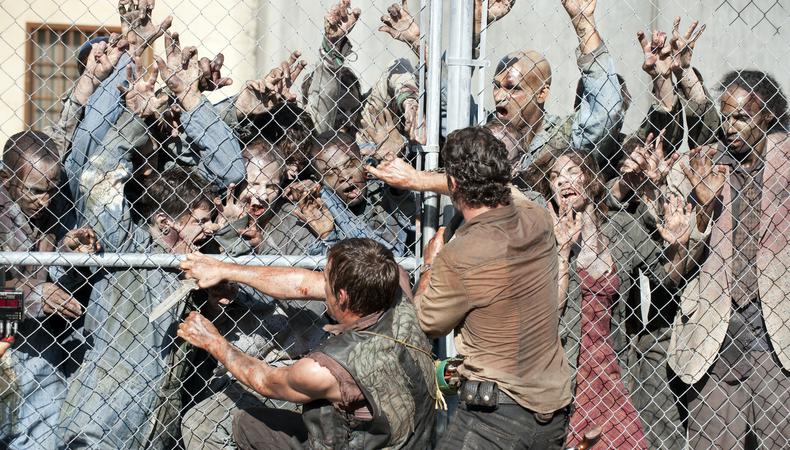 AMC's "The Walking Dead" is a post-apocalyptic horror-thriller about a zombie—or "walker"—apocalypse in which a crew of survivors must band together to stay alive. Season 1 of "The Walking Dead" focuses on Sheriff Deputy Rick Grimes waking up from a coma to find the world in ruins from the zombie apocalypse. He teams up with fellow survivors and travels to find his family, learning there is no cure for a "walker" bite. In Season 2, the survivors escape Atlanta but tension arises within the group that eventually attracts zombies. Seasons 3–10 follow the crew as they travel to find shelter and settle, only to be uprooted again as they try to survive the persisting zombie apocalypse and their own interpersonal conflicts. Not everyone survives and the group must adapt, especially when running into other groups of survivors. Pre-production on Season 11 of "The Walking Dead" was paused in March 2020 due to the COVID-19 pandemic, leading to a delay in shooting and a likely delay in airing Season 11, which likely would have debuted in Fall 2020. Currently, there have been no announcements as to when filming will resume, or when Season 11 will premiere.
How to Audition for "The Walking Dead" + Book the Role
"The Walking Dead" was created for television by Frank Darabont and Angela Kang, who also serve as executive producers and have each had their turn as showrunner. The story is an adaptation of the comic book series of the same name by Robert Kirkman, Tony Moore, and Charlie Adlard. The series began filming on May 15, 2010 in and around Atlanta, Georgia, premiering on Oct. 31, 2010 on AMC. A spin-off, "Fear the Walking Dead," premiered on Aug. 23, 2015 and a second spin-off, "The Walking Dead: The World Beyond" is planned to premiere in 2020. AMC has also announced plans for three films to follow Rick's story after actor Andrew Lincoln departs from the series.
During its 10 season run, the main actors featured on "The Walking Dead" have been:
Norman Reedus as Daryl Dixon

Melissa McBride as Carol Peletier

Danai Gurira

as Michonne

Andrew Lincoln as Rick Grimes

Lauren Cohan as Maggie Greene

Chandler Riggs as Carl Grimes

Josh McDermitt as Eugene Porter

Christian Serratos as Rosita Espinosa

Seth Gilliam Gabriel Stokes

Alanna Masterson Tara Chambler

Ross Marquand as Aaron

Steven Yeun

as Glenn Rhee

Sonequa Martin-Green as Sasha Williams

Jeffrey Dean Morgan as Neegan

Lennie James as organ Jones

Khary Payton as Ezekiel

Tom Payne

as Paul 'Jesus' Rovia

Scott Wilson as Hershel Greene
Sharon Bialy and Sherry Thomas are the main casting directors for "The Walking Dead." They are based in Los Angeles and are known for their work on other popular television series including "Barry," "The Handmaid's Tale," "Breaking Bad," "Better Call Saul," and "Dead to Me." They also cast "The Walking Dead" spin-off, "Fear the Walking Dead." Gohar Gazazyan, Britt Dvorak, and Russell Scott have also contributed to casting on "The Walking Dead" from the Bialy/Thomas office.
On what makes an actor memorable in an audition: "Their talent, their commitment, and their ability to dive into the role without their ego. We're all in this because we love to tell stories, so what makes me remember an actor is an actor who went in to tell the story, not the actor who is in there because of the ego. A lot of times, actors are told, 'This is your time in the room,' and that's not my feeling. It's not their time; it's the time for the story. It's their time to bring the story to life. It's not all about them."—Sharon Bialy
What actors can expect from their audition room: "A safe space to do their best work. The only thing that we require is that they've done their homework so that we can do ours."—Sherry Thomas
How you handle rejection matters: "We look at people as professionals, and if you keep working hard, the cream rises to the top. It's not how you are when you're successful, it's how you are when you take rejection. As actors know, you can come in and do an amazing audition and for a variety of reasons, you won't get the job. [You just have to] keep going and believe in yourself and eventually it will happen."—Sharon Bialy
Though there have been no public casting calls for lead roles, that doesn't mean we won't be seeing new faces when the series returns.
Keep in mind that for larger speaking roles—series regular, recurring, guest star, co-star, contract—you'll likely need to go through your agent. Don't have an agent? Here's how to get one.
Should an audition come up, make sure you're prepared:
Atlanta-based Patrick Ingram of Extras Casting Atlanta is the casting director for all background actors on "The Walking Dead." There are currently no open calls for Season 11 background talent, but be sure to check Extras Casting Atlanta's website for updates. Past Backstage casting calls for "The Walking Dead" background talent have included:
All genders

25-49

All ethnicities

Must have an American-made motorcycle
Since "The Walking Dead" shoots in Georgia, it's helpful to be local to the area. Because background work often does not include relocation or travel stipends, being a local hire is crucial for getting repeat work as an extra. For more information on what it means to be a local hire, click here.
For more information on how to land work and make a living as a background actor, check out Backstage's guide to working as an extra.
If you do fit the physical needs of background casting, you may be called in for what's been deemed "Zombie School." The series' makeup and special effects artist Greg Nicotera told CNN all about it in 2012: "I grade [actors] on two criteria: look and performance. We tend to go with thinner people who have a specific kind of bone structure, so when we put prosthetic on them—because makeup is an additive process—it doesn't look like we're building out their face too much. The second part of it is performance. The actor has to bring it to life. It's very important that our Walkers are genuine and authentic."