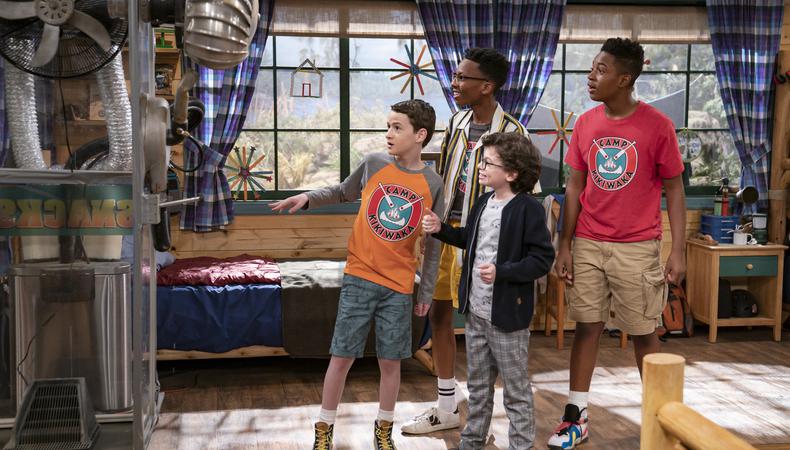 Managing your child actor's career trajectory can be overwhelming, to say the least. Ensuring that your budding young star gets signed to a talent agency that will fight for them—and shares your family's philosophy and values—is no easy task. Oh, and don't forget that all the big-name acting agencies in the East Coast youth market are virtually impossible to submit to without a direct industry referral! (Looking at you, WME and UTA.)
But there are a number of well-established New York agencies who accept unsolicited submissions from young working actors. If your child already has some credits under their belt, and you're looking for an NYC agency to get them more exposure to top casting agents and opportunities, the following six agencies should be at the top of your list.
The Breakdown: A boutique bicoastal agency ideal for young actors at the beginning of their career, Avalon prides itself on creating strong personal relationships with their actors and channeling their drive and talent to create sustainable career plans.
Notable Clients: Chalet Lizette Brannan ("Tinker," "Vengeance"), Cali Sheldon and Noelle Sheldon ("Us," "Friends"), Kaitlyn Dias ("Inside Out")
Submission Policy: Avalon accepts unsolicited submissions and provides detailed instructions on their website.
Avalon, founded in 2005, aims to provide a deeply personal approach to representation. Ted Maier, formerly of Mavrick Artists Agency, recently took over as head of Avalon's Youth Division. Founder Craig Holzberg brings over 20 years of industry experience to the table, expertly coupled with his background in business and casting. "What we respond to is actors who are unique," he noted in an interview with Actors Connection. "There's something different about them, and we respond to who they are as people. We really look at personality, we look at drive, we look at passion." The agency opens every single submission they receive, according to Holzberg.
The Breakdown: As a larger full-service agency, CESD provides unparalleled exposure to top casting agents and dedicated theatrical agents committed to your child's success.
Notable Clients: Gavin White ("Black-ish"), Candace Kozak ("Young Sheldon")
Submission Policy: CESD outlines email submission guidelines on their website.
CESD Talent is a large, bicoastal agency representing actors for commercial, voiceover, and theatrical opportunities. The agency was founded more than a half-century ago by Bill Cunningham and was then known as Cunningham & Associates. In the intervening years, it expanded to include T.J. Escott, Ken Slevin, and Paul Doherty. CESD was born under its current name in 2005. Cunningham and Escott have since retired, but Slevin continues to head the prominent NYC office. With more than 30 agents and thousands of clients, CESD is on the bigger side—but it provides individualized expertise in each division, making it an excellent option to maximize your child's voiceover and commercial opportunities alongside those in TV or film. David Doan, who serves as the VP of young talent in the theatrical department, won the Heller Award for best Northeast Youth Agent in 2019.
The Breakdown: A mid-sized agency representing a roster of youth actors in varying stages of their careers, CTG provides clients with excellent casting connections coupled with an actor-centered approach that's sensitive to the challenges of working as a child.
Notable Clients: Forrest Wheeler ("Fresh Off the Boat"), Raini Rodriguez ("Jurassic World"), Rico Rodriguez ("Modern Family")
Submission Policy: To submit to the NY office, email [email protected]cleartalentgroup.com.
Clear Talent Group (CTG) is a full-service agency representing talent in the areas of TV, film, commercials, and voiceover, with offices in both Los Angeles and NYC. In addition, there are departments that specialize in theater, dance, choreography, print, and digital. "This is an incredible agency," says client JoAnn Jansen via Yelp. "I have been with them for many years, and the owner Tim O'Brien is smart, honest, and has integrity." The Young People's team includes Julianna Lichtman and Chase Renouf in New York, and Jody Alexander, Philip Marcus, and Addie Bartlett in L.A. Together, they've been nominated for a number of awards, including multiple Heller Award nominations. Their philosophy is to represent talent with integrity, placing the talent's well-being over everything else.
The Breakdown: What DDO lacks in huge-name celebrities, it makes up for with 50 years of specialized industry experience and consistent bookings in big-name television and film projects.
Notable Clients: Ethan William Childress ("Mixed-ish"), Madelyn Miranda ("Dora and the Lost City of Gold"), Arabella Grant ("Fuller House")
Submission Policy: DDO's website includes clear instructions for email and mail submissions.
Although DDO was founded by Dorothy Day Otis in 1969 as a specialized youth agency, it eventually expanded to include an adult division as well. Today, they represent clients for theatrical, voiceover, and commercial representation across three U.S. offices. While you won't find many household names on DDO's roster, they represent many early- and mid-stage young actors and regularly book clients in network television and studio films. Laura Thede, head of DDO's Kids Division, has won the prestigious Heller Award for Youth Theatrical Agent of the Year. Mallory Levy sits as the director of the youth division in New York. "I feel like we're never going to have the most kids or the biggest company, but I do personally hear from casting directors that we have really good kids. I prefer to have quality over quantity," Thede said in an interview with Actors for Lunch. "You hear of the bigger agencies that really don't connect with their actors—it's probably because they view it as just a business, so why get attached? They're just trying to make money on you while they can, before you leave them, and don't waste time on the personal relationship."
The Breakdown: With a new dedicated youth division led by one of the industry's powerhouse agents, Stewart Talent shouldn't be overlooked.
Notable Clients: Gaten Matarazzo ("Stranger Things"), Shamon Brown Jr. ("The Chi")
Submission Policy: Submissions are considered via email and mail; their policy is outlined in detail on their website.
Stewart Talent is a full-service agency representing actors in film, TV, theater, voiceover, commercial, and print. Founded in Chicago more than 35 years ago, it has since expanded to become the only agency of its kind representing actors in all four major U.S. markets: Los Angeles, New York, Chicago, and Atlanta. In fall 2018, the agency expanded their New York branch with a dedicated Children and Young Adult Department. Representing newborns through 25-year-olds, the department is headed by veteran youth talent agent Bonnie Shumofsky Bloom (formerly of Abrams Artists Agency). Shumofsky Bloom was nominated for a Heller Award in 2019 and has attracted an impressive roster of young talent.
The Breakdown: At the top of their game among NYC youth agencies, Take 3 is focused on developing their clients both as actors and individuals.
Notable Clients: Jacob Laval ("The Plot Against America"), Gabriel Gurevich ("The Americans", "Supergirl"), Jake Goldberg ("Grown Ups")
Submission Policy: Take 3 considers submissions from actors in the tri-state area via online form submission.
Take 3 is a NYC-based full-service agency with a prominent youth talent division. Natasha Matallana is the founder of Take 3 and currently heads their theatrical division. "I started Take 3 because I wanted to dedicate my career to guiding actors. My love and knowledge of the industry aids my ability to be successful every day," Matallana says. She also offers some valuable advice for lucky actors selected to come in for an interview. "When I meet someone, I want to see that they're relatable, someone I can hang out with or talk to. You might be as equally talented as someone else, but I have way more fun talking to you! I want to sign someone that I can root for."