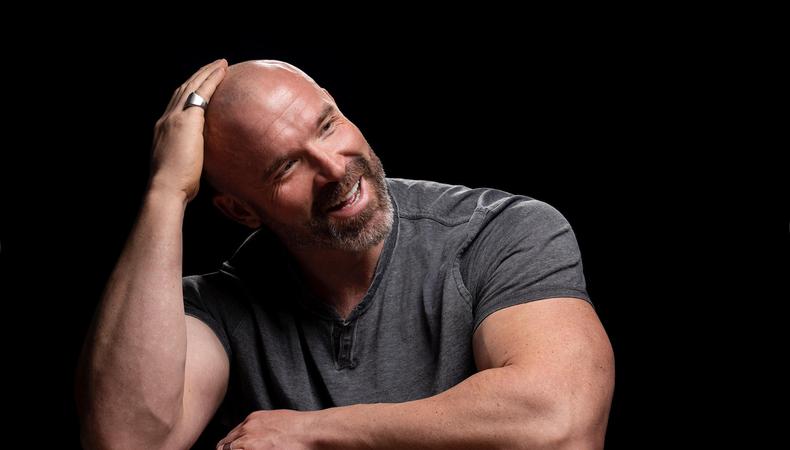 The following Career Dispatch was written by Thomas Forbes-Johnson, who stars opposite Sandra Bullock and Channing Tatum in "The Lost City," in theaters March 25.
I started my film career as a stunt performer more than 12 years ago. I was "discovered" in a gym by a movie producer and quickly received my SAG card. My first job was doubling David Bautista on one of his first movies, "House of the Rising Sun." The stunt coordinator, Kyle Woods, walked me through my first high fall and fight scene that week. After we wrapped, he explained the path to becoming a full-time stuntman.
The training was hard and the work was infrequent at first. The danger was real whenever we stepped on set, but with passion and dedication, he thought I could make it. Fast-forward to the present, and I still work for Kyle Woods—and now, also, Mike Gunther. It's all about the relationships you make. Kyle and Mike have become my mentors and have helped me build opportunities to be part of blockbuster movies. They also both continue to help me train in every aspect of the craft—including acting.
"You can't be a stunt performer without understanding what an actor is and does."
You can't be a stunt performer without understanding what an actor is and does. I have always trained in acting, taking classes, working in small independent films and passion projects that friends were developing. I would take on basically any chance to act. The actor's mindset is no different from that of a stunt performer: We train daily and take classes in skills not knowing whether it will ever be necessary for a job. But we are always prepared and ready, and that is 99% of the job.
All of the training and hard work I've put into both my stunt work and my acting paid off when I was called to audition for a movie called "The Lost City," starring Sandra Bullock, Channing Tatum, Daniel Radcliffe, and Brad Pitt. I landed the role, which was initially a small part. But as we were shooting, my part gradually grew. I was added into more scenes, and more lines were given to me. Over the course of the four-month shoot, I became close friends with Adam and Aaron Nee, our amazing directors. They made me feel part of the principal cast without any question, and allowed me to collaborate with them on my character's background.
I was able to gain the trust and respect of my fellow actors and the amazing crew. Attitude on set is as important as talent and work ethic. Without a polite, attentive, professional attitude, everything else will be overlooked.
Now that this film is being released, I'm particularly excited for what the future holds. Because of "The Lost City" and the relationships I've made, I have signed a multipicture deal with a major studio as a supporting actor in their upcoming franchise. It's a dream come true and the culmination of 15+ years of hard work. Even so, I will never stop training. I will never stop studying. I will never stop learning. That's the real key to success.
Looking for remote work? Backstage has got you covered! Click here for auditions you can do from home!