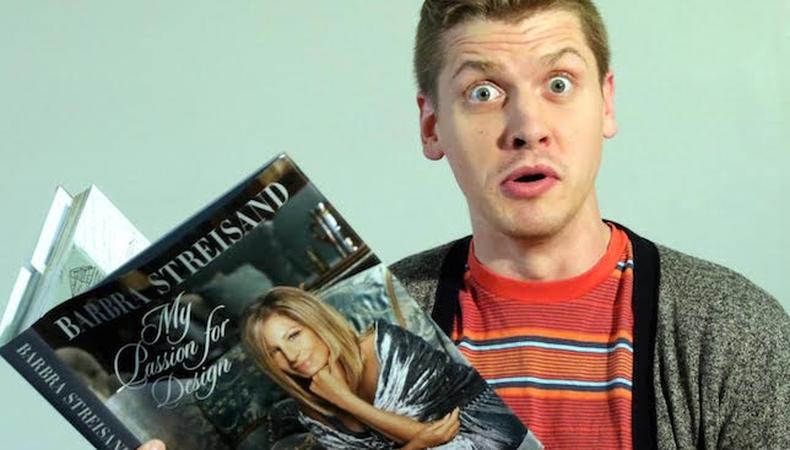 Jonathan Tolins' one-man play "Buyer & Cellar" provides its central actor with a tour-de-force opportunity: A marathon of comic riffs about a job working at the "mall" where Barbra Streisand houses her vast collection of memorabilia. But one reason it generates coos of appreciation when it's performed well is precisely because of its length.
Michael Urie tackled the role Off-Broadway in 2013, and now Fort Worth's Stage West is mounting the first locally-produced version of the play in its studio theater, with Houston actor Doug Atkins as the star. We talked with Atkins about the process of committing such a huge script to memory and what it's like acting without a scene partner.
What was your preparation to start memorizing a solo script of this length?
I am a perfectionist, and so I work as hard as possible to make sure the playwright's text is honored. Mr. Tolins wrote these lines, in this order, for a very specific reason [so I try not to make any mistakes or changes].
I start at the very beginning—a very good place to start. I highlight everything with different colors, to delineate who is speaking. I use Post-It notes to make it easier to open [the script] to a specific character. Then I start memorizing small chunks of the script at a time. As this is before the rehearsal process starts, I become more and more familiar with it, but not totally off-book. My training has always been to "block the scene with the script in hand, and be off-book the next time you run that scene." In order to try and stick with that methodology as best as possible, I familiarized myself with the script excessively, and then once the blocking was 100 percent set, the next time we run it, I try it off-book.
And buy a vocal steamer! One of those is your best friend when you're talking for 90 minutes straight!
Speaking of talking non-stop: What tips can you offer for getting off-book?
Once the blocking is set, it becomes much easier to get fully off-book. Mainly, blocking is my biggest self-cue in terms of where I'm at with the script, but throughout this process, we've collaborated a great deal when it comes to music and lighting, so there are certain cues that happen where it triggers the next chunk of text as well. Our fearless stage manager, Jessica Pettit, has been wonderful with running lines whenever I need it. The crew here at Stage West has been so nurturing, making sure the process is fun, energetic, and smooth.
What are the acting challenges (besides memorization) of having no scene partners?
The most challenging part of having no scene partners is that I really have to listen to the way I'm saying something, and react accordingly. It really truncates the process in order to keep up with the pacing. Instead of listening to someone else, allowing that to settle in, and reacting... the brain works overtime. And you start to feel a little bit crazy! I've been working very hard with my director, Dana Schultes, to make sure that we know beat-to-beat exactly who is talking and where they are looking.
So what have been some of the high points in doing your first solo show?
It's a blast playing six different characters. It also comes from one imagination. The collaboration between the director and me allows me to showcase myself in a way that I've never quite been able to before. The audience and I are building a specific relationship each performance, and the journey we go on together will bring new energy, excitement, and life to the show! No two shows are ever the same, and that's my favorite part of doing live theater.
"Buyer & Cellar" runs March 17–April 10 at The Studio at Stage West.
Inspired by this post? Check out our Texas audition listings!