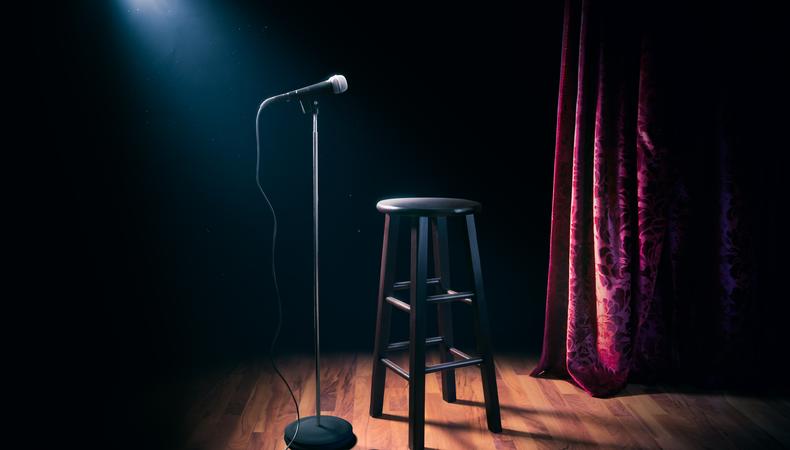 People ask me all the time how they can become a comedian and I always say, "There are a number of ways but first, are you truly ready to be one? Are you ready for the truth behind the laughs? The pain that comes with this tough business? Are you prepared to be alone and broke? Do you think you can make people laugh even when you may be miserable?"
These are the things people need to think about before even considering entering the world of comedy. Don't get me wrong, this isn't meant to discourage. But believe me when I say it is the reality of the business.
If you decide you are OK with all this and still want to enter this world, here are some of my top tips for getting started as a comedian.
Stand-up comedy tips for beginners
1. You need jokes
I know that might sound obvious but the hardest part of being a comedian is being able to write jokes, being relatable to people who don't know you and somehow making them laugh. Now, not everyone finds everything funny. But in general, "funny is funny" and people by nature find "funny" very relatable. My point is that the way to get genuine laughs is to think about the real, everyday things that happen in your life that make you laugh and start from there.
I always tell people they need five minutes to start. My first five minutes was horrible. I remember talking about Wonder Woman and her bracelets and how they wouldn't last long in the neighborhood I grew up in. I thought it was the funniest joke in the world when I wrote it. But when I performed it...crickets. It was horrible. After the show, one of my friends asked, "Why don't you talk about that real stuff you always tell me about, the stuff that makes me laugh? Why don't you talk about your family and your friends and all of the situations you get yourself into every day?" I thought about it and realized he was right. So I made it my duty to focus on my real, everyday experiences—the stuff closest to my heart and based on my life. And I've since found that these are the best jokes. You'll find that most people have experienced similar situations in their own lives and so they can relate.
RELATED: 4 Things All Aspiring Standup Comics Need to Know
2. Get on stage
There are a lot of people who are funny as heck around their friends, but the stage is a different monster. That wooden floor, microphone, and the audience can really change the game. You're nervous, anxious, and often second-guess yourself before a performance. That feeling will never go away. Every top comedian you see and love has that same fear before every show; it's how you deal with the anxiety that makes you a great comedian.
When I tell others that I still get nervous, they don't believe me. "That can't be true—you've been doing comedy for 20 years." I liken it to a fight: even if you know you can beat someone, you still get nervous. That's how you have to view the audience. Whether you realize it now or not, you are about to fight them. All great comedians agree that if you don't have that nervous ball in the pit of your stomach before a show, you're not ready. That nervous feeling has to become your friend in this game. And if you can make it your friend, take it with you to the stage and use it; it can help you confront and attack your audience with a barrage of amazing jokes.
3. Be able to act
Sometimes you go to a show and see a stiff comedian with low energy who never moves. Some people like that. I think they're boring. Maybe I just have too much energy but I've always believed comedy is a physical sport. I know that may seem like a stretch, but at the end of my shows, I'm drenched in sweat. I use my body to the fullest; I just cannot stay still on stage.
I also think all comedians should take acting classes because you have to be able to act out the things you talk about. You have to be able to help get the message across and using your body is a great way to do this. If you can't act them out, the audiences can get lost. And you never, ever want a lost audience. That's the number one rule.
When you're writing material, make sure to think of the physicality that will precede the setup. If the joke requires you to fall, fall. If it requires you to look stupid, look stupid. You can't be cute while you're telling a joke; cute doesn't work in comedy. You can look cute after the show.
The views expressed in this article are solely that of the individual(s) providing them,
and do not necessarily reflect the opinions of Backstage or its staff.