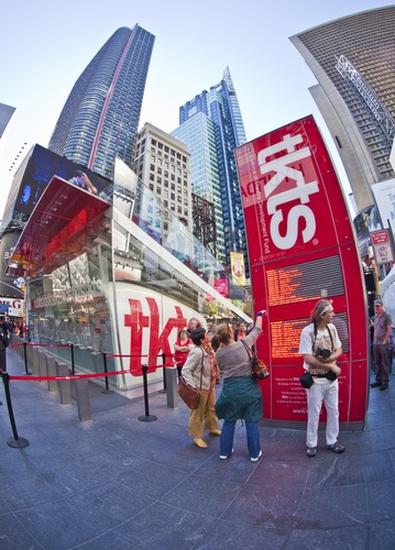 Actors have a lot of necessary expenses, but seeing live theater doesn't have to be one of them! Here are 13 ways that New York actors can engage with the community and enjoy some of the city's best theatrical work—without breaking the bank.
Broadway Week
This annual two-week promotion is going on right now, and features 2-for-1 tickets to 21 Broadway shows from Sept. 1–Sept. 14. This year's discounted tickets include new openings "This is Our Youth" and "You Can't Take it With You" alongside hits such as "Once," "If/Then," and "Pippin."
TKTS
If you've ever been to Times Square, you've likely come across TKTS' busy flagship booth. Located at the intersection of 47th and Broadway, tourists and New Yorkers alike line up as early as 10 a.m. for half-price tickets to matinees, and at 3 p.m. for discounted evening performances. But there's no need to fight through the crowds (and naked cowboys) to get these great deals; TKTS also offers discounted Broadway tickets at their South Street Seaport and Downtown Brooklyn locations.
OffOff@$9
In addition to running the TKTS booths, Theatre Development Fund offers tickets to some of the city's most vibrant Off-Off Broadway performances for, you guessed it, only nine dollars. Members can sign up for free on the website and purchase these super-cheap tickets to dozens and dozens of plays, musicals, and events.
RUSH and Standing Room Only Tickets
Ever wonder about those lines outside "Matilda" in the morning? Most Broadway shows offer a select number of discounted day-of tickets to savvy theatergoers. Dedicated patrons arrive hours before the box office opens to snatch up these great deals; though policies vary from theater to theater, most tickets are under $40 and available daily. Want to know how early to line up? Check out Broadway Spotted's Rush Report for weekly trends.
The Lottery
If waking up early isn't your thing, several popular shows offer a daily lottery two-and-a-half hours before curtain. Names are drawn at random, and the lucky winners can purchase hugely discounted tickets to the evening's performance—without catching frostbite in the 8 a.m. rush line.
HIPTIX at Roundabout
Theater lovers ages 18–35 can take advantage of this fantastic program from Roundabout Theatre Company; sign up online to purchase $20-$25 advance tickets to any of Roundabout's Broadway, Off-Broadway, and Underground productions, and keep an eye out for Hiptix nights—special performances featuring post-show receptions (and refreshments) exclusively for members. Over 35? Check out Roundabout's Access10 for $10 tickets to the first four previews of any production.
30 Under 30 at 2econd Stage
This deal from 2econd Stage Theatre allows audience members ages 30 and under to purchase $30 tickets to most performances, and invites them to the "30 & Under Afterparty," where young audience members enjoy good conversation, free drinks, and snacks. Military discounts are also available online and at the box office, and students can buy inexpensive rush tickets one hour before curtain.
Pay What You Can and PS35 at Primary Stages
For select performances of Primary Stages' Off-Broadway productions, audience members can visit the box office at 4 p.m. and enter a lottery for "Pay What You Can" tickets. Under 35? Use the online code "PS35" to purchase up to two tickets to any performance for only $20. Student rush tickets are also available!
Back 20 at Atlantic Theater Company
Atlantic Theater Company offers this great deal to theatergoers of all ages; the back two rows of all preview performances are sold for $20 online—just select "Back20" when purchasing tickets.
New Deal at Theatre for a New Audience
Students and patrons under 30 can visit this Brooklyn-based theater company (now in their gorgeous new space at the Polonsky Center) for only $20 a ticket to any performance. Just use the code NEWDEAL online, or visit the box office with a valid ID.
CheapTix Sundays at New York Theatre Workshop
New York Theatre Workshop holds a select number of $20 tickets to all Sunday evening performances, and sells them on a first-come-first-served basis. Can't make it out on a Sunday? NYTW also employs four volunteer ushers per performance, and offers student and senior discounts.
HOTTIX, First Row Sundays, and LIVEforFIVE at Playwrights Horizons
Fans of new works have several opportunities to visit Playwrights Horizons for cheap. With HOTTIX, patrons under 30 can purchase $25 tickets (cash only) one hour before curtain. Similarly, First Row Sundays offers $25 tickets in advance to ages 30 and under. Finally, audience members of all ages can submit their names for the LIVEforFIVE Lottery; winners get a $5 ticket to the first preview of a new production.
Under 30/Theater Artist at Rattlestick Playwrights Theater
Rattlestick Playwright's Theater offers steeply discounted tickets to theater artists and patrons under 30. Though prices vary from show to show, artist tickets can be less than half of the regular ticket price; just be sure to select "Under 30/Theater Artist" when purchasing tickets online.
NYC Parks
Cheap tickets are great, but free tickets are better! New York is one of the best places to find free outdoor theater, especially over the summer. Check out the events page on the New York City Department of Parks and Recreation website for ongoing listings of free shows all over the city.
Inspired by this post? Check out our theater audition listings!