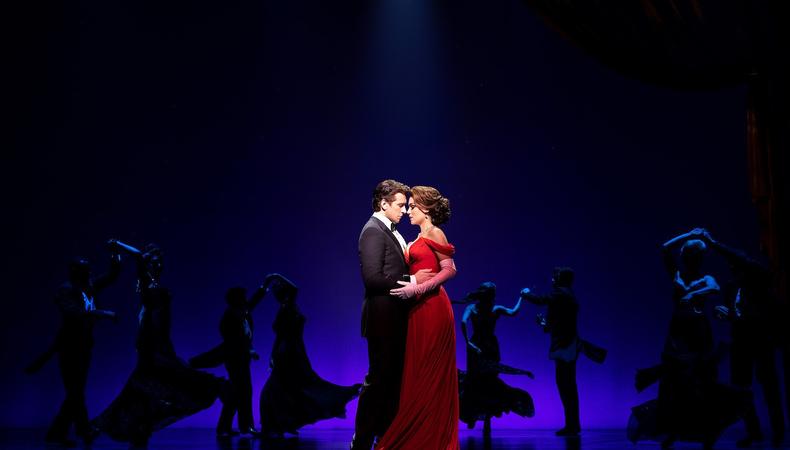 Tony-winning costume designer Gregg Barnes is a veteran of big-name screen-to-stage adaptations, having costumed for "Legally Blonde," "Aladdin," and most recently "Mean Girls," to name just a few. And still, his latest venture "Pretty Woman," with its countless iconic looks, posed new challenges entirely. Just as the musical, opening at the Nederlander Theatre Aug. 16, went into tech rehearsals, Barnes hopped on the line with Backstage to discuss the differences between designing costumes for film adaptations and original musicals and why sartorial choices for the character actually begin with the actor.
How would you describe the duties of a theatrical costume designer?
Every member of the team is a storyteller, and so I think that's my primary role: using clothing to help the actor tell the story.
How did you begin to decide which iconic looks from the film would make it onstage?
When [director] Jerry Mitchell asked me to be a part of the team, it was around Halloween, and I went to my gym and all the trainers had gotten dressed up. There was this exquisitely beautiful female trainer, and she was dressed as Vivian in the famous look with the ring on the tummy. I said to her, "You're going to think I'm crazy, but if you were to see a Broadway musical of 'Pretty Woman' and Vivian was not wearing this look, what would you think?" And she said, "I'd walk out, I'd be outraged." The power of the iconic looks had to be addressed.
What was the process for redesigning the film's looks for the musical?
There are so many films that are beloved where the clothing doesn't have the same resonance. "Legally Blonde," even though the clothes are amazing and witty, I didn't feel the same pressures, I didn't feel like I needed to respect the expectations of the audience in the same way. When we went into it, initially we thought the two places where we really have to deliver are the opening look, where she's got the miniskirt, and then the opera, of course—the red evening gown. But I realized it goes deeper. People were like, "What about the polka dots at the polo match? What about the cocktail dress when she first transforms?" So we readressed a lot of things from [the out-of-town run in] Chicago, not to copy the film, but just to address the nostalgia for the film. I've made it my own, I hope.
READ: How Actors Helped Create the Costumes for 'Once on This Island'
Do you appreciate actor input when it comes to costumes?
Yes, I never say no. When they walk in the room, at first we have to address them as a person, not as a storyteller: What do you hate? What do you love? What do you never wear? What colors suit you? And somehow, inevitably, in that conversation, we stop saying the actor's name and we start saying the character's name. That's how you know you're on the right track. They'll start to say, 'She or he would feel this way and that goes against what I usually like.' There is something about letting them take the room.
What, typically, is your working relationship to actors on a project?
To say I'm a fan of actors is an understatement; I'm very, very sensitive to the actor…. I always say, "I don't have to wear the skirt, I don't have to wear the shoes." It's like somebody wrote their Christmas letter to Santa: "This is what I want my character to look like," and I get to be Santa and deliver the presents that help them do their job.
What are the primary differences between designing for a film adaptation and an original musical?
I try to think of the moment not as part of the team that's going to study this and be part of the changes and the development over the course of many years, but just as somebody who goes in with a fresh perspective and what I might want to see. "Aladdin" is probably the best example, because there's so much you can do surrounding the main characters, but your 5-year-old, when their Disney princess hits the stage, you want them to instantly be satisfied and reach out to that character. I try to look at it like I'm not me, like I don't know the power design has, and sometimes go against the expectation and sometimes reinforce it.
How did you get into costume design?
In college, I was a literature major, and I thought, I love the theater and stories, so I studied literature, and that led me to the idea of being the high school drama guy and teaching English. I started to take these courses in design, and it clicked with me, and a visiting designer came to the college where I was in San Diego, and he just out of the blue said, "You have a gift, go to New York." I took him up on it and moved. I'm not a person who is fearless, I am wracked with self-doubt, so I don't know why I listened to him, but I did.
What advice can you offer to aspiring costume designers?
When I was young, people always used to say, "If this isn't your singular passion, don't do this, it's too hard." And while that turned out to be true, that is not the advice I would give to somebody today. I taught for 20 years at NYU while I was also forging my way as a commercial professional designer. I would just say follow your heart, and that can never be wrong. Sometimes the skills and the things you thought you might want to do, they may take you in a direction that's so unexpected. If you want to design, do it. You have to figure out a way to make it work financially, but you have to actually do it, you can't just dream about it.
Ready to get onstage? Check out Backstage's musicals audition listings!