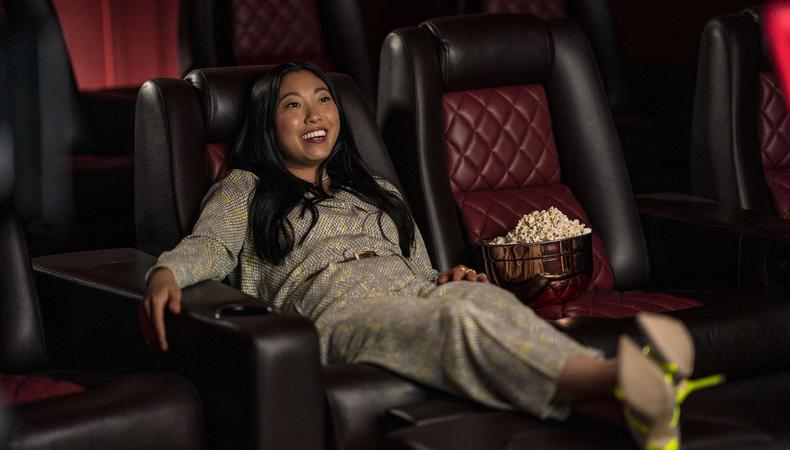 The challenges presented by the COVID-19 pandemic, including its effects on the entertainment industry, have helped us appreciate one of this year's rare constants: the abundance of fantastic television. As Hollywood prepares for an unusual season and Screen Actors Guild Award nominators catch up on the best series of 2020, we're rounding up the small screen's worthiest individual performances in TV comedy.
OUTSTANDING PERFORMANCE BY A FEMALE ACTOR IN A COMEDY SERIES
Pamela Adlon, "Better Things"
As writer, director, producer, and star of "Better Things," this industry vet gives us what we never knew we needed: pure, unadulterated Adlon. Watching her Sam Fox, a delightfully acerbic actor and single mom to three girls, feels like our inner monologues are set free. The level of authenticity she brings to her character and series over four seasons is unmatched.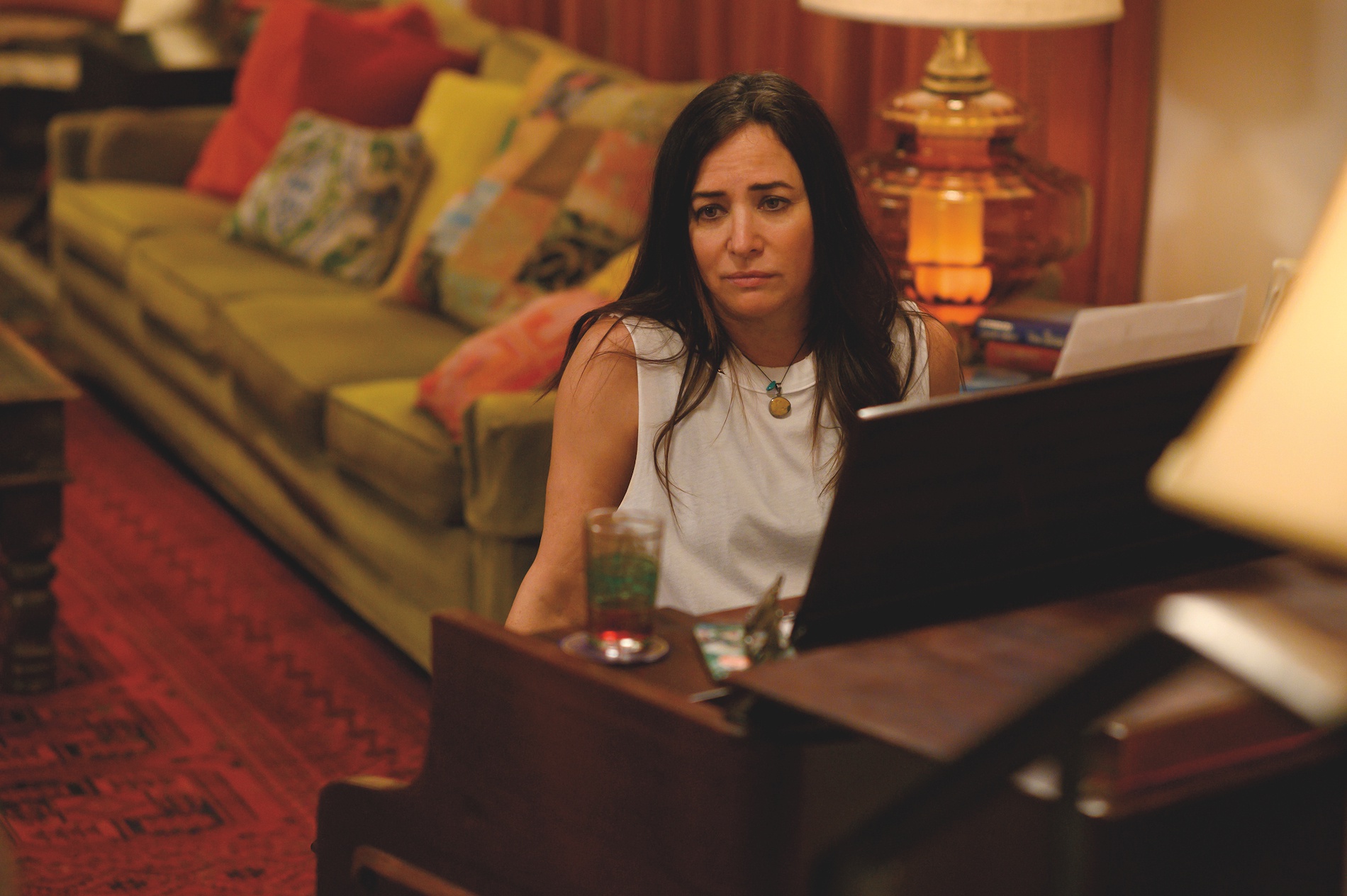 Christina Applegate, "Dead to Me"
We don't want to live in a world where Applegate isn't on the small screen. Luckily, Liz Feldman's "Dead to Me" is both infinitely watchable and rewatchable, thanks in large part to Applegate's glorious turn as the widowed, wine-swilling Jen Harding. She's as good at digging deep for emotional breakdowns as she is at muttering scathing insults under her breath.
Awkwafina, "Awkwafina Is Nora From Queens"
The TV comedy landscape is made better by Awkwafina's presence. Every element in this Comedy Central series, from the character's hunched physicality and deadpan delivery to her off-the-wall aspirations for a more fly lifestyle, clearly emerges from the writer-producer-star's highly original sensibilities. Her scenes opposite Lori Tan Chinn as her grandmother in particular are so funny, they demand a rewatch.
Aidy Bryant, "Shrill"
You know those screen stars who make you feel like you just want to be friends with them? Bryant is the epitome of that phenomenon, and nowhere is it more apparent than on this Hulu original. In the actor and writer-producer's capable hands, the quiet, self-deprecating, decidedly un-shrill Annie goes from wanting to fade into the background without upsetting anyone to pointedly exploring her own self-worth and self-confidence.
Linda Cardellini, "Dead to Me"
Cardellini has her work cut out for her on Netflix's "Dead to Me" as a character who is both sweetly naive and a walking cyclone; Judy Hale leaves chaos in her wake while smiling the most earnest smile. But in Cardellini's hands, material that shouldn't feel cohesive combines to form a portrait of a woman soldiering through her pain and seeking to better herself.
D'Arcy Carden, "The Good Place"
One of TV's most consistently surprising and delightful performances in recent memory, Carden's Janet is a character for the ages. The friendly artificial intelligence of the afterlife, programmed with near-omniscience, became more and more of a wild card as this series expanded its already impressive reach; the actor's standout episode features countless Janets intermingling, and you can watch any one of them for laughs.
Lily Collins, "Emily in Paris"
Any TV story centered on a charming-but-flawed hero or heroine needs a leading actor who understands its tonal qualities on a cellular level. In fact, it's mostly up to them to define and maintain the show's appeal. As the titular millennial marketing executive and fish out of water in the City of Lights, the infinitely charming Collins provides a quintessential example of how to carry a series.
Maya Erskine, "Pen15"
The success of a series like "Pen15" rests entirely on the shoulders of its creators and stars, Erskine and Anna Konkle, who do the kind of comedic character work as 30-somethings playing middle schoolers that shouldn't work on paper but somehow has for two hilarious seasons. Erskine makes Maya Ishii-Peters' sexual awakening through the confusion of puberty particularly relatable in a series designed to make you cringe.
Elle Fanning, "The Great"
Long live Catherine the Great—Fanning's portrayal of the Russian empress, that is. Funny, complex, surprising, and entertaining, the star's arc from submissive betrothed to authoritative mother-to-be is what makes this Hulu dramedy work. As Catherine grows into an indomitable presence at court, Fanning's performance becomes one of this year's most memorable. We'll readily overlook historical inaccuracy to see another season of her sparring with enemies and conspiring with friends resplendently.
Jane Fonda, "Grace & Frankie"
A master at everything from acting to political activism, Fonda continues to remind us why she's a star on Season 6 of "Grace and Frankie." Portraying a woman coming to terms with her age, lucidity, and health is never easy, but Fonda delivers her dry humor with poise and dignity, proving time and time again that this legend has still got it.
Jonica T. Gibbs, "Twenties"
The ease with which Gibbs leads this Lena Waithe series makes it hard to believe it's her first starring role; she has the ability to embody a character until you feel as if you know her. Whether Hattie is alone onscreen or connecting with her best friends or boss, Gibbs has such command of the frame that eight episodes doesn't feel like enough to fully enjoy her performance.
Allison Janney, "Mom"
Bonnie is a screw-up who unapologetically screws up other people's lives. But Janney is so pitch-perfect in her physical comedy, so endearing, so damn funny, that she makes this frankly horrible woman inherently affable. Who else could pull that off? It's no wonder the seven-time Emmy-winning actor frequently sweeps awards shows, and will surely continue to do so.
Anna Konkle, "Pen15"
Don't let the winking prankster title fool you; "Pen15" grapples with more than facile concerns of the teen spirit. Konkle, as middle schooler Anna Kone, charts an especially emotional arc on Season 2 of the hit Hulu series as she navigates her parents' ongoing divorce. Anna's scenes in the finale with her mother (Melora Walters) will leave you in tears.
Jane Levy, "Zoey's Extraordinary Playlist"
The conceit of "Zoey's Extraordinary Playlist," which finds the titular character hearing others' thoughts in musical form after an earthquake, requires so much more commitment than such a comedy confection might suggest. Levy brings silliness to Zoey, especially during the show's musical numbers, but remains psychologically astute and wonderfully reactive throughout. It takes actorly precision to deliver what she delivers episode after episode.
Rita Moreno, "One Day at a Time"
From the moment she first entered the scene with the most Moreno-esque of flourishes, this legend has been a reliable source of comfort on Gloria Calderón Kellett and Mike Royce's sitcom revival (now sadly cancelled by both Netflix and Pop TV). As Lydia, abuela of the Alvarez clan, Moreno knew when to ham it up and when to let her charisma speak for itself with moments of lovely sincerity.
Annie Murphy, "Schitt's Creek"
"Ew, David!" For lessons on how to use line delivery to produce instantly memorable quips, look no further than Murphy's ditzy Alexis Rose. Her distinct combination of bubbly, bratty, and sweet reached its peak on the last season of "Schitt's Creek," which featured the Emmy-winning Murphy warming our hearts as much as she cracked us up.
Catherine O'Hara, "Schitt's Creek"
Much has been said about O'Hara's iconic performance as Moira Rose—but we guarantee she'd have the oddest, most delightful way of saying it herself. She dominated the spotlight every time she was in frame with her line readings as the wacky, wig-wearing, past-her-prime actor and one percenter. Having rounded out her final, Emmy-winning season as the lovable narcissist, O'Hara left us wanting more.
Issa Rae, "Insecure"
For four seasons, Rae's comedic masterpiece has depicted life in Los Angeles for Issa Dee, played with blundering perfection by Rae. Although you constantly feel compelled to grab her by the shoulders and swivel her away from an impending bad decision, you never once lose empathy for the not-so-indefatigable heroine, and that's thanks to the creator-star's knack for the funny, relatable, and painfully insecure.
Maitreyi Ramakrishnan, "Never Have I Ever"
Newcomer Ramakrishnan was cast from an open call for the leading role of Devi Vishwakumar on Mindy Kaling and Lang Fisher's hit dramedy. Her synthesis of awkwardness and hilariously feigned confidence makes it easy to see why. Along with the familiar trials facing high schoolers, like an overbearing mother or hopeless crushes, Devi is dealing with—or refusing to deal with—the loss of her father. Ramakrishnan guides us on her coming-of-age journey beautifully.
Tracee Ellis Ross, "Black-ish"
Rainbow Johnson is your typical sitcom mother: frazzled but poised, put-upon yet supportive. But Ross and the creators of ABC's most subversive comedy have turned that trope on its head by adding new qualities: goofy, badass, and often borderline deranged. The actor has again and again demonstrated her chops, making us love the Johnson family and its matriarch even more than we already did.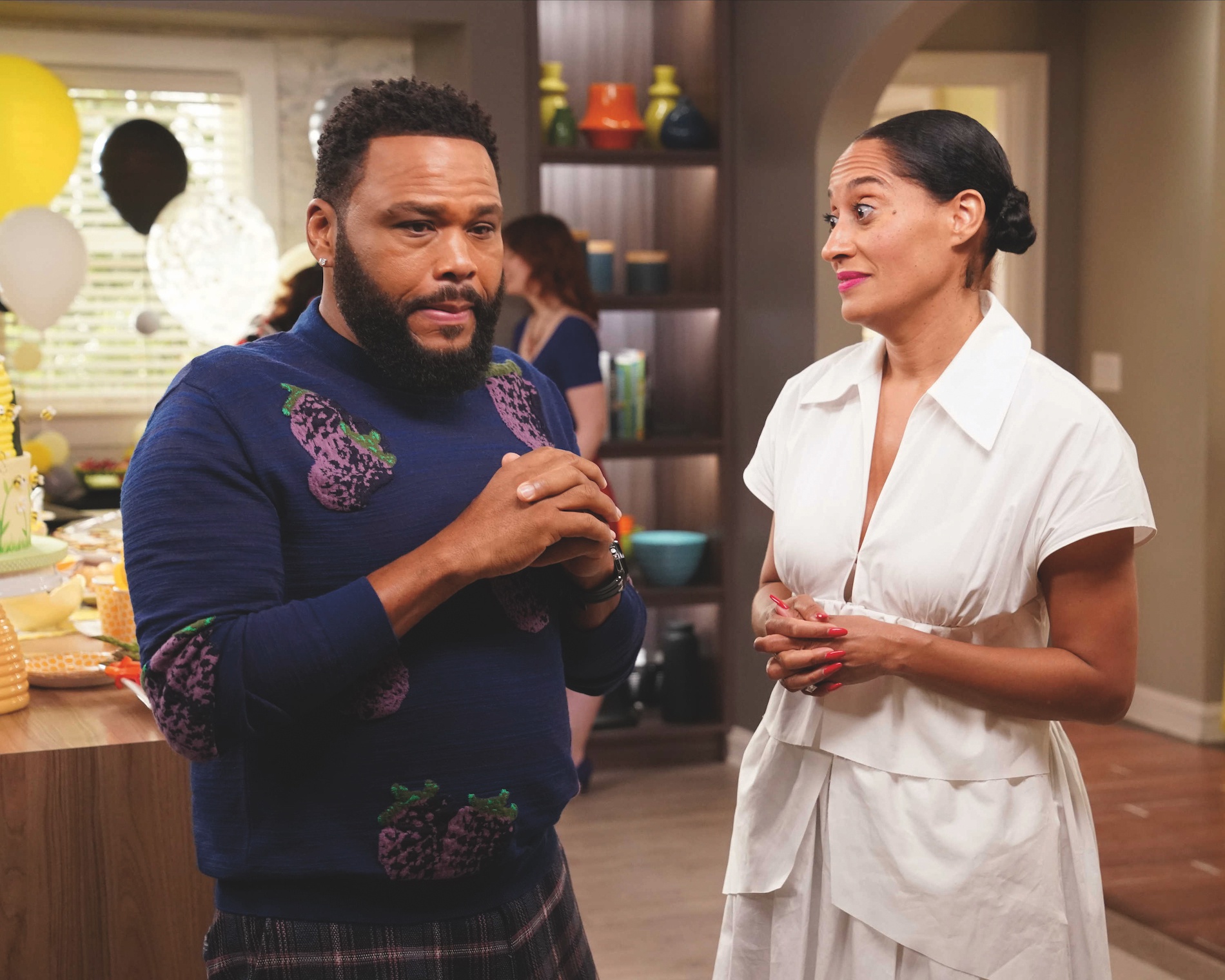 Alia Shawkat, "Search Party"
Things have spiraled far out of control on this neo-noir satire (first on TBS, now HBO Max) about hapless hipster Brooklynites avoiding criminal consequences. But as this story shifts to unexpected new genres, Shawkat's portrayal of Dory grounds us despite retaining an air of indescribable mystery. The series may lose the plot—in the best, most intentional way possible—but you can count on Shawkat, gazing at her own reflection, to keep luring us in.
Hailee Steinfeld, "Dickinson"
Who knew Emily Dickinson's life and words could be infused with modern issues, goofy irreverence, and a compelling coming-of-age arc? This Apple TV+ hit does so with confidence, especially with its leading performance; the always watchable Steinfeld manages to take Dickinson's creative process seriously while highlighting her odd quirks, romances, and ambitions. More than anything, you sense the actor is just having a blast.
Lily Tomlin, "Grace & Frankie"
No one can deliver a punchline quite like Tomlin. Season after season on this Netflix buddy comedy opposite the equally brilliant Fonda, Sam Waterston, and Martin Sheen, the legend continues to delight as a woman with a tenuous grasp on her sanity and social standing. Feeling blue? Tune in to any scene featuring Tomlin on "Grace & Frankie" and you'll laugh.
Josie Totah, "Saved by the Bell"
We're back at Bayside High in one of the newest hits of the season, from NBC's Peacock and Tracey Wigfield. The revival's ensemble, which includes original series faves Elizabeth Berkley Lauren and Mario Lopez, is brimming with charm, but Totah steals every scene as popular and privileged cheerleader Lexi. As with her voice work on "Big Mouth" Season 4, this rising star uses her comedic talents to blaze trails for transgender representation on screen.
OUTSTANDING PERFORMANCE BY A MALE ACTOR IN A COMEDY SERIES
Mahershala Ali, "Ramy"
Ali was allegedly cast on Youssef's comedy about modern-day Muslims because he reached out to say he was a fan. We're glad the two-time Oscar winner did; his work as Sheikh Malik confirms his onscreen magnetism yet again. He serves as a foil for Ramy, delivering stirring monologues that guide the former on his religious journey, all while retaining a natural warmth that puts Ramy, and us, at ease.
Anthony Anderson, "Black-ish"
Juggling a growing family, career, and his kids' sense of Blackness in the lily-white surroundings of upper-middle-class suburbia, Anderson's Dre Johnson has been equal parts modern philosopher and swaggering goofball on ABC's hit sitcom for six wonderful seasons. The naturally funny Anderson's ability to pull off both continues to impress, as do those moments where he digs deeper.
Hank Azaria, "Brockmire"
The six-time Emmy winner keeps proving his bona fides as a comedic actor, particularly in the profanity department; many of the unprintable lines Azaria spits are masterpieces. The fourth and final season of this IFC series found his baseball announcer Jim Brockmire walking the balance beam of sobriety and reexamining several frayed relationships. Watching Azaria convey Jim's discovery of the simple joys of compassion was unexpectedly touching.
Andre Braugher, "Brooklyn Nine-Nine"
Captain Raymond Holt is so quietly nuanced, he'd be right at home in a prestige drama. In fact, the more seriousness and subtlety Braugher brings to the character, the more hilarious his line deliveries become. Opposite the over-the-top Andy Samberg and the rest of the beloved crew at the titular precinct, Braugher continues to make playing unamused highly amusing.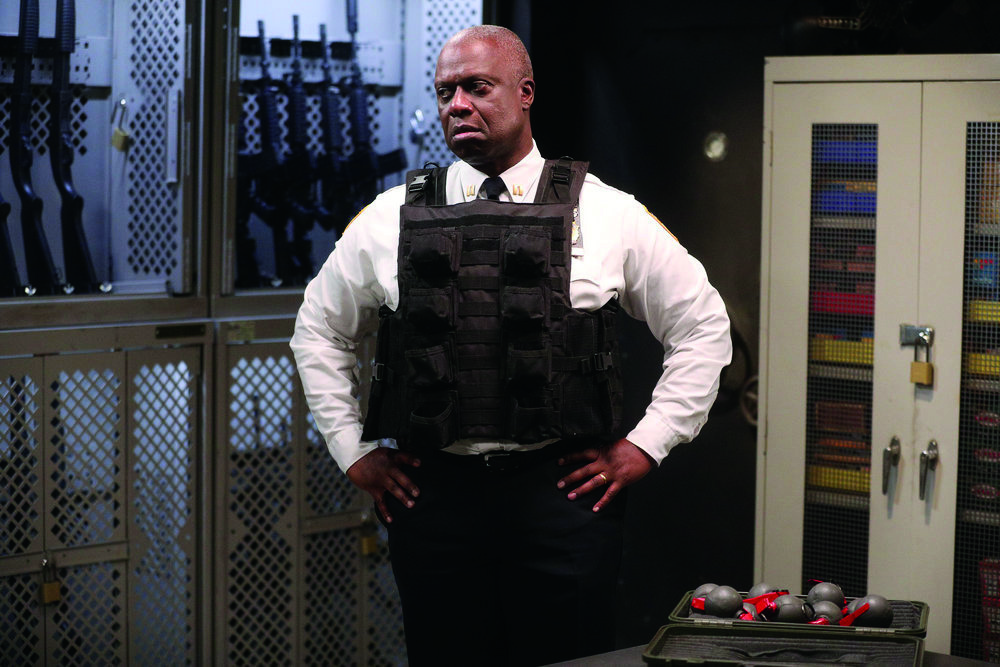 Steve Carell, "Space Force"
From the moment General Mark R. Naird guffaws at the idea of a Space Force only to immediately learn he's leading it, Carell (the co-creator, with Greg Daniels of "The Office," of this new workplace comedy) reminds us of his myriad on-camera skills. With "The Morning Show" shooting delayed, we're glad Carell is finding his way into this year's awards conversation, where he continues, somehow, to be underrated.
Jim Carrey, "Kidding"
Expectations were high for Carrey's return to television in a dark comedy from Showtime about a kids' TV personality going through a crisis. But we should have known he would find a way to subvert whatever we imagined the series to be. Particularly on Season 2, Carrey's work as the grieving Jeff, aka Mr. Pickles, expanded upon the thoughtful performances for which the actor is often overlooked.
Don Cheadle, "Black Monday"
If you enjoy the idea of Cheadle snorting a line of cocaine and then high-fiving a robot butler, "Black Monday" is the comedy for you. This wild '80s throwback stars Cheadle as the suave Maurice Monroe, a stockbroker who has the world at his fingertips and craves more. Watching this one-of-a-kind leading man, you'll crave more, too.
Ted Danson, "The Good Place"
The legendary Danson expanded his actorly repertoire as Michael, a demon who manages a section of the land of the departed, on Michael Schur's hilariously idiosyncratic and deceptively ambitious comedy. On the show's final season, Michael unveiled more layers of empathy for his human friends and cracked us up. "The Good Place" is over, but Danson remains on NBC; he now stars on Tina Fey's amusing "Mr. Mayor."
Larry David, "Curb Your Enthusiasm"
As much as we hate the fictionalized Larry David, we love the performance given by the real man. How can one person find so many fresh ways to express hilarious outrage? Over a decade after HBO's "Curb" first began, we find ourselves truly elated to have his dumbfounded face wreaking havoc in Hollywood again.
Jesse Tyler Ferguson, "Modern Family"
ABC's longest-running comedy has come to an end with Season 11, and we'll miss the uproarious updates from the Pritchett clan (and Dunphys and Tuckers and the whole sprawling family). Picking a standout from this four-time SAG Award-winning ensemble has always been tricky, but it's Ferguson who deserves credit for finding fresh, funny ways of expressing the holier-than-thou exasperation of dear Mitchell.
Walton Goggins, "The Unicorn"
A lighthearted CBS sitcom doesn't sound like the right framework for a character study about living with grief. But whatever alchemy this series has struck is working, thanks largely to its leading man: as widower and single father Wade, Goggins finds the balance between genuine emotional depth and schlubby charm. He's one of those actors who seems to have chemistry with everyone.
Harvey Guillén, "What We Do in the Shadows"
Guillén's Guillermo de la Cruz stands out as the human among vampires you can't help but root for on this Emmy-nominated comedy hit. His adorably sweater-clad familiar hopes to become a vampire himself despite discovering he's a descendant of Van Helsing; the actor is particularly great at making this hilarious conflict clear while slaying vampires to protect his master Nandor (Kayvan Novak) early on Season 2.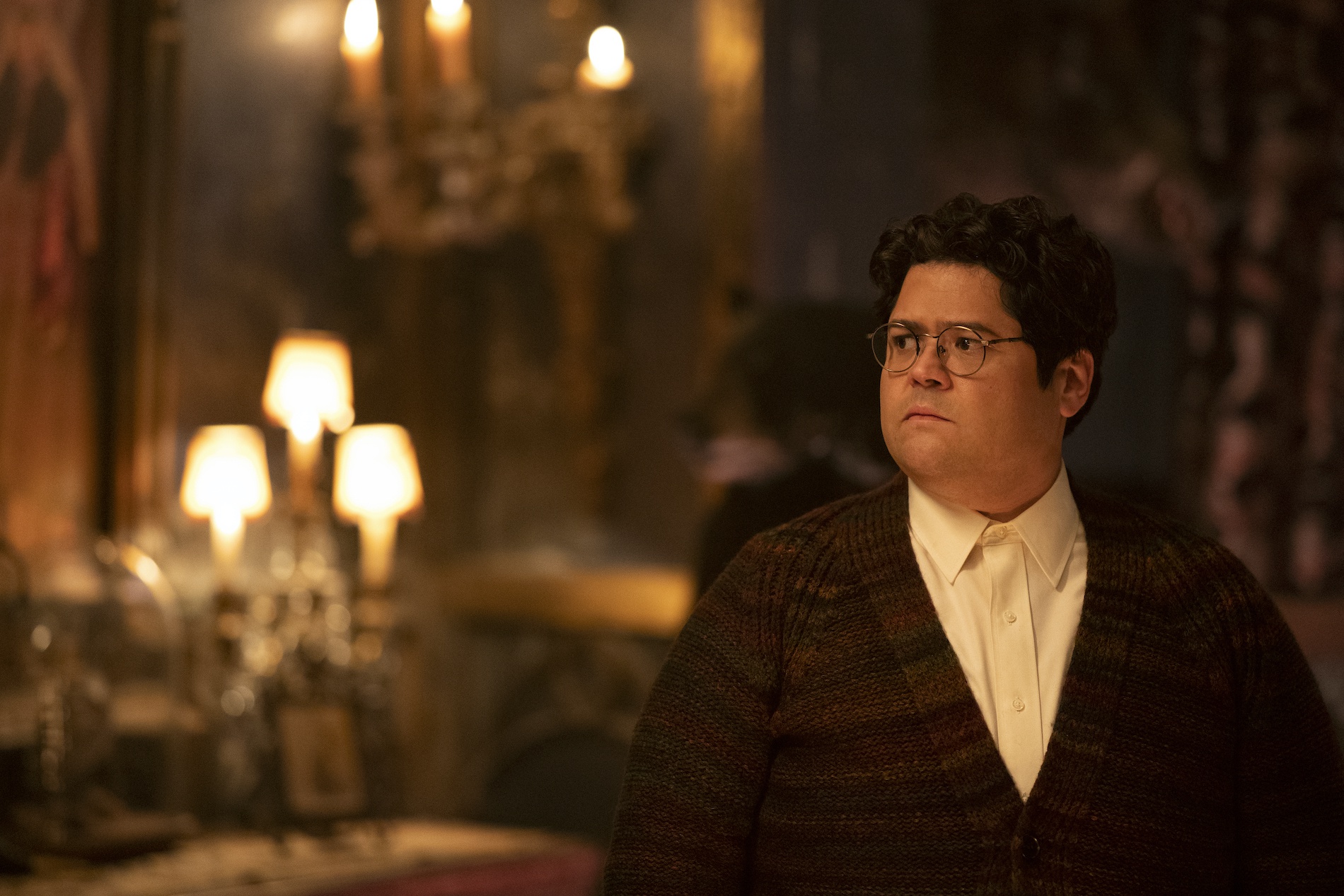 William Jackson Harper, "The Good Place"
It's the sign of a great TV performance when, as a series finale approaches, viewers feel they intimately know a character and don't want to see him leave their screens. As Chidi Anagonye, Harper delighted and endeared himself to us for four twisty seasons; we'll miss his many inventive ways of conveying Chidi freaking the fork out.
Sean Hayes, "Will & Grace"
The genius of Hayes' SAG Award–winning performance as Jack McFarland, during the series' pioneering original run and again in its equally great revival, is that he never turned the character into a clown. The gay man Hayes created—manic, over-the-top, expressive to a fault—was too specific to be dismissed as stereotypical or contrived. If anything, Jack was the most true-to-life of this show's sassy quartet.
Hugh Laurie, "Avenue 5"
Laurie has always needed his own comedy vehicle. In this HBO hit from Armando Iannucci, that vehicle is a spaceship—and, hey, why not? As Ryan Clark, captain of the titular interplanetary cruise ship adrift in the cosmos, he finds every opportunity to outright embarrass himself for the sake of farce. An early reveal involving substantially different accents is something only Laurie could pull off.
Daniel Levy, "Schitt's Creek"
It's a real testament to Levy's skill as the writer, star, and sometimes director of "Schitt's Creek" (and Emmy winner for all of the above!) that despite David Rose's never-ending sarcastic tirades and eye rolls, the guy managed to be completely endearing and immensely loveable—someone you want to root for and then get drunk with.
Eugene Levy, "Schitt's Creek"
A longtime vet of the industry, Levy knows comedy—which means he also knows how to play the role of the straight man. He played a well-heeled stiff as the Rose family patriarch, Johnny, who's in over his head and out of his comfort zone after being forced to liquidate his assets and move to the titular town. Over six seasons, his performance retained its absurdity but found touching depths, too.
Rob McElhenney, "Mythic Quest: Raven's Banquet"
Watching "Mythic Quest," there are going to be times when you can't stand McElhenney's video game creative director Ian Grimm. But then he'll do something that has you in stitches and you'll hold off on wishing he was a boss you could vanquish at the end of a level. It helps that McElhenney makes it clear, in surprisingly touching moments, that there's more to this narcissist than meets the eye.
Ben Platt, "The Politician"
Platt continues to showcase indomitable skill on Ryan Murphy's dark comedy that both glamorizes and ridicules elitism. Playing aspiring future POTUS Payton Hobart, the Tony Award winner toes the line between boyhood tenderness and ruthless ambition to brilliant effect. That we also get him singing is a cherry topper like no other.
Jason Sudeikis, "Ted Lasso"
Sudeikis always showcases the kind of charisma you can't fake, but his everyman vibe and whip-smart comedy chops have never found a better match than in the role of Ted Lasso, an upbeat American football coach hired to lead an English football team. The freshman season of the Apple TV+ series, co-created by Sudeikis, announces itself as a fish-out-of-water comedy before its leading man unveils poignant layer after poignant layer.
Ramy Youssef, "Ramy"
In this age of peak TV, we're finally hearing stories and voices that have, until now, been pushed to the margins far beyond the small screen. We still have a long way to go, but on his semiautobiographical Hulu series about a millennial Muslim, the Golden Globe–winning Youssef provides hope. "Ramy" is whip-smart, hilarious, and proof of those changing tides.
This story originally appeared in the Jan. 14 issue of Backstage Magazine. Subscribe here.
Want more? Stay in the loop with everything you need to know this awards season right here!