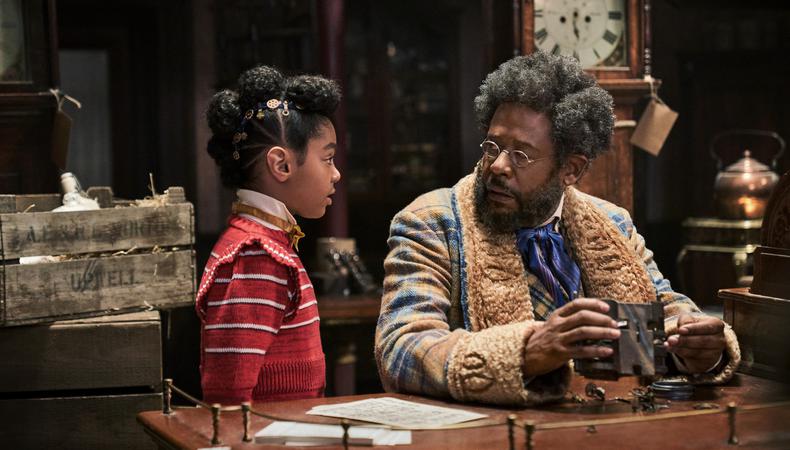 2020 has been a tough old year, but one thing that never changes is the season every child craves, every parent fears, and every actor judges by whether or not they're wearing tights and running around screaming "Oh No You Won't!" to a jam-packed, overexcited room.
While the great British tradition of a winter panto may be out of the window for most, this is the year that TV streaming really came into its own. Whether you wasted your first lockdown watching Tiger King, binged every single Star Wars over summer, or revisited some 90s nostalgia as the weather got cooler, Netflix, iPlayer, Amazon, Disney and more have held our hands through 2020 and continue to do so as we enter the holiday period.

So as we reach the last stretch of this strangest of years, here's our list of festive films every actor should watch this winter.
Looking for your next TV or film role? Check out our UK castings
Netflix is best known for its original content so it will come as no surprise that its most interesting output is its own. While it boasts a lot of festive films this year, there aren't many classic big names, so use them to discover something new, and watch some of the best actors in the business as you do.
Jingle Jangle: A Christmas Journey
A brand-new, sweet and inspiring family musical film with a mostly-Black cast, Jingle Jangle is a reminder of why Netflix do diversity best. With Hollywood legend Forest Whitaker playing eccentric toymaker Jeronicus Jangle and the ever-hilarious Keegan-Michael Key as the villain Gustafson, alongside a brilliant cast of young talent lead by Madalen Mills, this modern vision-meets Victorian-era musical is a celebration of both the old and the new.

Musical Theatre actors will find Jingle Jangle particularly interesting as it hints at where the genre is heading post-Greatest Showman, and we're sure some of these songs will be popping up in audition rooms around the UK next year, so this is a chance for some inspiration to help freshen up your rep.

Casting directors Reg Poerscout-Edgerton and Lillie Jeffrey have cast major productions with both British and American talent, so if you're looking for cross-Atlantic work then they're ones to watch. Those who appreciate the artistry of brilliant set design will also love the steampunk aesthetic and the storybook vibrancy of the whole look.
Dolly Parton's Christmas on the Square.
This might be the film the world needed in 2020. As if it isn't enough that Dolly Parton personally helped fund one of the successful Covid vaccines, she's also graced us with this campy Christmas musical starring Christine Baranski as a sort-of modern Scrooge and directed by much-lauded choreographer Debbie Allen. Oh, and Parton plays a homeless angel. Yes…really.

Christmas on the Square is not particularly original (and has received mixed reviews from critics) but that is to miss the point. Enter into this with a desire to be swept away in feel-good vibes and hum along to some new Dolly Parton tunes while you watch an entire town engage in a series of big-budget dance numbers and remind yourself why you fell in love with movies in the first place.

It also boasts the talents of some Broadway big-hitters. Jenifer Lewis (Dreamgirls) and Josh Segarra (on your Feet!) are well-versed in treading the boards, and Christine Baranski (Sweeney Todd, Mame, A Little Night Music) specialises in the type of musical that favours acting over big dance breaks. Christmas on the Square may be cheesy, but it's also a lesson in acting through song from well-respected musical theatre talent.

Nativity
A British addition to the Christmas canon starring Martin Freeman as a heartbroken primary school teacher who lies about Hollywood coming to see his class nativity show, Nativity is another slice of feel-good fun with a distinctly un-American vibe. The UK acting style is very different to its Hollywood counterpart; it's more understated and the rhythm of the humour is different. Watch this and then watch an American film to really see the difference, especially as Martin Freeman is an expert at going between "awkward" UK humour and American blockbuster Marvel Cinematic Universe roles.

As well as boasting a good cast of homegrown talent, this film was adapted into a musical which has toured around the country for the past few winters starring the likes of Simon Lipkin, Daniel Boys, and even Danny and Dani Dyer. For actors who are interested in the process of adapting a film into a stage show, this will be a particularly worthwhile watch. Follow with a listen to the stage show cast album on Spotify.
Nativity 2 & 3 are also on Netflix, but it's the original one which stole the most hearts.
This year, Amazon is a good place to go for some classics. You can rent Home Alone, Elf, and multiple versions of The Miracle on 34th Street, but surely one of the all-time Christmas classics has to be…

It's a Wonderful Life
This 1946 film is an all-time classic that every actor should see. James Stewart plays businessman George Bailey, whose plan to commit suicide on Christmas Eve brings about the intervention of his guardian angel – played by Henry Travers – who shows him what life would have been like if he'd never been born.

Originally somewhat of a flop, It's a Wonderful Life has since been lauded by the American Film Institute as one of the 100 best films ever made. If you want to act in films you need to know your cinematic history, and this is an important slice of it. James Stewart and Henry Travers were iconic actors of their time, and their performances will help you see how acting for film has evolved over the last century.

Plus, in a year of fear and distance, where Covid-19 and self-isolation threaten both the physical and mental health of billions, this is a timely reminder of the importance of family, love, and hope, and well worth the £2.49 rental fee.
The Holiday
Less of a classic, but free with an Amazon Prime membership, The Holiday is a cross-continent, feel-good romcom starring big British and American names.Writer-director Nancy Meyers (What Women Want, Something's Gotta Give) is a stalwart of the genre and it's an easy watch, but it's also an insight into the structuring of a romcom.

If you want heart-stopping drama then this is not the Christmas film for you, but for an easy view and a warm sense of predictability, The Holiday certainly delivers. After all, isn't Christmas supposed to be formulaic but feel-good?
A little over a year old now, Disney+ has already managed to cement itself as a home-streaming staple. If you want classics like Mickey's Once Upon a Christmas or everyone's favourite The Muppet Christmas Carol then Disney+ is the place to be, but it's not just the old-school films to watch out for this year. There are some other pretty interesting bits and pieces on the site.
Star Wars Lego Holiday Special
If you'd have said ten years ago that Lego would be responsible for one of the most consistently brilliant sets of television and movie franchises around, the world would have laughed. If you'd have floated official partnerships with the likes of Star Wars and Batman, we would have called you mad. So, it won't come as a major shock that the Star Wars Lego Holiday Special is on our to-watch list this year.
If you're interested in voiceover acting, this 44-minute short will no doubt be of particular interest to you. Versatility is vital in film voiceover work and the fantasy nature of the Star Wars universe boasts a wide range of character voices and vocal qualities. Many of the cast play multiple roles, so take a watch and then see how many different characters you think you could voice. Lego films are always a masterclass in comic timing too, so great for actors looking to improve their comedy chops.
Decorating Disney: Holiday Magic
In a slight departure from other films on this list, this 42-minute documentary takes viewers behind the scenes as Walt Disney World and Disneyland California become "The Merriest Place on Earth."

It's another good one to watch for fans of set design, and in general an important look into the care and dedication it takes to make something like this happen. All actors should invest time into learning what goes on behind the scenes of any production, and an entire theme park is the ultimate set to dress. There's also a segment towards the end which looks at the rehearsal process the performers go through to "bring the guests into their world," and it highlights the sheer endurance needed to complete even one of the famous Disney parades (a single routine could be completed over 17 times in one session).
This is one for Disney fans, dancers and anyone interested in performing for huge-scale live events. It's also narrated by Whoopi Goldberg, so what's not to like?
A Christmas Carol (2009)
Jim Carrey stars in this Robert Zemeckis adaptation, along with a host of other big names. The film received lukewarm reviews when it first came out, but the use of motion capture in the production makes this a specifically interesting watch for performers.
What Do Motion Capture Actors Actually Do?
As new tech arrives in studios year on year, motion capture is becoming a huge part of the entertainment industry and offers a particular opportunity for physical performers to capitalise on their skills. Watch the movie and then check out the YouTube extra – The Full Motion Capture Experience, which offers a fascinating – if surreal – behind-the-scenes glimpse into the reality of acting for Motion Capture work.
BBC's iPlayer is a particularly interesting platform because new content is coming out all the time. As the big day draws nearer, a whole host of amazing BBC Christmas Specials are set for release and these days you don't have to worry if you missed them.
This year boasts specials from Dr Who, The Vicar of Dibley, Upstart Crow and more, with classic films all but guaranteed to pop up on the December schedule, so keep an eye out on iPlayer throughout the month as you'll always be able to find something fun from the beloved BBC.

That said, here are two suggestions that are already up, and will be for at least another month:
A Christmas Carol (2019)
Ok, so this is technically a 3-part TV series, and yes, it's yet another adaptation of the Dickens classic, but trust us when we tell you it's not to be missed. This particular adaptation comes to you from the creators of Peaky Blinders, so expect a dark and twisted affair far more grown-up than the others.

A lot of UK actors dream of working on a BBC drama, and the true British grit the BBC does so well is on full display here, and with a top cast that manages to keep a surreal plot feeling distinctly grounded – Andy Serkis, Guy Pearce, and Vinette Robinson to name a few, and brilliant creative team, it really is a must-see. We know it's been a tough old year, but it doesn't always do you harm to lean into the darkness a bit and the performances alone are worth it.

Extras: The Extra Special Series Finale (2007)
Can you believe it's been 13 years since Ricky Gervais wrapped up his star-studded show? Long-loved by those both in and outside the business, Extras is one of those shows people still talk about today.

This special movie-length episode really got to the heart of what Gervais was trying to say about fame, and the prominent Big Brother rant about the nature of the industry remains one of the best moments on the show. If you want to remind yourself what a television set looks like (it's been so long, right?) while laughing at a bunch of celebrities making fun of themselves, this is the way to do it.

You have to take everything with a pinch of salt, but there are genuine insights into the film and television industry on this show – from long waits in uncomfortable costumes, to lunchtime canteen dynamics – so actors looking to forge a career on camera might learn a thing or two about the way sets operate.

Plus, there's an appearance from the late, great George Michael, and that should be enough to convince anyone to give it a re-watch.
And so, 2020 draws to a close in a somewhat different manner than it started. While the arts industry continues to be battered by the dangers of a worldwide pandemic, it's important to remember that it will pass. As Dolly Parton, the homeless angel, sings: "Christmas is a time for sharing – knowing you've been blessed" – and while we may not be blessed with a full Panto auditorium or the ability to see everyone we want to this holiday, at least we have the good old internet to satisfy our seasonal streaming needs.