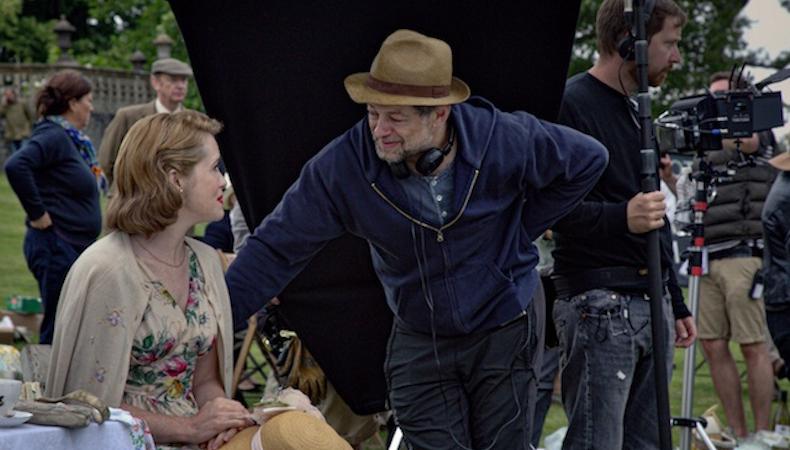 Ask "War for the Planet of the Apes" writer-director Matt Reeves about his star Andy Serkis, and he'd tell you that beyond the performance-capture work that has defined the actor's career since "The Lord of the Rings" trilogy, the U.K. native is quite simply "one of the best actors in the world." Period. That's what made it such a particular treat when Serkis sat with Backstage earlier this month for a Backstage Live interview—but surprisingly, not to discuss his acting work. The acclaimed performer of stage and screen makes his feature film directing debut with "Breathe," the Andrew Garfield and Claire Foy starrer about husband-wife activist duo Robin and Diana Cavendish.
READ: 'Breathe' CD on Why You Should Embrace Audition Nerves
Below, we've rounded up the highlights of how Serkis brought this true story of disability rights to the screen, the advice he has for performers of all kinds, and how his background in theater influences his current work.
'Breathe' is first and foremost a love story.
"It's an absolutely beautiful love story about these two people who start life and when they meet each other, they fall hopelessly in love. It's a very, very romantic opening, and they think that they're slightly gilded in a way—nothing can go wrong. They go off to Africa to start this romantic marriage together. She falls pregnant, he's working out there, and then life deals them this incredibly cruel blow. He contracts polio and is left unable to move at all apart from above his chin. He's paralyzed completely.... ['Breathe' is] really about their incredible response to this terrible blow, which is met with the exuberance and lust for life and energy to carry on, and it becomes a really fulfilling existence."
He knew from the start that sparks would fly between Garfield and Foy.
"I worked with Claire as an actor many years ago on 'Little Dorrit,' the Charles Dickens book, which was made into an adaptation and she was amazing. I'd seen her career sort of blossom and I knew her personality would be perfect for playing Diana, who is totally in-the-moment, doesn't suffer fools, very direct, but crucially [brings] a real sense of wit and is just a lovely human being. I knew that Andrew and her would connect. I just felt that they would. But it's a gamble. You just don't know because casting can go terribly wrong. But it was very apparent from their first meeting that it was going to work out."
As a director, he learned how to create an actors' atmosphere.
"Working as an actor, you realize that there are a lot of directors [who] don't know how to communicate [with actors]. It seems bizarre, but...they try and enforce something on an actor without backing it up or providing motivation. And a lot of it is to do—if it's working onscreen—with blocking the camera. Very few directors really sit down and watch the performances and then build the cameras around what's going on. The most crucial thing about directing actors is allowing the actor to feel like they own the decisions, that they feel completely in sync and in tune with it, and it feels very organic that they move and are motivated in a particular way to do certain things. And so I wanted to create an atmosphere where that was the case."
Theater training benefits actors of all sorts.
"Everyone thinks I sort of wandered off the street into a motion capture costume and started playing Gollum, and that's far from the truth. I started acting when I was 21, professionally, and did years and years of theater. I think I've done about 60 or 70 plays all in all over the years. So I love theater.... The grounding that you get as a theater actor sustaining a character over the course of a play for three hours every night, you learn so much. And the rehearsal process, obviously, and how to deconstruct a script and working on a role and embodying that role, working on the character, I do feel like that grounding has seen me through all aspects of filmmaking."
Want to work in film? Check out Backstage's film audition listings!