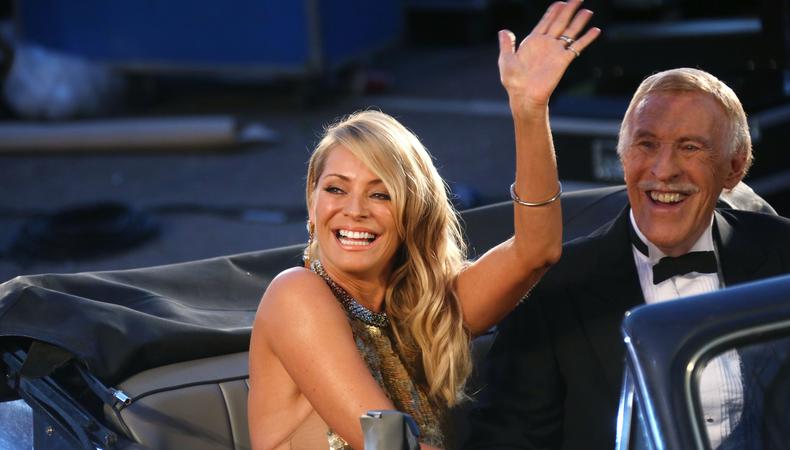 You've seen "X Factor." You've watched "Location Location Location." You know the drill on "Strictly." You've even seen your mates earning a few hundred quid for getting in front of a green screen and saying some lines to camera. So now you've decided it's time to forge your way in a presenting career.
Presenting is a magical space to work in within the film and entertainment industry. It's littered with variety and offers opportunities in everything from television, documentaries and the shopping channels to online, corporates and live events. There are so many different components to presenting and so many different channels, each with its own unique spin.
Having performed as a presenter on television for a well-known Australian show, as well as presenting live at hundreds of events and doing green screen, red carpets, and corporate events, I feel like I've dabbled in most of it and I can say it's a great, fun gig.
But as much as it is glamorous, it's equally important to note that it requires hard work and finesse. Not everyone is cut out for presenting and sometimes people fall apart as soon as "action" is called. Can you cut it?
Let's talk about the five steps to readying yourself for presenting opportunities:
1. Be your unique self.
Remember that when you're a presenter, you are being yourself, not a character, which means you'll be on display for the world to see so don't be afraid to show your true personality. For a short while, I attempted to adopt a posher British accent when I first started presenting, but it didn't work for me. A director friend told me my natural accent and style was what made me unique and likable and that has always stuck with me. People fall in love with you, not your persona.
READ: How to Master the Teleprompter When Hosting
2. Get a jazzy reel.
Your acting reel won't cut it. In the presenter world, you need a completely different reel to showcase your presenting talents. If you've been fortunate enough to do some green screen jobs already that are now available online, make sure you download them so you have a copy. If not, download a free teleprompter app and get practicing at home. Once you've nailed autocue, find a director or production company who can help you create a few mock scenes.
Consider where you live as well. If you're based in York and have the beautiful foothills and castles at your disposal, why not pick an outdoor piece and shoot with a backdrop that demonstrates how you sound and look in your local area? People will identify with that.
3. Know that your attire is everything.
Presenting is often very niche. If you're doing a PwC job, you'll be dressed up in a suit or formal business dress. If you're doing an MTV show, it's likely you're going to be decked out in something cool and slightly hipster. When you go to an audition, put a significant amount of thought into your outfit. This also helps take the guesswork out for the producer or production company that's going to be hiring you.
4. If in doubt, learn your lines by rote.
Having worked on a television show for a full series, I know the drill when it comes to line learning. I would be in makeup at 6 am, costume by 7, in front of the director and production crew by 8. I needed to be on my A-game as soon as they called "action" for the first take of the day.
What I learned very quickly was that the words stuck in my mind a lot better if I had started to learn them as soon as I received the script rather than attempting to the night before. A person's mind is programmed to remember more if we work on a repetition basis so if we apply that logic to learning lines, to really take advantage of your amazing mind and its capacity to retain information, you're better off committing it to memory a few days in advance and then going it over and over. Compound this further with the nerves of being in front of an audience or production crew, and learning your lines far in advance will make for a much more confident audition or presenter performance.
5. Be selective to be effective.
Perhaps you love vox pops because of the freedom and ad hoc fun they offer but loath green screen roles for corporate companies dressed in your best suit. That's okay! Perhaps you're great at learning lines and having them come across naturally, but you fall apart at live presenting. That's okay too!
Pick the things you love and that you're good at and focus on that work. Presenting is a very specific skill and many people aren't cut out for it. If you've found your niche, carve it out. After a while, you might even decide you're ready to branch out and try new presenting gigs. The sky is the limit.
The views expressed in this article are solely that of the individual(s) providing them,
and do not necessarily reflect the opinions of Backstage or its staff.