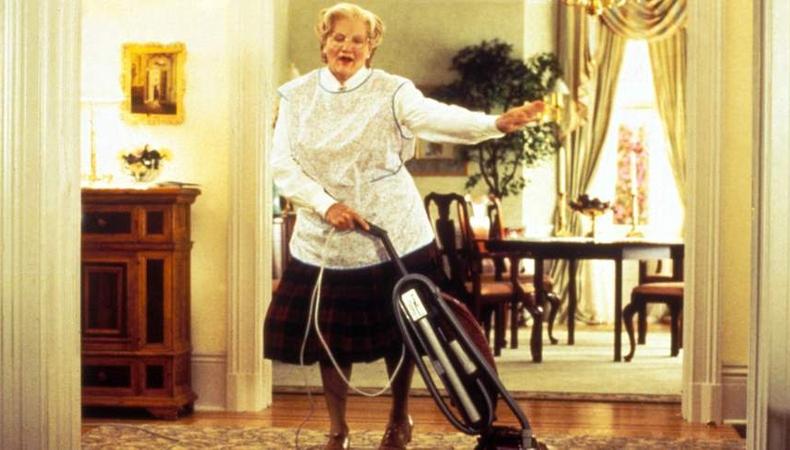 Greenlit means a project is officially a go, so all you have to do is follow these leads to stay up to date. You never know where you'll find an opportunity to land an audition!
"Mrs. Doubtfire"
Help is on the way, dear: Mrs. Doubtfire is packing up and heading to Broadway! Four-time Tony Award winner Jerry Zaks, who's most recent revival of "Hello, Dolly!" collected the award for Best Revival, will helm the production, with "Something Rotten!" scribes John O'Farrell and Karey Kirkpatrick writing the book and Karey and Wayne Kirkpatrick writing the music and lyrics. This is just the latest in a long list of classic films to get the greenlight for a screen to stage adaptation. Telsey + Company did the casting for both Zaks's "Hello, Dolly!" and the Kirkpatricks' "Something Rotten!", so it would be no surprise if the company returned for this production.
"Star Wars: Episode IX"
The out-of-this-world cast of the forthcoming "Star Wars: Episode IX" continues to grow. As first reported by Variety, "Doctor Who" and "The Crown" star Matt Smith will join the new trilogy finale, alongside other franchise newcomers Keri Russell, Richard E. Grant, Dominic Monaghan, Domhnall Gleeson, and Naomi Ackie. Whether the production adds more major actors is yet to be seen, but there will surely be some opportunities for background roles and possible day players in the coming months. Nina Gold leads the casting direction, and the film is currently shooting in London.
"Our Lady, LTD"
An upcoming Epix series has found its leads. Ben Kingsley and Jimmi Simpson will star in "Our Lady, LTD." The series, described as a modern noir drama, follows James (played by Simpson), a disgraced young firefighter and grifter who attempts to prey upon Pastor Byron Brown (Kingsley), who turns out to be far more dangerous than he initially expects. Epix has ordered a 10-episode first season of the series, which is scheduled to air next year. Steve Conrad and Bruce Terris will serve as showrunners, with Conrad also directing the majority of the episodes. Conrad and Terris have previously worked together on the Amazon series "Patriot," where they used casting director Rachel Tenner, a regular for Conrad. The production is scheduled to begin shooting this fall in Sante Fe, New Mexico.
"The King"
The current king of Hollywood will get a fitting title in a new feature film. Warner Bros. has won the rights to the Robert Zemeckis-directed "The King," in which Dwayne "The Rock" Johnson will play the legendary Hawaiian King Kamehameha, who was the first to unite the warring islands. There is still a while before "The King" will get off the ground to shoot, especially while Johnson finishes up shooting Disney's "Jungle Cruise." The current plan is to begin shooting in 2020. Zemeckis has regularly used Scot Boland and Victoria Burrows for casting on his films, including his most recent, "Welcome to Marwen."
"Dickinson"
Apple is investing in comedy for one of its first series. Jane Krakowski will co-star in the straight-to-series half-hour comedy "Dickinson" about Emily Dickinson. Hailee Steinfeld will play the titular Victorian poet, and the newly-cast Krakowski will play her mother. The series will be written by Alena Smith, a former writer on "The Affair" and "The Newsroom." No directors or casting director have been assigned to the series yet, so this will be one to watch.
Looking to get cast? Apply to casting calls on Backstage.