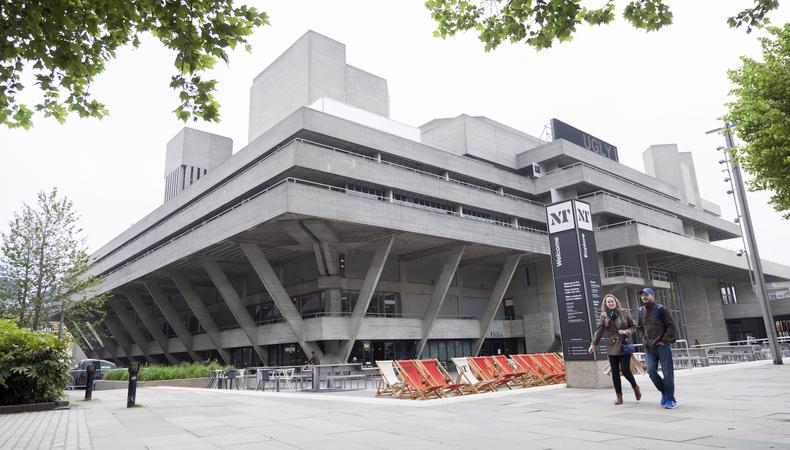 Hello, and welcome back to Week in Review, our roundup of industry-wide news. From stage to screens big and small, we've got you covered. It's everything you need to know and all you can't afford to miss.
National Theatre unveils timely new season
Andrea Levy's celebrated novel Small Island is to be adapted as part of the National Theatre's (NT) 2019 season, alongside a new production of modern classic Top Girls by Caryl Churchill, directed by Lyndsey Turner.
2004's Small Island, recipient of multiple awards, explores the tangled history of Jamaica and the UK through the eyes of characters arriving in 1948 on the Empire Windrush. Artistic director Rufus Norris said the adaptation by Helen Edmundson was programmed before the Windrush Scandal, but the decision was made with Brexit in mind: "The fact that we will be opening at the time this country becomes a slightly smaller island than it was before is timely."
The season will also see Cate Blanchett star alongside Stephen Dillane in Martin Crimp's When We Have Sufficiently Tortured Each Other, directed by Katie Mitchell in the Dorfman. Blanche McIntyre will make her NT directorial debut with a new version of Moliere's Tartuffe by John Donnelly, and David Hare will update Peer Gynt by Henrik Ibsen. Churchill's Top Girls will open in March, followed by Rutherford and Son by Githa Sowerby, directed by Polly Findlay. Hansard, a new play by actor Simon Woods, is directed by Simon Godwin and will star Alex Jennings.
Elsewhere, there's a re-versioned Three Sisters by Inua Ellams, a new play by Bruce Norris called Downstate and a headphone-experience called Anna, created by Ella Hickson and sound artists Ben and Max Ringham. The Dorfman will also stage the European premiere of Annie Baker's new play, The Antipodes, directed by Lila Neugebauer.
Union backs Welsh artists' open letter to National Theatre Wales
Equity has stood behind the signatories of last month's open letter criticising National Theatre Wales (NTW).
More than 40 artists and industry leaders, including renowned playwrights Tim Price and Gary Owen, criticised NTW's output in the letter, citing fears "regarding NTW's low theatrical production rate" since the departure of founding artistic director John McGrath in 2015. The letter highlights that just two projects are programmed for the rest of 2018 and into 2019 – despite NTW's £1.5 million in arts subsidy. It also references English, a controversial co-production with Manchester-based company Quarantine.
Equity welcomed the criticism as an opportunity for Welsh members to engage in a debate about cultural identity and the "kind of national theatre Wales deserves," but also called for "transparency and accountability across the whole of the creative industries in Wales."
NTW's initial response to the open letter argued that claims were factually incorrect. However, a statement in response to Equity's backing said: "We are making plans to meet with the signatories of the letter, and look forward to an open and constructive conversation with them."
Screen International name British stars of tomorrow
Screen International unveiled their Screen Stars of Tomorrow 2018, naming the hottest up-and-coming actors and filmmakers in the UK and Ireland. Now in the 15th year, the annual list showcases rising actors, writers, directors and producers who the publication considers "primed to make their mark in the industry in the years to come." Past bets have included The Crown's Claire Foy and Bodyguard star Richard Madden. Screen International editor Matt Mueller said they were "proud to deliver this annual showcase identifying the next generation of talent" and looked forward to "following their career trajectories both in front of and behind the camera."
Check out the full list here.
Soho's takeover of historic theatre collapses
Theatre Royal Margate is "at risk" once again after a planned takeover by London's Soho Theatre collapsed last week.
In 2014, Soho Theatre Group won a bid to take on the 230-year-old venue, currently run on a temporary basis after the previous owners went into administration. However, the Soho announced last week that they had been unable to secure the funding necessary to carry out substantial works to the building, which was added to the Theatre Trust's At Risk Register earlier this year.
The Soho are stepping away from the deal but will continue to offer support to the local councils and stakeholders "to try to secure a positive outcome for the future of the venue."
Read more here
Screen production news
Horrible Histories: The Movie – Rotten Romans announced that young actors Sebastian Croft (Game of Thrones) and Emilia Jones (Brimstone, Utopia) will lead the first big-screen adaptation of the franchise, currently shooting on location in the UK and Bulgaria.
A star cast back them up in the first feature adaptation of the popular children's book series, including Kim Cattrall, Derek Jacobi and British comedy royalty Nick Frost. There'll also be supporting roles from Craig Roberts, Kate Nash, Rupert Graves and Alex Macqueen.
Rotten Romans is the feature debut of director Dominic Brigstocke, a veteran TV comedy director with credits including Alan Partridge, Harry Enfield and Smack The Pony.
Read more here.
Stage production news
A major new stage adaptation of Yann Martel's Life of Pi was announced by Sheffield Theatres. The play, adapted by Lolita Chakrabarti, was announced as part of additional programming for the current season, which includes new play Close Quarters by Kate Bowen and A Midsummer Night's Dream.
Based on the best-selling book about a young man shipwrecked with a tiger, the story has been adapted for stage numerous times, alongside a successful 2012 film.
Life of Pi will be directed by Max Webster and run from June 28 to July 20, 2019. Artistic director Rob Hastie said: "When I first read Life of Pi, back when everyone was telling each other to read this wonderful new book, I remember thinking that it could make for an awesome piece of theatre if someone had the ambition and imagination to bring it to the stage."
Read more here.