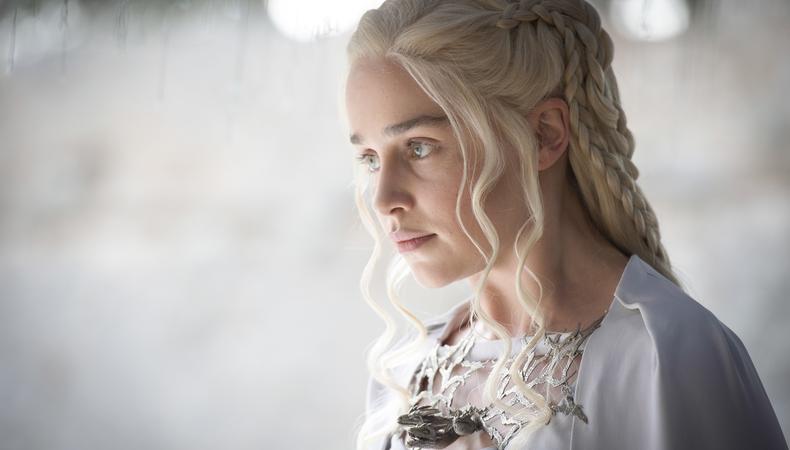 Hello, and welcome back to Week in Review, our roundup of industry-wide news. From stage to screens big and small, we've got you covered. It's everything you need to know and all you can't afford to miss.
Emilia Clarke told to get nude so Thrones fans wouldn't be disappointed
Emilia Clarke has revealed she was in tears during the filming of some of Game of Thrones' sex scenes, with arguments on set where she was told to get nude so as not to disappoint fans. Clarke played Daenerys Targaryen in HBO's fantasy epic, notorious for explicit portrayals of sex and violence which some critics predict will tarnish its legacy. Speaking on the Armchair Expert podcast, Clarke described certain nude scenes as "terrifying." She recalled taking the role aged 23 and "then they sent me the scripts and I was reading them, and I was like, 'Oh, there's the catch!' "
Coming straight from drama school, Clarke says she believed that "if it's in the script then it's clearly needed," but credited her experienced co-star Jason Momoa with protecting her during filming. However, she claimed she quickly became "a lot more savvy" with the level of nudity needed for a scene and what she felt comfortable with: "I've had fights on-set before where I'm like, 'No, the sheet stays up,' and they're like, 'You don't wanna disappoint your Game of Thrones fans.' And I'm like, 'Fuck you.' " Despite saying she believes it's "shifting times for nudity" in the screen industry, Clarke said she wouldn't change how Game of Thrones was filmed.
Clarke's revelations come as Directors UK launched the first-of-its-kind guidance for scenes featuring nudity and simulated sex. The professional body for directors across screen industries released a comprehensive guide intended to keep performers from feeling unsafe, exploited or mismanaged when filming scenes of nudity or simulated sex.
READ: Why Emilia Clarke Is an Inspiration for Actors Everywhere
Timothée Chalamet to make London stage debut
The Old Vic will host Timothée Chalamet's London stage debut next spring, when the Call Me By Your Name star leads in a production of Amy Herzog's play 4000 Miles. Chalamet plays Leo, a 21-year-old who seeks his grandmother's help to deal with the loss of a friend. The renowned Eileen Atkins plays Vera, Leo's feisty grandmother, and artistic director Matthew Warchus directs what the Guardian have predicted will "be one of the starriest theatre moments of 2020."
Announcing the play, Warchus said: "Amy Herzog is one of my favourite living writers – she writes with a deceptively powerful simplicity, full of extraordinary grace, precision and radiance." He added: "I'm very much looking forward to working with this exceptional cast on her gorgeous play which abounds with intimate beauty and truth." 4000 Miles debuted off-Broadway in 2011, was nominated for a Pulitzer in 2013 and received a European premiere in the same year at The Ustinov in Bath.
The Old Vic will be sharing Chalamet's star power next year, when the actor appears as Paul Atreides in Denis Villeneuve's remake of Dune, alongside Call Me By Your Name sequel Find Me. Additional casting for 4000 Miles has yet to be announced.
Looking to get cast on stage or screen? Check out our UK auditions listings.
Royal Conservatoire faces fresh discrimination allegations
Fresh allegations of discrimination at the Royal Conservatoire of Scotland (RCS) have emerged, following an open letter calling on the Glasgow school to hold staff accountable for "systemic abuse." Further claims by RCS students and alumni refer to incidents more than a decade old, including accusations of disability discrimination and allegations staff discouraged students from going public.
The Stage reports that former Musical Theatre student Billy Gollner was one of a group of performers who submitted a formal complaint in 2018 arguing RCS had failed to deliver the quality of training it advertised because staff were "absent for significant periods" of the course. He also raised concerns about potentially homophobic and racist remarks made by staff. Gollner claims he and other students were warned against speaking out by a senior staff member because "it could adversely impact [their] careers. Every time that we tried to bring something up we were silenced and pushed away."
Actor and writer Athena Stevens enrolled on the BA Acting course in 2007 but after a "daily humiliation" left the school and even considered quitting acting. Stevens, who was born with athetoid cerebral palsy, said she felt discriminated against by staff and fellow students and was often asked to "sit on the side" during classes while able-bodied students continued on.
RCS has confirmed an external review is to begin later this month, with staff and students able to confidential contribute via an email address only accessible to the review team: [email protected]
Stage production news
Cardiff's Sherman Theatre has unveiled the first season under new artistic director Joe Murphy, featuring two adaptations of classic plays by Welsh writers. Brad Birch's version of Ibsen's An Enemy of the People opens the season in April 2020, directed by Murphy. Next, Rachel O'Riordan directs a National Theatre co-production based on Shakespeare's Romeo and Julie by Gary Owen, followed by Emma Callander's production of new play The Merthyr Stigmatist by Lisa Parry. Closing the season in winter 2020 is Gary Owen's adaptation of A Christmas Carol. All productions have yet to announce a cast. Alongside the season, Murphy has announced plans to develop and celebrate talent in Wales, including a literary department and community schemes.
Screen production news
Stephen Sondheim's musical Follies is coming to the big screen. After directing the acclaimed National Theatre (NT) production in 2017, Dominic Cooke is to adapt the story of a dilapidated theatre and a ghostly reunion of Broadway stars from between the wars. Sondheim himself reports that previous attempts to adapt Follies for screen had fallen by the wayside and "not until Dominic Cooke's brilliant production at the National Theatre did it seem like it could be a real movie." The NT production starred Imelda Staunton, Janie Dee and Tracie Bennett, however casting for the film is yet to be confirmed.
More for UK actors? Check out the magazine.