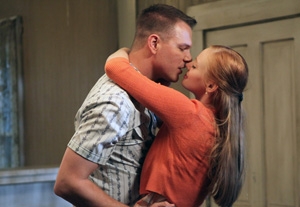 Deborah Ann WollWhere you've seen her before:
Deborah Ann Woll has wowed "True Blood" viewers since her introduction, toward the end of Season 1, as Jessica Hamby, a sheltered 17-year-old reluctantly "turned" by vampire Bill Compton (Stephen Moyer) into one of his ilk. Initially a recurring role, Jessica was upped to a regular on Season 2 and has since become a fan favorite. The 25-year-old ingénue brings a complexity and humanity to Jessica, who is no longer human but whose feelings are heightened. After all, she is a teenager—on top of now having eternal life.
Next up
: Woll has kept busy during her hiatuses; she has multiple films in the can, including the thriller "Mother's Day"; "Little Murder," opposite Terrence Howard and Josh Lucas; "Highland Park," with Billy Burke, Parker Posey, and Danny Glover; "Catch .44," opposite Malin Åkerman, Bruce Willis, and Forest Whitaker; and "Seven Days in Utopia," with Robert Duvall. "I play a lot more bad girls now, which is funny because I'm such a square in my normal life," shares Woll. "I figured because I have an innocent look to me that I would be fighting to get the edgier roles. Now I play drug dealers and all sorts of things like that."

No place like home:
She didn't realize she would get so homesick on film sets. Woll, who received a BFA from USC's School of Theatre in 2007, says, USC "didn't prepare me for all the logistics, like you're going to be living in a hotel room for two months and then you might get to go home for three days, but then you have to go right back to another room in another tiny little town. You're going to miss the people you love. I think when I thought of sacrifice for this career, I thought of the sacrifice that came with the early part, the struggling part, where you don't have any money and you're working three jobs. That I was all gung-ho for; that was sort of an exciting sacrifice. But I don't think I thought of the sacrifice that comes with success."

Early breaks:
Woll landed her current management team, at the Marshak/Zachary Co., through a college graduate showcase. "My managers, when I started out, were irrationally invested in my career," she says, "and they sent me into rooms that I had no business being in without a SAG card or ever having been paid to act really ever." Next she had to get her SAG card. Woll recalls, "I had auditioned for 'CSI,' but because I didn't have a SAG card, they didn't want to Taft-Hartley me for this tiny role. But they did like me so much that they actually ended up arranging for me to do some extra work and I could earn my vouchers. It ended up happening just in time for 'Life,' " the series on which she got her first guest-starring role. Other guest spots followed on "ER," "The Mentalist," and "My Name Is Earl." All of this happened within six months of Woll graduating from college.
Getting "True Blood":
"It was a huge room with 10 to 15 [people] sitting in the room watching me," Woll says. "So in a way it felt a little bit like an intimate theater space, and it was probably one of the most theatrical auditions I have done, because most auditions you're sitting in a chair. But for this, I asked if I could be physical, and they said, 'Sure, go ahead.' I remember rolling on the floor because the first scene was this very traumatic 'turning' scene." The only catch was that she did not have a great Southern accent in her arsenal and had only a couple days to come up with one before showing up on set. "Once I heard they wanted me back as a regular," she says, "I spent the whole hiatus really working on it."
Parting words:
Woll's advice to actors is to, likewise, work as hard as they can: "You have to be excellent at what you do. You can't settle for just doing half the work. You have to do all of it. You have to care enough that when you get there the only questions you have are the ones that are unanswerable."
Joe Manganiello
Where you've seen him before:
Joe Manganiello burst onto the scene in June as Alcide, the chivalrous, well-built werewolf summoned to protect Sookie Stackhouse (Anna Paquin) from the evils that lurk on "True Blood." Recently featured on the cover of Entertainment Weekly as a top "sexy beast," the humble 6-foot-5-inch actor says he's "still adjusting" to his sex-symbol status. Prior to "True Blood," Manganiello had been steadily racking up comedic credits. Fans of "How I Met Your Mother" might recognize him in the recurring role of Brad, Marshall's (Jason Segel) law school buddy. He also recurred on the short-lived Brad Garrett sitcom "'Til Death." This spring he shot the CBS comedic pilot "Livin' on a Prayer," produced by the creators of "How I Met Your Mother."
What's next:
Manganiello returns to Season 4 of the HBO vampire series as a full-blooded regular. Recently he recorded his first audio book, something he says he has long wanted to do.
Wildest moment so far:
"This past weekend I was hanging out at the Emmys," he told Back Stage last month. "I got into a talk with Patrick Stewart about Shakespeare. The fact that I'm at a party with Patrick Stewart—that's a change. He actually spoke to my freshman-year class at Carnegie Mellon, which is how I started the conversation with him. We were talking about working with animals. He had worked with a lion, and I had worked with wolves, obviously, on the show. And so we were exchanging war stories about wild animals."

Ah, the classics:
Prior to auditioning for "True Blood," Manganiello crammed in reading all nine (now 10) of the books by Charlaine Harris that the series is based on. He initially auditioned for the role of Cooter, the leader of a biker gang of wicked werewolves. "Usually you're reading for a doctor, lawyer, bartender, whatever it is. So to get in and read for a werewolf on 'True Blood' was pretty wild," shares the actor, who claims he has loved the legend of werewolves since he was a kid. Though he didn't get the part, Manganiello was asked by the producers to return and read for Alcide, whom the actor was well aware of from the books and even more enthusiastic for the chance to play. On the subject of researching roles, the 33-year-old Pittsburgh native says, "That just comes from Carnegie Mellon. They taught us how to do research, and they taught us that actors are one part historian, one part philosopher, one part psychiatrist. And of course, there's the athletic side of it too."

Lucky breaks, then broke away:
Straight out of drama school, Manganiello performed in an affiliated showcase that proved fateful. "We had three minutes onstage in front of everyone in New York and everyone in L.A., and out of that I got my agents, my manager, and I wound up screen-testing for 'Spider-Man' that week and booking it. So I moved to L.A. and a few months later started shooting 'Spider-Man' with Sam Raimi." Manganiello remains with the same representation today: Endeavor (now William Morris Endeavor) and Colleen Schlegel of Valeo Entertainment.
Sounds like a dream come true, but Manganiello found himself disillusioned by Hollywood:
"It happened really fast and there were a lot of lessons to learn. I think actingwise, businesswise, I was ready to work, but I don't think on a personal level I was mature enough to handle a lot of what came with that. So I kind of went away." He took four years off and went to work in home construction. "I had to shovel literal tons of sand and gravel every day, mix cement, jackhammer, and do this really tough job," he says. "Today I know that anything I do is better than shoveling." He now takes a more "blue-collar" approach to the business: It's all about the work and working as hard as he can.
Back Stage calling:
Manganiello credits Back Stage with being partly responsible for his return: "There were people that I had worked with before or I had known before that kept contacting me, and then aside from that, actually, I read in Back Stage that there was a theater company in L.A. that was putting up a production of 'Pounding Nails in the Floor With My Forehead' by Eric Bogosian, and I loved Eric Bogosian. I went and tried out and wound up getting it. That really started my journey back."