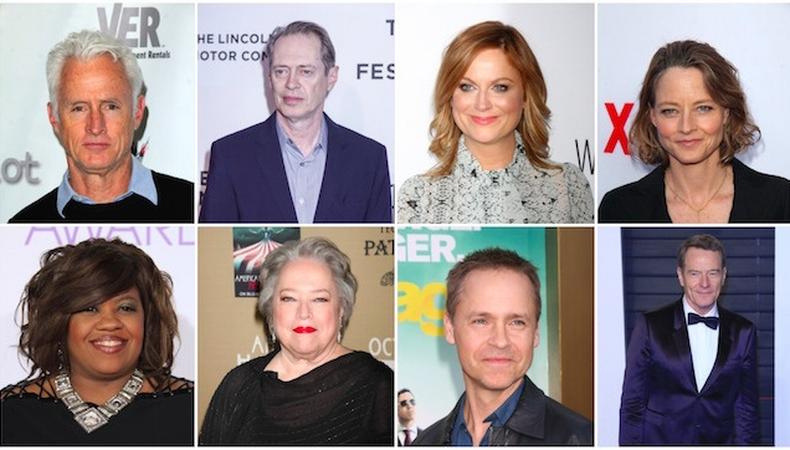 Actors continue to challenge themselves both in front of and behind the camera. The following 10 actors are just a few of many thespians who have taken on directing television shows as another outlet to showcase their talent.
Kathy Bates
The Oscar-winning actor came to mainstream fame scaring audiences in "Misery." However Bates later moved behind the lens in the '90s helming episodes of "Homicide: Life on the Street," "NYPD Blue," and "Oz." She later guest-starred and directed several episodes of "Six Feet Under"; Bates earned a DGA Award nomination for the episode "Twilight" in the show's third season.
Steve Buscemi
Buscemi has appeared in film and television since the '80s, most recently starring in the Emmy-winning HBO series "Boardwalk Empire." The Golden Globe winner is no stranger to directing television. Some of his credits include "Park Bench with Steve Buscemi," "Homicide: Life on the Street," and "The Sopranos." The actor-director earned nods from the DGA for the latter two dramas. More recently, Buscemi has directed episodes of "Nurse Jackie," "30 Rock," "Portlandia," and the new Netflix series "Love."
Timothy Busfield
Busfield earned notoriety in the late '80s for his starring turn in the drama series "Thirtysomething." Busfield directed three episodes of the series, and later balanced acting and directing duties following the show's cancellation in 1991. Since "Thirtysomething" Busfield has directed episodes of "Lizzie McGuire," "Without a Trace," and "Damages," among other shows. His most recent credits include episodes of "The Fosters," "The Night Shift," and "Aquarius."
Bryan Cranston
Cranston not only starred on two long-running shows, but directed several episodes of each. Cranston played Malcolm's dad, Hal, for seven seasons on "Malcolm in the Middle" and later the iconic Walter White on "Breaking Bad" for five seasons. Cranston also helmed episodes of "The Office" and "Modern Family," in addition to taking on directing duties for "Malcolm in the Middle" and "Breaking Bad." The Oscar-nominated and Golden Globe–winning actor accumulated three DGA Award nominations for his work behind the camera on "Breaking Bad" and "Modern Family."
Jodie Foster
Foster exemplifies a true Hollywood success story since gaining fame in the '70s as a child actor in films such as "Taxi Driver" and "Freaky Friday." The two-time best actress Oscar winner has extended her mighty talents behind the camera for television. She's directed episodes of Netflix's "House of Cards" and "Orange Is the New Black." Foster earned two DGA Award nods last year for both shows. Additionally she received an Emmy nomination for directing the "Orange Is the New Black" episode "Lesbian Request Denied" in 2014.
Chad Lowe
The "Pretty Little Liars" star won an Emmy in the early '90s for his heartbreaking performance on "Life Goes On." However it took until the 2000s for Lowe to sit in the director's chair. Lowe has directed episodes of "Law & Order: Special Victims Unit," "Without a Trace," "Brothers and Sisters," as well as more than a dozen episodes of his own series "Pretty Little Liars." Lowe recently turned his attention to lighter fare directing episodes of the comedies "Life in Pieces" and "The Grinder."
Tim Matheson
Matheson is an acting vet having appeared in films and on television since the early '60s. He most recently appeared on "Hart of Dixie" and "Burn Notice," and earned two Emmy nominations for his guest starring turn on "The West Wing." He might just be as prevalent behind the camera as he is in front of it nowadays. His first television directing credit dates back to 1984 for an episode of "St. Elsewhere." Lately, Matheson has directed episodes of the new Fox series "Lucifer," as well as episodes of "Person of Interest," "Suits," and "Psych."
Amy Poehler
Poehler is relatively new to directing television, but she got her feet wet with three episodes of "Parks and Recreation" during the show's run. Poehler is also a producer on Comedy Central's "Broad City." She helmed the show's first season finale "The Last Supper" in 2014.
John Slattery
Slattery spent seven seasons as Roger Sterling on "Mad Men," and he made his first foray into directing with episodes of the AMC drama series. Slattery helmed five episodes of the series before the show ended its run last year. He's also directed films such as the Philip Seymour Hoffman– and Christina Hendricks–starring "God's Pocket." Slattery's most recent TV credits include two episodes of the Netflix series "Love."
Chandra Wilson
The five-time Primetime Emmy nominee has starred on "Grey's Anatomy" for 13 seasons and started directing episodes of the show in 2009. Wilson has a dozen episodes of "Grey's Anatomy" credited to her name, and recently started directing other shows, including episodes of "The Fosters" and "Scandal."
Inspired by this post? Check out our television audition listings!