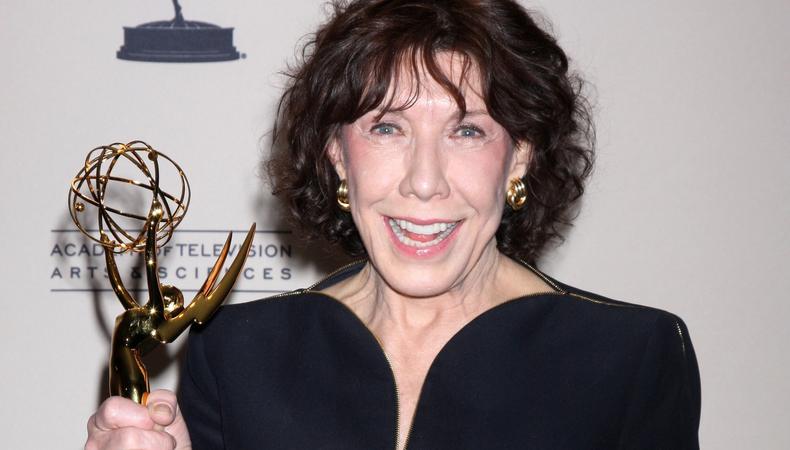 Acquiring an Equity Card is a momentous occasion for any actor and one that often transforms their life. After all, once an actor is able to secure a card, they have greater access to roles, often performing for bigger audiences in more prestigious roles. They also earn a different standard of pay, making it easier to earn a living while acting. That's why professionals often feel that earning an Equity Card is a rite of passage, a moment when a life spent acting becomes a real possibility, rather than an aspirational dream. We've brought together 14 career actors on the role that led them to their card. Be inspired and be thankful you're an actor, too!
Holland Taylor, "Mr. Mercedes"
"[W]hen I came to New York, in those days, you heard about these open auditions, I went to an open audition for 'The Devils,' which starred Anne Bancroft and Jason Robards, and they needed a whole mess of nuns—like, 15 nuns. And I thought, here's my chance! So I went to an open call for that and was hired by the director, Michael Cacoyannis, which was sort of amazing, and I was offered a role on an Equity contract, which gave me my Equity card."
Tony Shalhoulb, "The Marvelous Mrs. Maisel"
"I got my Equity card my third year at Yale School of Drama because, as students, we were getting fed into small roles at the Yale Rep. It was a conservatory situation, so Yale Rep was a professional theater, and after you did a number of parts in those Equity productions, you earned enough credit and, as we graduated, we all got our Equity cards."

Mercedes Ruehl, "Torch Song"
"I got my Equity card playing the Statue of Liberty. This is lost in the mists of time because I can't remember who the woman who produced and directed this was, but I did a play at the foot of the Statue of Liberty about immigrants coming to the United States."
Andrew Kober, "Twelfth Night"
"I got my Equity card on the first national tour of 'The 25th Annual Putnam County Spelling Bee.' I was the swing on the first national tour and I got my Equity card on the road. That show was a dream because it was sort of the last show that I came to exclusively as a fan before I was at all in the business. It was the last show I discovered when I had nothing at all to do with being a professional, I was just so into it. And the fact that that was the first show I got to do professionally was kind of a magical moment for me."
Is There a 'Right Time' to Join Equity?
Meghann Fahy, "The Bold Type"
"I was very lucky because I came to New York after I graduated high school in 2008. I went to an open call and the open call was for 'Spider-Man,' the [Broadway] musical. I sang for Bernie Telsey that day and then he brought me in to audition for 'Next to Normal' and I got the part of the understudy, at which point I was required to join the union....I didn't do theater growing up or anything. So I had no idea what was happening. But looking back on that now, realizing sometimes how difficult that process can be, I feel so lucky."
Tommar Wilson, "The Book of Mormon"
"During my junior year at Carnegie Mellon University, a classmate convinced me to fly to New York to audition for a new show that was opening on Broadway in a few months and was currently casting for its first national tour....I arrived at the Equity building sometime between 5 and 6 a.m. and was the fourth nonunion actor in line....At 5:45 p.m., 15 minutes before the end of the audition day, the monitor came out and took the first five non-union members back to audition for the casting director. Once we got into the Equity lounge, he told us they only had time to see the five of us, and everyone else would be sent home. I was number four of the five people! I sang for the casting director, was invited back to dance for the choreographer the next day and then spent my rent money to travel back to New York from Pittsburgh later that week for another callback. I couldn't pay my rent for two months, but I got the job!!! I was cast in the First National Tour of 'Ragtime' on a production contract."
Brooks Ashmanskas, "The Prom"
"I got my Equity card on a play here in New York that was Off-Broadway at the old Promenade Theatre. It was a Simon Gray play called 'The Holy Terror,' and I was the understudy to the guy playing the son. I got lucky: I got the job, I got my Equity card, and it closed in a week. It was a big bomb, but I got my card."
Melissa Gilbert, "The Dead, 1904"
"I first got my Equity card when I was 14 and I did 'The Miracle Worker' as a play at the Royal Poinciana Beach Playhouse in Palm Beach, Fl. We did it as a play before we did it as a film. So it was the whole cast from the movie that we did—Patty Duke as Annie Sullivan and me as Helen Keller."
Lily Tomlin, "Grandma"
"I got my Equity card [for 'World of Illusion.'] My real name is Mary Jean. My mother's name is Lily, and I heard that they were looking for English couples to do a revue. I was going to get my brother to go with me as Guy and Lily Tomlin. It was terrific to get my Equity card….I'd done a lot of shows. My first cabaret was in the Downstairs room at [New York's] Upstairs at the Downstairs in a show called 'Below the Belt.' There were three girls, Madeline Kahn, Dixie Carter, and me, and three boys. Garry Moore was the comedian-host. I was the character woman."
How to Join Actors' Equity Association
Tony Roberts, "Annie Hall"
"I got my Equity card when I was 21 years old. I had been out of college for a couple of months, and I won an audition to be in a play called 'Something About a Soldier.' I was hired and they said, 'Of course…you're a member of Equity?' And at that time I wasn't. So I said, 'No I'm not. I'll go and I'll join today!' "
Ann Harada, "Avenue Q"
"I got my Equity card doing '1,2,3,4,5' by Maury Yeston and Larry Gelbart at MTC Stage 2. Most people only know the show because of the song 'New Words.' It was Jerry Mitchell's first job as a choreographer! I played the daughter of Mary Gordon Murray and Jonathan Hadary. It was also the first time I got to work with the late, great Alice Playten. We later did 'Seussical' together."
James Monroe Iglehart, "Hamilton"
"There was a theater in the Bay Area called Woodminster. I was about to sign my contract with them to do 'Ain't Misbehavin' ' for the summer, and that week I auditioned for the national tour of 'Show Boat.' I went in on a whim because a teacher told me to. I auditioned and they hired me, so I became an Equity actor on the national tour of 'Show Boat' in 1998 as a swing. It really changed my life."
Jessica Walter, "Archer"
"The job that got me my Equity card was at the Bucks County Playhouse. It was a production of the first play Neil Simon ever wrote; it was in 1959, and it was called 'One Shoe Off.' And then it went to Broadway and it was called 'Come Blow Your Horn,' and my part was written out. Isn't that sad?"

Carolee Carmello, "Tuck Everlasting"
"During college, I was doing one of my community theater jobs, and there was a producer who saw me and offered me a summer job at his theater in the Adirondacks. He had this little dinner theater [that] didn't do huge productions, but he offered me a job for the summer after I graduated college. It was the first time I had ever heard of an Equity card. I remember standing in my mother's living room on the phone with this producer while he was explaining to me what an Equity card was. [He said], 'If you want to pursue this as a profession, you really have to join this union. But if you don't want to do this professionally [and] just want to continue what you're doing, work in another field but do community theater, then you really shouldn't have an Equity card, because it's going to prevent you from doing those kinds of jobs.' I remember that moment and standing there at 20 years old [thinking], OK, this is a big crossroads. I'd never even entertained the possibility of doing this for a living. I always just did it as a hobby. The idea of committing myself one way or the other seemed kind of daunting. So I joined the union and did it for the summer, and I met all these actors who had come up from New York and they were all like, 'You should move to New York!' And it was still a far-fetched idea, but in the back of my mind I was saying to myself, 'Don't get to your 50s and regret not having tried this.' "