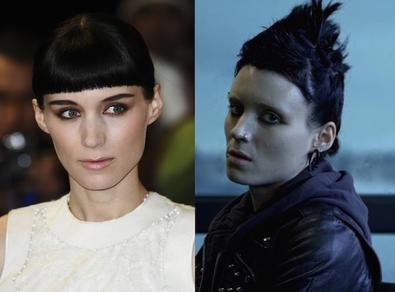 Preparing for a role can be demanding, psychologically, emotionally, even physically. In fact, some actors put so much preparation into a role that they render themselves completely unrecognizable on screen. From Oscar winners to some of the industry's biggest names, here are 15 stars who completely transformed their appearance for a film role.
Rooney Mara
After fighting to win the part of Lisbeth Salander in David Fincher's "The Girl With the Dragon Tattoo," Mara lost a significant amount of weight, shaved her eyebrows, and got multiple facial and body piercings in preparation for the film. In conjunction with her intense physical transformation, Mara's emotional dedication to the role earned her her first Oscar nomination.
Anne Hathaway
Hathaway sported a 25-pound weight loss and a nearly-shaved head to play Fantine in the 2012 film adaptation of "Les Misérables." The actor's hard work paid off, of course—she won an Oscar for her wrenchingly emotional performance.
Hugh Jackman
Like his "Les Misérables" co-star, Jackman also lost 25 pounds for his role as Jean Valjean. Jackman lost most of it through diet and exercise, but deprived himself of food and water before filming in order to play the weak and malnourished prisoner in the opening sequence. Jackman also gained 30 pounds for later scenes in the film.
Vanessa Hudgens
Glamorous former Disney star Hudgens chopped off her long hair and gained 15 pounds to play a homeless and pregnant teenager in "Gimme Shelter." Hudgens also struggled with the emotional transformation she went through for the film, finding it hard to regain her self-esteem after diving so deep into the dark role.
Jared Leto
Leto has transformed his body several times in the name of his art, but most notably, he lost almost 40 pounds for his Oscar-winning performance as an HIV-positive transgender woman in "Dallas Buyers Club." Leto also physically and emotionally immersed himself in his latest role in "Suicide Squad," out next year; in preparation to play the Joker, Leto gained back his muscle and cut and dyed his signature long locks.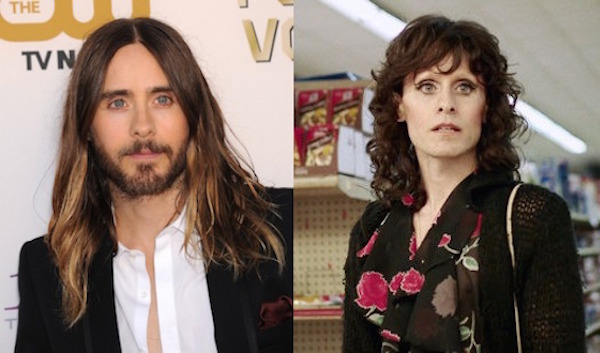 Shutterstock/Focus Features
Taylor Lautner
Fans of "Twilight" know that Jacob Black is notoriously shirtless throughout most of the popular franchise. When it came time for Jacob to transform into a werewolf in "The Twilight Saga: New Moon," Lautner did not take the challenge lightly. After talks of being recast because of his slim build, Lautner gained 30 pounds of muscle for the film, going to the gym almost every day and eating every two hours.
Natalie Portman
Along with co-star Mila Kunis, Portman lost 20 pounds for her role in ballet drama "Black Swan," taking vigorous dance and conditioning classes in order to look and move like a professional ballerina. Portman's transformation was so believable, she took home the Oscar for leading actress in 2011.
50 Cent
In preparation to play a football player diagnosed with cancer in "All Things Fall Apart," Curtis Jackson (better known as rapper 50 Cent) lost 54 pounds in just under nine weeks. Jackson stuck to a liquid diet and exercised for multiple hours at a time to lose his muscular build.
Mariah Carey
Known for being a glamorous pop/R&B icon, it came as a shock for many when Carey appeared makeup-free (and with faux facial hair!) in the Oscar-winning film "Precious." In multiple interviews, Carey called sporting a bare face and messy hair the most difficult part of the role.
Ben Kingsley
Kingsley won an Oscar for his portrayal of Gandhi in 1983, after the British actor of half-Indian descent shaved his head and adopted Gandhi's vegetarian diet in order to drop 20 pounds for the film.
Chris Pratt
From the lovable Andy Dwyer on "Parks and Recreation" to Hollywood's newest leading man, Pratt lost 60 pounds in six months for his role in Marvel's "Guardians of the Galaxy." Pratt has gained and lost weight for several projects in the past, but committed himself to a healthy lifestyle after getting in shape for the film.
Tom Hanks
No stranger to gaining and losing weight for films, Hanks famously dropped 50 pounds for "Cast Away," the 2000 movie that earned him one of many Oscar nominations. In fact, production on the film was delayed for a year in order to give Hanks time to lose the weight and grow out his hair. Hanks also has an Oscar for the 1993 AIDS drama "Philadelphia," a film that prompted him to lose 26 pounds.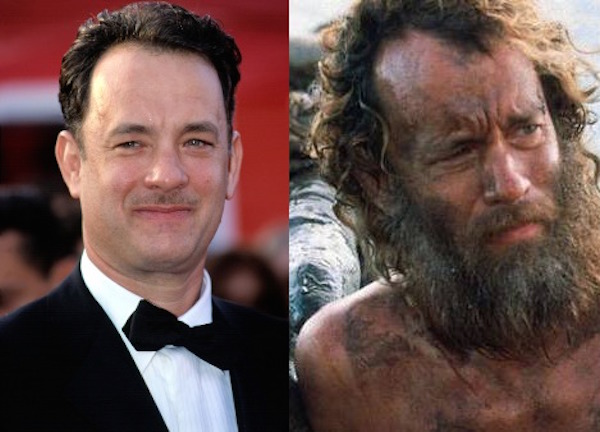 Shutterstock/Twentieth Century Fox
Benicio Del Toro
For his 1998 film "Fear and Loathing in Las Vegas," Del Toro gained a shocking 40 pounds to play Dr. Gonzo, opposite Johnny Depp. The Oscar winner has since sworn off changing his body for a role, turning down projects that require weight gain.
Jennifer Hudson
After the birth of her son, Hudson lost weight to play the title character in "Winnie Mandela." Now a spokesperson for Weight Watchers, Hudson combined the weight loss system with a regular exercise routine to drop the pounds in a healthy way.
Jake Gyllenhaal
In order to play a boxer in this year's "Southpaw," Gyllenhaal had to train like one. The actor gained 15 pounds of muscle by working with a trainer and partaking in intense training sessions—twice a day for eight months.
Inspired by this post? Check out our film audition listings!