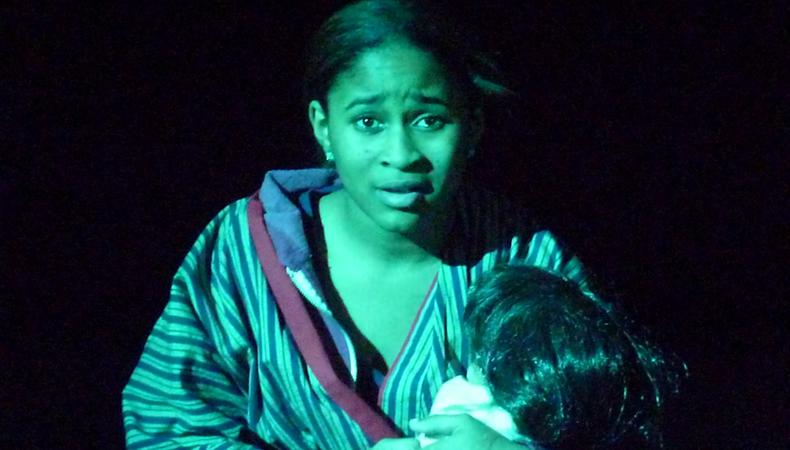 Amateurishly presented in the dingy, depressing environment of the American Theater of Actors' Chernuchin Theater, the bitter musical "Kikki & Grandpa & Baby" is a mess. Written and directed by Yutaka Okada, with a score that includes music by Shizuka Iwabuchi, traditional Japanese songs, and snippets of familiar jazz works, the shambles of a show tells its ludicrous tale through a shoddily written script and banal lyrics by Okada, Kuni Mikami, and Julie Holtzman.
The only first-rate aspects of the production are the soothing musical interludes occurring during the frequent blackouts that cover numerous clumsily executed scene changes. Under keyboardist Mikami's musical direction, accordionist Mihoko Goto and percussionist Evan Schnoll join with him to offer an enticing array of warm, melodic tunes that seem to have very little to do with the show's dramatic action. The musical selections sung by the actors during dramatic scenes are mainly bland ballads that prove completely unaffecting. I'm not sure why, but on two occasions celebrated Japanese folk-song and opera singer Tomoko Hayakawa takes the stage to perform solo vocal selections. She is wonderful.
The musical's story line, a contemporary fable of sorts, revolves around a homeless teenager, Kikki, who befriends a kind elderly man she calls Grandpa. Living as squatters in a riverside shanty town that could be anywhere and everywhere—it houses a Japanese shrine as well as references to Western urban life—the two become surrogate parents of an abandoned baby and interact with myriad unlikable cartoonish characters who also inhabit the town. Seemingly impelled by a desire to reveal the depths to which many people have fallen as a result of the current economic crisis, the story is so ineptly written that its worthy message falls flat, most notably in the key scene in which the materialistic Kikki is supposedly transformed by her maternal responsibilities.
Yet the problem is not just the clunky writing; it's also the dreadful performances of the title roles. Jalah Williams plays Kikki as an irritating, one-note whiner, with an aggressive attitude that elicits no sympathy for the plight of the girl, who changes not a whit throughout the entire drama. As Grandpa, the wooden, soft-spoken Geoff Lee is a bore. The supporting ensemble flounders under Okada's absent direction, desperately overworking to compensate for the humorless, underwritten dialogue and skeletal plot. But thanks to Herculean efforts by Ryan Neal Green, who enlivens his small role as director of the community's fundraising festival with rapid-fire physical comedy and Broadway-style song-and-dance pizzazz, the climactic scene is at least entertaining.
Presented by Okada Productions, in collaboration with Yuji Takematsu, at American Theatre of Actors' Chernuchin Theater, 314 W. 54th St., NYC. Jan. 5–26. (212) 868-4444 or www.smarttix.com.
Critic's Score: D+