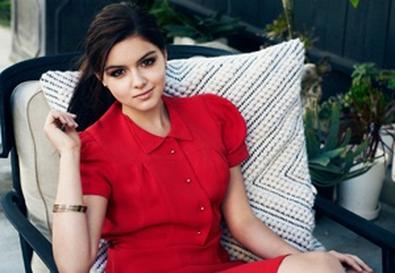 One day, 4-year-old Ariel Winter was watching "Dora the Explorer" in her Los Angeles home when she turned to her father and told him she wanted to walk through the screen and be Dora. Her parents, sensing their daughter's passion, began researching the business of acting. Soon after, Winter landed her first paid acting gig: a commercial for Cool Whip.

At 7, she booked her first film role in "Kiss Kiss Bang Bang" as a young Michelle Monaghan, where her big line was "I'm going to be an actress!" From there, she booked guest-starring roles on many TV series (including a recurring role on the final six episodes of "ER"), appeared in films such as "One Missed Call," "Speed Racer," and "The Chaperone," and has voiced various animated characters, including Marina the Mermaid on the series "Jake and the Never Land Pirates," Gretchen on "Phineas and Ferb," and Thumper's Sister in "Bambi II."

Although Winter has never taken a formal acting class, at 14 she is a veteran whose experience on set, strong work ethic, and natural charisma have helped her book role after role. She currently stars as Alex Dunphy on ABC's hit comedy "Modern Family" (for which she has won two Screen Actors Guild awards as part of the ensemble) and opposite Eddie Murphy and Kerry Washington in the DreamWorks comedy "A Thousand Words."

The perky star spoke with Back Stage about booking the role of Alex and what she's learned from the cast and crew of "Modern Family."

Back Stage: Do you remember your audition for "Modern Family"?

Ariel Winter: I do. I've always done pretty well in auditions. I just go in and give it my best shot. So I went in and met with [casting director] Jeff Greenberg. I read for him, and then he said, "Hold on one second. I'm going to go get my associate," and he brought in Allen Hooper. I read for them, and immediately he told me I had a callback tomorrow for the producers. I went to the producers' session, and right after that they told me they wanted to meet with me one more time and then send me to network. After the network casting, in the car on the way home, I got the call that I booked it. The funny thing is, I didn't even think the network liked me. I got in the car and told my mom I didn't do my best. I said, "I'll try harder next time." I told my agent that, too. He was like, "Well, I hope you feel that way about every audition, because you got the part." And I was freaking out. It was incredible.

Back Stage: Why didn't you think they liked you? Was it just a quiet room?

Winter: I guess once you get that far into the audition process, you never think you can get something so amazing. You think, "Gosh, if that would happen to me, it would be a dream come true." I guess probably that's what I was thinking. And it has been a dream come true. It's amazing for me to be able to work with so many people I love and admire every day.

Back Stage: What have you learned on set at "Modern Family"?

Winter: With comedy, don't try to be funny. That's really helped me. Just say the lines as you would say them, interact with other characters, and try to make it as real as possible. It will come out funny. I've also learned a lot about timing. The crew has taught me a lot, too. I love when I go on set every day, because the camera people teach me camera terms and grip terms - I learn all these new terms from different people on the set and leave feeling all cool about myself when I go out places. You learn a lot when you're on sets. When I was young I thought maybe I wanted to go to medical school, but now, being around production stuff, I'm thinking maybe I'll go to film school. I could be behind the camera and be a director or a writer. I think it might be cool.

Back Stage: Wow, medical school. That sounds like what your character Alex would want to do. Are you like Alex?

Winter: I have a strong work ethic like Alex. I'm always practicing lines, researching, trying to be fresh, and fully trying to become the characters I play. That's how I roll. I also love Alex, because she's a role model who's teaching kids you can still be cool and be a nerd. Like, I have braces, glasses, and maybe I don't dress like the coolest girl in school, but that's okay. I think Alex represents 75 percent of the girls out there who aren't Barbie-perfect. I really like that. She's also really smart. I pride myself on my intelligence. I think education is really important. I like that about Alex, and I like to read her lines.

Back Stage: What would be your advice for kids who want to get into acting professionally? Any advice for their parents?

Winter: For kids, make sure you love it and are incredibly passionate about it. Make sure you're strong enough to deal with the criticism and the putdowns because there's competition, a lot of rejection, and other kids might not be as nice to you as you get more successful. You've got to keep your head held high even though there's going to be some letdowns. It's a really fun business once you get into it, but it's hard and you just have to make sure you're going to give it 100 percent. For parents-just be incredibly supportive. Make sure your child knows you love them no matter if they get the part or they don't. It's a hard business, and your kids need to work really hard if they want to do it. Just be incredibly proud.

Outtakes

- Actors who inspire her include Johnny Depp, Audrey Hepburn, Angelina Jolie, and Leonardo DiCaprio. She would love for Andy Samberg from "SNL" to do a guest spot on the show as Alex's nerdy friend.
- Besides her role on "Modern Family," her favorite role has been Young Trixie Shimura in the film "Speed Racer" because of the action scenes she got to do. Someday she'd love to play a Lara Croft-type character in an action movie.