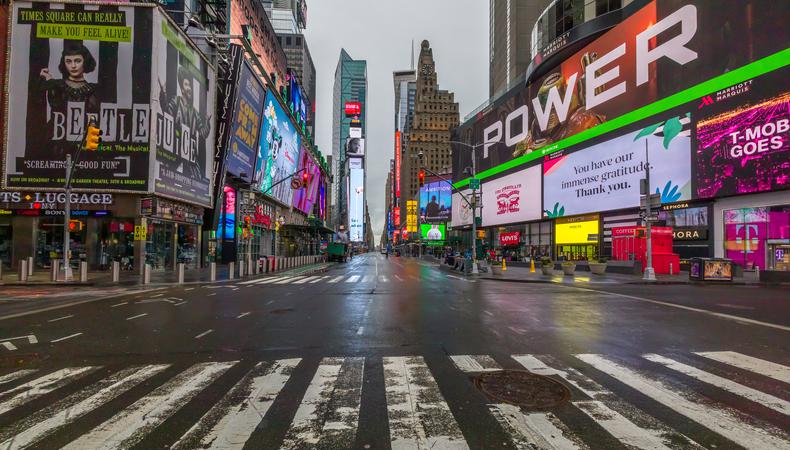 It's a musical refrain written in the parlance: How do you measure a year? For theater workers since March 2020—all of whom have seen their livelihoods diminish, if not disintegrate altogether—much of the past 12 months has been measured in despair. It's also been measured in minutes on hold with unemployment, side hustles to make ends meet, and a constant struggle to remain creatively engaged. Here, nine actors, writers, and directors who were at work on and Off-Broadway on the day of March 12 reflect on where they were, where they are, and hopefully, where they're going.
Jewelle Blackman is an actor who was portraying one of the Fates in the Tony-winning best musical "Hadestown," which she'd been in since its Broadway opening the year prior.
"What I remember most about March 12 is feeling a mixture of uncertainty and excitement and then utter shock and grief. Uncertainty because this new virus had now begun to infiltrate the theater community. Excitement because I was in the middle of my last understudy rehearsal for the role of Persephone—then the producers walked in and interrupted that rehearsal. 'Broadway is shut down,' they said. I was in a state of shock and stayed that way as I walked to my dressing room to gather my things."
Christopher Ashley is the Tony-winning director of "Come From Away," whose new musical "Diana" was in Broadway previews at the time of the shutdown.
"I shut down eight shows in one day: two shows at the La Jolla Playhouse, 'Diana' and 'Come From Away' on Broadway, and four productions of CFA around the world. It felt apocalyptic."
Claybourne Elder is an actor who was in preview performances for the anticipated Broadway revival of Stephen Sondheim's "Company."
"I was at the gym just before heading to the theater and I ran into a friend. He said, 'You don't have a show tonight do you?' I laughed and said, 'Of course we have a show tonight.' He explained that he had heard Broadway was shutting down but I hadn't heard much about it. We were in previews, so we were swamped with rehearsing all day and shows at night. I didn't see it coming."
READ: Broadway After the Coronavirus
Jamie Armitage is the co-director of the new musical "Six," which was hours away from its official Broadway opening on March 12. The show, of course, never got to open.
"It didn't really feel real at the time. As the day went on, the feeling that the opening was going to be cancelled grew and grew yet it was still such a shock when the decision was made. When I found out I was in a store trying to figure out what the American word for paracetamol is (acetaminophen? I think. Never got a clear answer), which only made the situation weirder. My family and best friend were over [from the UK] for the opening so we had an amazing night together but even that felt a bit dreamlike. It took a while for the reality of it to really sink in."
"I was in a state of shock and stayed that way as I walked to my dressing room to gather my things."
Zhailon Levingston is the U.S. associate director for "Tina – The Tina Turner Musical" and is also the director of industry initiative for the Broadway Advocacy Coalition.
"I remember that on March 12 I was leading an understudy/swing rehearsal at the Lunt Fontanne, and there were mumblings that maybe Broadway would be taking a pause any day. But still, in the theater, things felt like a normal day—despite the fact that we had just taken out all the kissing in our show and restaged a moment where the ensemble entered through the house because anxieties started to rise about this thing called COVID. Right after rehearsal we got the word from management that we were closing for a couple weeks and that no one had any other answers past that point. We all stood outside of the theater dumbfounded but still hopeful that we could open up again by Easter."
Lileana Blain-Cruz is a director whose play "Anatomy of a Suicide" had just opened at the Atlantic Theater Off-Broadway; she was in rehearsals for another play at St. Louis Rep on March 12.
"The silence of New York was staggering. I lived by myself in a tiny studio apartment in the Lower East Side—it was lonely, and it reminded me anew that the reason I love New York is for its people. Feeling their absence was a kind of grief."
Matt Manuel is a replacement actor in "Ain't Too Proud – The Life and Times of The Temptations," who had begun performances on Broadway Feb. 28.
"The first few weeks following the shutdown, I felt like the unluckiest person. I moved to NYC for this huge opportunity, debuted Feb. 28th, and was out of work two weeks later. I had signed an apartment lease the weekend Broadway shut down. The first few weeks were very frustrating because I was just getting started and felt stuck in limbo."
Irene Sankoff and David Hein are the married writing team behind the musical "Come From Away." March 12 was the three-year anniversary of the Tony-winning musical's Broadway opening.
Irene Sankhoff: "We felt desperate to help, somehow. Hopeful we'd be back to normal soon, despite a feeling of dread."
David Hein: "[We were] worried about everyone who worked on our shows, and about our daughter who we didn't have a lot of answers for. And our family—Irene's mom was in a long-term care facility where there was an outbreak, so we tried to source PPE equipment. We sponsored a 3D printer to print more for people. We tried to raise money and do benefits, anything that could help."
"The first few weeks following the shutdown, I felt like the unluckiest person. I moved to NYC for this huge opportunity. Debuted Feb. 28, and was out of work two weeks later."
Jewelle Blackman:
"I felt sad, sick, unmotivated, confused. Thankful for the newfound time with my son back in Toronto, but literally questioning what was happening to the world, and how we would ever get through this."

Claybourne Elder:
"I've been teaching, writing, doing online coaching. I was doing a lot of baking and posting it on Instagram and got connected with a kitchen company called Dash. They hired me to make cooking videos, teach online classes, and sell their products on QVC live from my newly renovated kitchen. It's been a real life-saver, given my family insurance, and has turned out to be an incredible company to work with."
READ: Broadway Actors, Producers on Where Theater Goes From Here
Lileana Blain-Cruz:
"At the beginning it was reading, watching movies, and [attending] Zoom parties when they were still a novelty! And then it was protesting, grieving, protesting. In the midst of all that, I started to get busy again, working on the development of plays and musicals and operas that were in pre-production despite the uncertain future. I revisited the 'The Death of the Last Black Man in the Whole Entire World' at Signature Theatre, worked on a commission from New York Theatre Workshop, and truly significantly was asked to join Lincoln Center Theater as a resident director. This year has been unexpectedly transformative."
Jamie Armitage:
"The two most rewarding things I've been doing this year are teaching and working on a campaign for the protection of the arts. This work has really kept me going and reminded me how theater can impact people's lives in such a variety of hopeful ways."
David Hein:
"We're lucky that we're writers, so we can still work on projects which will happen, well, sometime in the future. We got hired to write an ad for Canada, which got us recording some of our Canadian heroes in socially distanced recording studios all over. And we have several film and TV projects which are still waiting to come back, and a few new show ideas."
Christopher Ashley:
"The La Jolla Playhouse leaned into making new digital work. We have created 15 new pieces in our digital With Out Walls series, as well as all kinds of new content for the classroom. We have also been highly engaged in crafting commitments to make ourselves a more thoroughly anti-racist institution, and I look forward to making these commitments a reality as we move forward."
Matt Manuel:
"Fortunately, we have had quite a few 'Ain't Too Proud' projects that helped keep me feeling creative, but I also started drawing again—something I haven't done since college. I've also written some music, but I've thoroughly enjoyed finding ways to express myself through decorating and furnishing my new apartment. I am proud of the space I have created for myself!"
Zhailon Levingston:
"My biggest hope for theater is that it doesn't try to go back 'to normal' but rather that it becomes an institution that is pushing us all into a future of emergent practices, radical inclusivity, and fearless storytelling. My hope is that everyone realizes how powerful their imaginations are and that we, the makers of theater, shamelessly forge a new way forward."
READ: Broadway Responds to Black Lives Matter
Lileana Blain-Cruz:
"We are still in a pandemic. The impact of this is so tremendous that I'm not sure we can all fully comprehend it. I hope that the theater honors this sacredness of gathering, I hope that we are gentle with each other and caring. I hope that we make good art!"
"The impact of this is so tremendous that I'm not sure we can all fully comprehend it."
Christopher Ashley:
"I am so hungry to be sitting in an audience again. I want to be silent together, the way only a rapt audience hanging on the next word of a great play is silent. And I want to laugh together again."
Matt Manuel:
"This has been hard for all performers, not to be able to do what they were born to do. We as performers get to be portals that others can use to live in a reality of their choosing for a few hours. Only when we come back do I think performers and audience members alike will all understand how much we truly missed it."
Jamie Armitage:
"I feel that the conversations around social justice have developed so much over the last year. My hope is that theater and all of us who work in the industry have had the chance to reflect and identify areas where we were collectively failing to be as inclusive as we could have been. I hope that the time away and the feeling of jeopardy for the existence of the industry has sharpened our collective minds to fix these historic injustices. It won't be easy but it has to be done."
David Hein:
"I hope audience members thank every usher, bar staff, and box office person. There are so many people who work in the arts community who can't wait to come back, and who will be the last ones back in their jobs. And I hope people also remember the artists who got us through this, and that we never take for granted how important the arts are to our economy and our well-being."
Claybourne Elder:
"I hope that we can band together, that we can find a way through. I hope that we will be more open-hearted."

Jewelle Blackman:
"I hope that we return safely—not just physically safe, but also mentally safe and in an environment that champions and protects all voices equally. There is so much work to be done to correct racial inequities across all facets of the theater industry. With this pause, the time is now to start fixing these things from the top down."
Looking for remote work? Backstage has got you covered! Click here for auditions you can do from home!