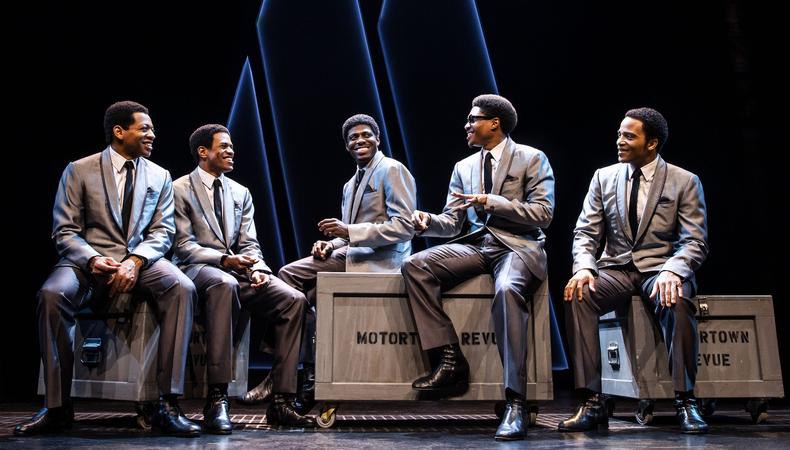 Before his untimely death, composer Michael Friedman gave Dominique Morisseau a profound gift.
"He told the producers, 'If you're doing a musical about the Temptations in Detroit, you need Dominique,' " Morisseau recalls. "That's really how it came about, and I always look at that as Michael's gift to me before he passed."
Morisseau is speaking about her role as book writer for Broadway's new jukebox musical "Ain't Too Proud—The Life and Times of the Temptations," which, if it isn't clear, depicts the meteoric rise of the titular R&B group. Now running at the Imperial Theatre, it marks the first musical endeavor for Morisseau, a MacArthur "Genius Grant" recipient who up to this point has worked strictly as a playwright.
"Hilariously enough, I had created a list of 10 things that scared me the year that I got this gig," she laughs. "The goal when you have 10 things that scare you is to do at least half of them that year—and writing a musical was one of those things for me. So I did it."
Morisseau's trepidation over the transition from plays to musicals, ultimately, was not unfounded. However, the challenge also inspired her from a creative standpoint. "The biggest difference [between the two] is scarcity of language," she says. "My work can be really dense, and you've got to compact a lot of text in there. The thing about a musical is you have to be very selective, because the music should be doing the rest of the writing for you. It's trying to find a way to be concise while still being the thorough writer that I think I am. That's a challenge."
Though this is her first experience in the traditional song-and-dance arena, Morisseau has always imbued her plays with a natural rhythm. That rhythm is, in part, why "Ain't Too Proud" has been an ideal first musical venture. "I always have a sense of musicality in my straight plays, but what's different for musicals is sort of sharing the writing with the songs and trying to build story around the music," she says. "The Temptations' music is such that we're able to sometimes make it less of a jukebox musical and more of a biomusical. We found ways to use their music thematically, but also sometimes use it narratively to legitimately tell you the story, and it changes the meaning of their music."
From workshops to out-of-town tryouts to Broadway, "Ain't Too Proud" has presented a learning curve or two for Morisseau. An area in which she needed no instruction, however, was casting; whether it be for a play or a musical, her in-the-room expectations do not waver. "You have to trust what the story is asking," she urges. "You have to first check what's on the page and try to build your character from those clues, as opposed to trying to do what's out there already."
READ: How to Become a Musical Theater Actor
That insistence was particularly prescient for "Ain't Too Proud," in which actors are portraying real-life people. Morisseau's most pressing audition advice, though, is applicable to any actor looking to give an authentic performance.
"Some people came in and tried to mock the real people, and that didn't work. Imitation isn't what anyone is looking for," she says. "We're looking for them to channel the spirit and the energy of the character, which first has to come from me. My writing should do that, so when the actor is coming in, they should be trying to bring the writing to life, rather than coming up with a character that isn't the version of the character we have in our story. Those who come in and do what's on the page and make it their own, those are the actors who really shine."
Want to hear more from the best creators in film, TV, and theater? Get it right here!