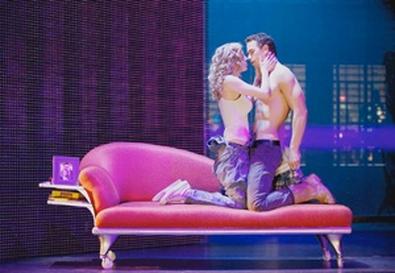 Caissie Levy
has been on Broadway before: as gung-ho political activist Sheila in the revival of "Hair," a replacement Elphaba in "Wicked," and Penny Singleton in "Hairspray." But originating a role in a new musical is a whole different ballgame -- especially when the musical is based on an iconic romance film. That's precisely the challenge that Levy faces as the leading lady in "
Ghost The Musical
," based on the 1990 movie starring Demi Moore, Patrick Swayze, and Whoopi Goldberg. Awash in video projections, foot-stomping dance numbers, and a potpourri of musical styles, "Ghost The Musical" recounts the intense love affair between artist Molly (Levy) and the ghost of her murdered lover (Richard Fleeshman), who manifests through the wild and wacky medium Oda Mae Brown (Da'Vine Joy Randolph).
After a year of performance in London, Levy is no longer fazed by the inevitable comparisons with the movie; she has had plenty of time to make Molly Jensen her own. She's also had a revelation about the character and how to find her way into it.
"What's great about Molly is that she speaks for the audience," Levy says. "Like Molly, they want to believe in ghosts and greater forces, yet they're skeptical. Those feelings are what keep me grounded. I don't have to gear up and get into a grief mode. I just have to be present and focus on Sam and my love for him. I get my information from the text, and the rest I get in performance.
"When you have a bag of tricks, it doesn't work," she continues. "Not that I ever had a bag of tricks. But I felt that at a certain point I'd know how to do it. With each show, you have to start at zero and strip away all the extraneous. You have to trust that you know the show, the work you've done, and the physical and vocal demands, and then let it all go."
She admits that with "Ghost" the musical requirements -- marrying hard rock, lighter pop tunes, and legit musical theater -- are daunting. Featuring book and lyrics by Bruce Joel Rubin and music and lyrics by Dave Stewart and Glen Ballard, the musical's major challenge that Levy faces is maintaining stamina without appearing strained. She needn't worry. Her performance is seamless as she moves through each number and a wide range of emotional scenes.
Slowing Down and Standing Back
Brought up in Ontario, Levy trained locally and performed in community theater, though mostly in straight plays. Musical theater became her focal point at the
American Musical and Dramatic Academy
in New York, where she studied for two years and landed an agent thanks to her gig in the school's showcase. Still, she was not nearly as well-versed in musical theater as were many of her classmates, and she continues to view herself as "an actor who sings but made a career in musical theater."
Levy says she was drawn to the school because it was a two-year program and she wanted to get out into the real theater world as soon as possible. Nevertheless, she's grateful to the program for teaching her something about the "business" of acting and how to audition successfully, a lesson that's been reinforced through experience.
"You go into an audition knowing the music and the role well enough to give a mini-performance but without creating a fully realized character," she says. "You have to put your stamp on it and make an impression quickly. Give a hint of what you'd be doing in a full performance. But the main thing to remember is that the people you are auditioning for are rooting for you, even if they look scary. I've learned they're hoping I'm the one. I don't have to walk in apologizing."
Her experiences as an actor have been an education on many fronts, not least her approach to having a career. "When I was in my late teens and early 20s, I was always looking forward to the next thing," she says. "You need that ambition and discipline to go after the next job. But it's also important to take a step back and just focus on the work and not worry about what everybody is saying. Work begets work. And it's important to be nice to people."
Levy recently married her longtime boyfriend, actor-turned-composer David Reiser. For two-and-a-half years they had a long-distance relationship as their professional stints took them to various ports of call, but that's just part of the business, and Levy takes it in stride.
"Our careers are important, and if a great opportunity comes along for either one of us, we're going to take it," she says. "But we also believe that things have a way of working out."
For Levy, things are working out onstage and off.