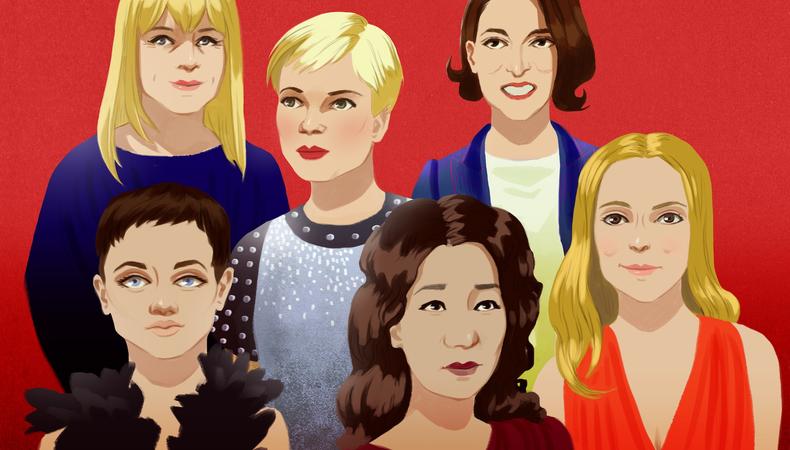 When my editor asked me to write about the upcoming Emmy nominations, I knew who I wanted to write about before the nominations even came out. There are some performances from this past season that are still keeping me awake at night.
The most obvious choices are from Patricia Arquette in not one, but two phenomenal performances: "Escape at Dannemora" and "The Act." On the former, Arquette plays a married prison worker who becomes entangled with two murderous inmates and helps them break out. It is a complicated performance based on a true story that examines the push and pull of right and wrong against love and need. Arquette won the Critics' Choice Award, Golden Globe, and Screen Actors Guild Award for her devastating performance. Not unlike Meryl Streep at her best, the "Boyhood" Oscar winner simply disappears into the skin of her characters.
The category of best actress in a limited series or movie is simply chock-full of our best actors this year. The Television Academy can't make a bad choice here! Joining Arquette, who is nominated for "Dannemora," is her co-star on "The Act," Joey King. That series is also based on a true story, this time documenting the disturbing relationship between ailing teen Gypsy Rose Blanchard (King) and her troubled mother, Dee Dee (Arquette). It's a complex mother-daughter dynamic that ends in murder.
One would think that with her long list of credits, 20-year-old King wouldn't have had to audition for "The Act"—but audition she did. She remembers the casting office cautioning her against doing "the voice." (If you've watched the Hulu series or the 2017 documentary "Mommy Dead and Dearest," you'll know that Dee Dee had so infantilized her daughter that Gypsy spoke like a little girl.) King didn't do the voice for the audition, but felt it was crucial to do it for the series, so she talked it over with the director and incorporated it into her nuanced performance.
As I was watching the series "Fosse/Verdon," about the complex marriage and creative partnership of Bob Fosse and Gwen Verdon, I was utterly gobsmacked each week by Michelle Williams' performance. Not only did she look exactly like Verdon (thank you, hair and makeup!), she fully embodied her every thought and move. Watch her performance on the FX miniseries for a lesson in acting.
As much as I love Julia Louis-Dreyfus, I'm not sure I need to see her get yet another Emmy for "Veep." Yes, I know the series has ended and it would be a nice gift, but with six statuettes, she's already the record-holder for most consecutive Emmys for the same role! I'd rather see Phoebe Waller-Bridge win it for her fearless performance on "Fleabag." Waller-Bridge, who created and wrote the series based on her one-woman show of the same name, brings sympathy and heart to her dysfunctional British antiheroine, Fleabag. It's so difficult to break the fourth wall to talk directly to the camera and make it work, but she pulls it off every time.
But my favorite acting team right now is Jodie Comer and Sandra Oh on "Killing Eve," another series Waller-Bridge created. The writing is smart, and you can tell that this duo truly enjoys working off each other. Comer's role as an assassin is such a delight to watch as she slips into each disguise and personality. And as Oh's frustrated MI6 agent gets lured into her orbit, we are all taken for a great ride.
This story originally appeared in the Aug. 15 issue of Backstage Magazine. Subscribe here.