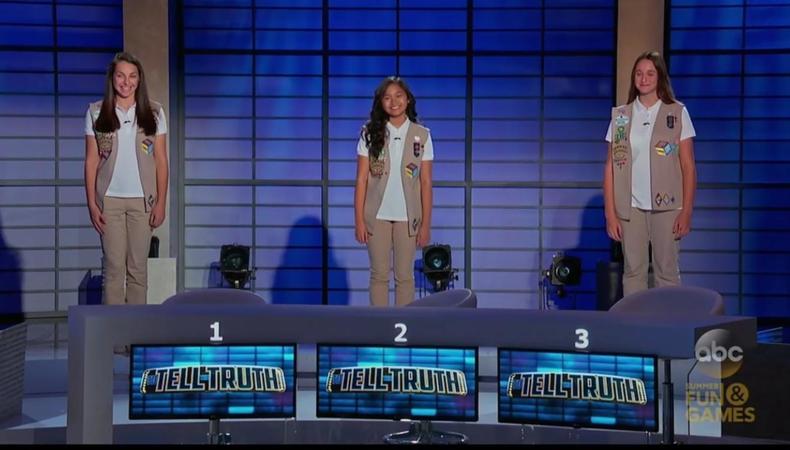 This week's roundup of opportunities for Angelenos is full of paying gigs for actors of all ages and skill levels. The popular game show "To Tell the Truth" is casting locals with strong storytelling skills to try to trick celebrity panelists. Improvisers of all ages are wanted to join a new theater in Burbank for weekly performances. Travel to Shanghai as part of the Disney family to be a look-a-like character at a new park, plus more stage and screen roles.
"TO TELL THE TRUTH"
"To Tell The Truth," the popular ABC show where celebrity panelists quiz three contestants to discover two imposters, is casting Angelenos and Southern Californians to appear on the show. No acting experience is necessary, but improv and lying skills are a must. Contestants can be any gender, ethnicity, or cultural background, as long as they are over the age of 18. The show is seeking storytellers and quick thinkers who have the same set of skills as folks who talk their way out of parking tickets. If selected, the show pays $1,000 for the day. Shooting will take place in mid-November. Apply here!
SHANGHAI DISNEY CHARACTER LOOK-A-LIKES
The newly opened Shanghai Disney Resort is seeking performers to be character look-a-likes from famous Disney films and Disney franchises. Look-alike performers appear in stage shows, parades, meet and greets, and special events. The park is seeking male and female talent, aged 18 and older, to portray famous Disney characters. Male talent should be, 5'8"–6'3" tall, interactive, and have an athletic build. Female talent should be 4'11"–5'9" with great presence and poise. Acting and movement experience is a plus for all talent. Auditions will take place nationwide from Oct. 30–Nov. 12 and specifically in the L.A. area on Nov. 11 and 12. Pay is currently TBD but the coordinator states, "we offer a competitive benefit and salary package." Apply here!
CENTER THEATRE GROUP EQUITY AUDITIONS
General auditions will be taking place at The Music Center Annex for Equity actors. The casting team says, "This is a great opportunity for the casting department to meet new local talent and compile information and ideas for when we are casting specific roles in our forthcoming season's productions." They are seeking male and female talent, aged 18 and older, for all various roles that may need filling during its season. Equity principal auditions will take place on Nov. 5 in L.A. for roles that rehearse and perform also in L.A. Pay varies by show but actors will earn $1,032 per week or $659 per week minimum under Equity LORT A and D Non-Rep Contracts. Apply here!
GOOP SOCIAL MEDIA VIDEO
Gwyneth Paltrow's lifestyle brand GOOP is casting a social media video for its newest supplement, GOOP Glow. A number of roles are open for male and female talent. The lead role is for brunette female talent, aged 28–40. Other roles include a fit yoga instructor of either gender, aged 28–40, a female coworker for talent, aged 30–55, and a handsome guy for male talent, aged 32–40. Shooting takes place on Oct. 15 in Los Angeles. The shoot pays $300 per day. Contracts include two years worldwide digital usage for goop.com and affiliated social media accounts. Apply here!
L.A. CONNECTION COMEDY IMPROV GROUPS
Improv and sketch performers for adult, teen, and kids improv groups are wanted as part of L.A. Connection's new theater in Burbank. There are weekly adult, teen, and child shows at the theater and adult groups also perform for corporations, camps, events, and parties. LAC also has a sitcom in development for a weekly TV series. There are high profile opportunities for improv students and a list of famous alumni. If you want to be next, the theater is seeking talent, aged 5 and older, who can be described as ensemble improv performers who think fast on their feet, able to create characters on the spot, and work well with others. There are auditions by appointment on Oct. 13 and 20. Rehearsals are once a week for two-three hours, on Saturday–Wednesday, depending on talent's group placement. Shows run Thursday–Sunday at the L.A. Connection Comedy Theatre in Burbank, California. Outside showtimes may vary based on bookings. Pay is 25 percent of the LAC box office split equally or 35 percent for outside shows. Special event pay varies. Note that LAC is a dues-based company. Dues range from $0–$125 monthly. That includes two-three hours of rehearsals weekly, plus monthly or weekly shows, and ten tickets to the group's shows. Some performers must pay dues, some trade services (door, lights, office work, or handyman skills) for some or all of their dues, and some members who have been part of the company a long time pay no dues. Apply here!
COCOFLOSS X FLOSS DANCE
The new luxury dental floss, Cocofloss, is currently casting a new series of promotional videos. The videos will show performers dancing in front of colorful backgrounds and flossing with the product. Male and female dancers, aged 18 and older, are sought for the ad. The role is about demonstrating how fun flossing can be. Shooting takes place in Los Angeles on Oct. 27 and pays $250 for the day. The rate is negotiable. Apply here!