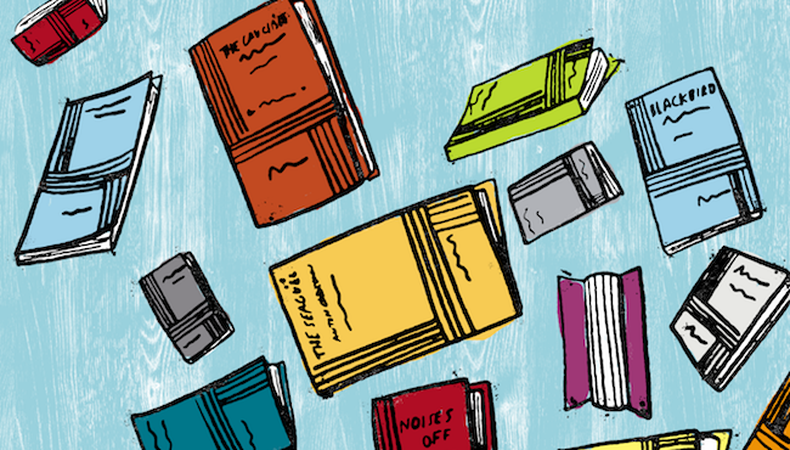 Plays are often described as the means for acting in its purest form—all that's present is the actor, the audience, and that all-important text. While, surely, there is knowledge to be gained from nearly every piece of drama ever written, some impart indelible lessons that all actors would be better for knowing, all embedded within its very pages. A familiarity with these works will not only provide you with additional tools and skills you may not otherwise have gained, but will also grant an additional insight about your industry and its history, which will only help you in the audition room and outside of it.
From Kushner to Karam, Miller to Mamet, and Nottage to O'Neill, this is the Backstage guide to the 25 contemporary plays every actor should know.
(A note: This guide does not include the works of William Shakespeare because that has its own dedicated guide.)
"Angels in America"
Tony Kushner's "Angels in America: A Gay Fantasia on National Themes" is actually a play told in two parts, "Millennium Approaches" and "Perestroika," both viewable as separate entities but meant to be seen in-repertory. Like "The Normal Heart," it examines the AIDS epidemic in 1980s America, but apart from the overlapping subject matter, it could not be more disparate. Often abstract, heavily metaphorical and symbolic, the eight actors play several roles in the piece, many of which are supernatural entities. The shifting settings and degrees of surreality create an atmosphere that is informed most heavily by the ephemeral nature of the actual theater. It is the job of the actors to be as ferociously present as this magnum opus itself.
"August: Osage County"
This vehemently modern piece solidified Tracy Letts as a peerless voice of the 21st century, and exemplifies the atomic possibilities of equal parts coexistence of comedy and drama. Though it carries the torch of many other "family dramas"—and the influence of those is certainly prevalent—"August" is written less like a three-hour drama and more like a three-hour episode of television. There are subtleties in the writing that are less frequently seen in theater, and as a result, the "dramedy" lends itself to a sort of acting that was, when it premiered in Chicago in 2007, unprecedented on the stage.
RELATED:
"Blackbird"
Like many American plays of the last century, this David Harrower two-hander is not for the faint of heart. It is, however, a seminal dramatic work that should be studied for its unrelenting look at abuse and the layered analysis that it requires from its actors. Both roles match one another in their intensity, and each gets a multipage monologue that can be performed in an isolated context by actors of any given type to show off the breadth of their chops in just a few minutes' time.
"Buried Child"
The late Sam Shepard's "Buried Child" is considered by many contemporary theater critics and its luminaries to be the definitive portrait of the dramatized "homecoming." Traditional, though, it is not. As the plot grows more unfathomably insane, the actors' performances must remain as—if not increasingly—grounded, so that the depth of what each character is ultimately feeling never becomes untethered from reality, despite the dissolving conditions around them. To essentially force actors to mine truthfulness from surreality is an undying virtue of "Buried Child," which may also be why the piece propelled Shepard to playwright superstardom.
WATCH
What Monologues Should Actors Avoid?
"The Curious Incident of the Dog in the Night-Time"
To understand what makes "Curious Incident" so notable, you only need to know that it was nominated for a choreography Tony Award when it premiered on Broadway, a feat reached by very few nonmusicals. Depicting simultaneously the interior mind and the exterior surroundings of a boy with autism, its leading role is one of the most arduous—physically and mentally—any actor can ever undertake. Though, like emerging victorious after running a marathon, it will leave the actor feeling stronger than ever afterward.
"Disgraced"
The 21st century has seen an influx of plays that deal with Islamophobia, and Ayad Akhtar's Pulitzer-winning "Disgraced" is a seminal example of why that is and why that should continue. Falling unmistakably under the oftentimes misleading "intellectual play" category due to the density of Akhtar's writing, every actor would be bettering their craft for knowing how to navigate through the complex spoken passages as well as the challenging subject matter that is as poignant as it is topical.
RELATED:
"Doubt: A Parable"
Perhaps no contemporary playwright has run the gamut of critical reception more than John Patrick Shanley, who's had a hit for every miss and everything between. But his 2004 "Doubt: A Parable," which won the Pulitzer Prize and best play Tony Award, was unanimously etched into the contemporary theater pantheon, even before it was adapted for the big screen. This, of course, is ironic given that the central theme of the play is actually uncertainty, a notion that requires actors, then, to match that unknown in the assuredness of their choices. That lesson can and should be applied to every role thereafter: Make a choice and be strong in that choice.
"Eclipsed"
This wrenching, all-female drama is particularly pertinent for actors—because it was written by one. Danai Gurira devotes her playwriting to telling stories of those underrepresented (or not represented at all) across the arts, providing an unmatched lesson in the importance of reconciling research with personal connection to the material for a performance. "Eclipsed," for example, is set amid the second Liberian civil war and follows five women, highlighting their abuse, hardships, and means of survival.
WATCH
How Acting Classes Help in Auditions
"The Glass Menagerie"
There's a reason why this Tennessee Williams drama is produced with more frequency than nearly every other piece on this list—and why it's studied in every high school drama and conservatory class in existence. It's the first of its kind: a "memory play," a term coined by Williams himself to describe the highly specific narrative style. Told in hindsight by its protagonist, the entire piece unfolds having been filtered through his id and worldview. Correspondingly, the five-character drama posits the ensemble to be in nearly claustrophobic close touch with the director's point of view as well as each other's.
"The Heidi Chronicles"
The winner of both the 1989 Pulitzer Prize for drama and the best play Tony Award, Wendy Wasserstein's feminist call to arms was both ahead of its time and, somehow, miraculously and discouragingly timeless. The dramatic comedy, which traverses through 20th-century epochs, also famously features a lengthy Act 2 monologue for its titular protagonist on which every dramatic actor should cut her teeth.
RELATED:
"Hir"
On paper, Taylor Mac's "Hir" is a traditionally structured family drama, though there is absolutely nothing "traditional" about it, save for the fact that the story begins with a son returning from war. Beyond its innovations in casting (one role calls for a trans actor), the play demonstrates that stories about families are still inarguably worth telling, as long as you are telling something new.
"The Humans"
Stephen Karam made his Broadway playwriting debut with "The Humans," which won the Tony for best play and was a Pulitzer Prize finalist. It takes place on one modern-day Thanksgiving and, like "Hir," borrows strongly from the "familial drama" category. But it ultimately subverts this designation, with elements of magical realism, as well as its use of colloquialism and authenticity of dialogue, to that point unfounded on a Broadway stage. A six-hander, each character—with the exception of one who spends the majority of the play asleep—is given ample development and at least one standout moment to put their acting chops on full display.
"Indecent"
A play with music; a play within a play; a play that relies heavily on Yiddish, of all languages: "Indecent" is many things, and has garnered more attention than any one of playwright Paula Vogel's previous (and highly celebrated) works—and for good reason. It is a story about storytelling, which requires actors to move between multiple roles and frames of mind, but should primarily be of note for actors due to the highly unusual use of movement that is integral for each of the characters. Every actor stepping into this piece is required to understand their physicality and expression in a way they have never before done in a play, which is of use for all future acting endeavors.
WATCH
What Is the Most Important Thing a Theater Director Looks For?
"Jitney"
While improving at a snail's pace, the American theater is shamefully disproportionate when it comes to representation. It's true now, and it was true when August Wilson wrote "Jitney" in 1979. Set just a couple of years prior in a "gypsy cab" dispatch station in Pittsburgh, this was the piece through which Wilson found his "rhythm"—literally. Informed largely by the flow of both blues and jazz, that influence is omnipresent in the spoken dialogue of this ensemble drama. When actors are able to immerse themselves in its flowing pages and enmesh that rhythm into their bodies, it should wash over an audience with the smoothness of a multihour scatting session.
"Long Day's Journey Into Night"
No actor is unfamiliar with the idea of endurance, but to unwaveringly enact it throughout a four-act drama can only really be understood in actual execution. Where others on this list leave unsaid the yearnings and internal warfare of their characters, this Eugene O'Neill tour de force actually screams them—and, to be certain, if placed into unskilled hands it will sound exactly as such. But when each and every word is uttered with the clearest of intention, the play (which performed in full can run close to four hours) will never even flirt with superfluousness, for nothing on the page could be anything less than necessary.
RELATED:
"Noises Off"
You'll notice there are no straight comedies on this list—with the exception of "Noises Off," the slapstick Michael Frayn laugher included because it is a master class in a lesson every actor must learn regardless of genre: timing. "Noises Off" is an ensemble piece that works only when every single member of the cast is performing with their timing nailed down to the millisecond. Every actor has a moment to shine, but ultimately, no role is more paramount than another.
"The Normal Heart"
Larry Kramer's heavily autobiographical, 1980s-set heartbreaker went boldly where most before it had not, blazing the trail for what is today a proliferated genre: "the AIDS drama." But more broadly, it could be considered an activist drama, one which makes splashes on political and social scales as big as it does in the artistic realm. These works are vital to the larger cultural conversation and demonstrate time and again why art is irreplaceable in a society. However, when heavy-handed activism is embedded, a piece runs the risk of losing its ethos—that's where depth of performance is crucial. What "The Normal Heart" so beautifully imparts to actors is an unyielding humanization that, when viewed from any side of a debate, can ultimately be seen only as that: human.
"A Raisin in the Sun"
It takes a special sort of vibrancy to animate a play riddled with fatigue without inflicting that fatigue upon an audience—and the very title of the wrought Lorraine Hansberry drama evokes wilting and withering defeat. However, it is a crash course in the symbiotic nature of actor and audience—so long as the actor can trust that the audience understands their intention, and the audience can trust the actor will take them where they need to go, which allows the actor to rest assured that they will never have to strain beyond their lethargic truth. (Also, though Walter Lee Younger is the inarguable centerpiece, it is his sister, Beneatha, who gets to deliver the scorching standout monologue.)
"Ruined"
There should be more female playwrights on this list. Unfortunately, the work of women is still produced fractionally compared to that of their male counterparts, and there is much work to be done in all artistic realms as far as representation is concerned. Leading the charge is Lynn Nottage, whose "Ruined" received the 2009 Pulitzer Prize for drama and which follows the fraught lives of women surviving in the Democratic Republic of Congo. Though traditionally plotted and structured, it is ultimately able to surprise its audience due mainly to the unexpected virtues of the characters that arise; those which, in order to be truthful, call upon actors to understand their roles with a thoroughness that is not always required of performances.
"The Seagull"
Anton Chekhov is in many ways the grandfather of contemporary dramatic playwriting, due largely in part to his implementation of what isn't actually in the text—he was one of the first to utilize what is now prevalent in nearly every dramatic work: subtext. Any number of his celebrated and still highly produced plays could have made this list, but as the first of what is considered to be his "big four" major works, "The Seagull" sailed uncharted terrain in its intentional omission of major events. For that reason, Chekhov changed the playwright-actor relationship, mandating that it's the actors who must let audiences know that what is not on the page is just as important—and oftentimes is more important—than what is.
"Significant Other"
Joshua Harmon's Broadway playwriting debut could categorically be called a "millennial drama," though that is not meant to be a deterrent. In fact, it actually means the 21st-century now-ness of the very funny and very sad play calls for a new style of onstage affectation. Additionally, this piece in particular (which does not speak to all works depicting individuals of this generation) requires actors who can make a group of not-always-likable characters likable; or, more succinctly, worthy of an audience's care for them and investment in two hours of their plights. (There is also a monologue revolving around a pair of green Converse sneakers that is now written in the dramatic parlance for male actors of a certain age.)
WATCH
What Are Some of Your Favorite Audition Monologues?
"Small Mouth Sounds"
In its very essence, "Small Mouth Sounds" deserves to be marveled at: a two-hour drama that contains almost no spoken dialogue. However, for that very reason, there is so much actors can learn from reading through it—or, better yet, selecting a passage to work through. You know that acting is as much what is said as what is not, and bringing to life the literal blank pages of this very human Bess Wohl triumph will require any actor to acknowledge as much.
"Speed-the-Plow"
While the prolific David Mamet is probably best known for his Pulitzer Prize–winning drama "Glengarry Glen Ross," it's his less storied "Speed-the-Plow" that encapsulates an elusive lesson that all actors must learn: effectively relaying satire. Borrowing the always popular art-about-art notion (it dissects the film industry), the three-hander requires each of its actors to understand the material threefold: the literal meaning of the text, their character's intention through it, and the actual intent of the piece itself in saying it.
RELATED:
"A View From the Bridge"
Like other playwrights on this list, a number of Arthur Miller's indelible works could have appeared, including "flashier" plays, like "The Crucible" or "Death of a Salesman." But "A View From the Bridge" sits here because it provides the actors who perform it with unmatched lessons in the all-important art of restraint. The entirety of the piece is a slow-ticking roller coaster, ascending at an excruciating timbre until it at long last reaches a crescendo and the dramatic tension bursts, unleashed onto an audience that has become invested primarily due to the actors' ability to pull back up until that point. It's a play with slow-burning rewards that will not be reaped if actors put their proverbial cards on the table too soon.
"Who's Afraid of Virginia Woolf?"
With the unrelenting cruelty its characters continuously heap upon each other during all three acts of Edward Albee's most essential drama, "Who's Afraid of Virginia Woolf?" can be hard to stomach—both for those watching it and, particularly, those performing it. That pain is exacerbated by the sheer truthfulness of the subject matter, and for that reason, it provides a pointed telltale: Actors must be the vehicle for the audience's emotions, and cannot under any circumstances let the emotions they are feeling in response to the material impede the material itself.