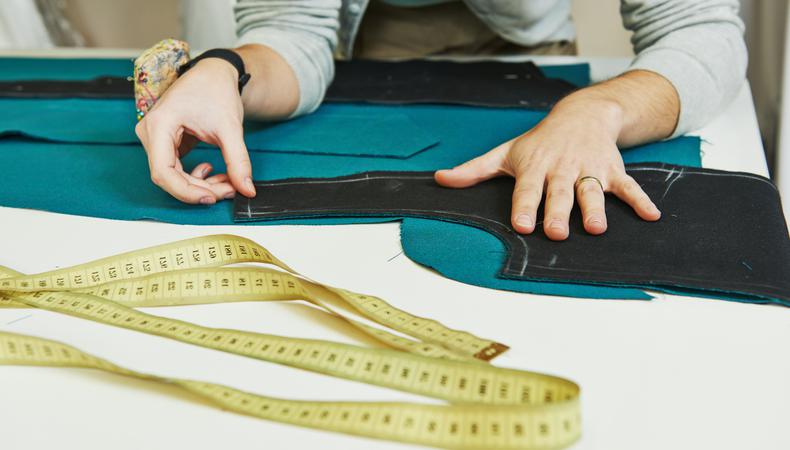 Costume Assistant Job Description: What Does a Costume Assistant Do?
Costume assistants are among the beginner positions in the costume department, primarily assisting with handling wardrobe fittings and supervising the continuity of the characters' clothing from scene to scene. Additionally, during pre-production, he or she may be assigned a piece of the script to break down and analyze, figuring out the design of each character's clothes based on their situation in the story, tone, setting, and time period. On that front, the costume assistant may work alongside their direct supervisor, the costume designer, in researching certain fashion history and trends. This can include creating sketches and mood boards, all while making sure every thread matches up with the vision of the costume designer, production designer, and, ultimately, the director.
The job of a costume assistant is not fixed, however, and can vary from production to production and is largely dependent on what the costume designer needs. They may be hands-on when it comes to designing, assembling, maintaining, and/or shopping for the clothes that are needed for the shoot. Many costume assistants spend their days scouring second-hand and thrift stores for the right items, while others may be in charge of helping actors change into different outfits or making quick alterations between takes. Others might spend their day ironing, steaming, or creating wear-and-tear to certain clothing and accessories.
"I would break my job down into about five different activities," says Whitney Oppenheimer, the costume shop assistant for the Center Theatre Group and steadily-working wardrobe assistant and assistant costume designer for TV series, short films, commercials, and music videos. "I do the craftwork...so any accessories—hats, shoes—that need any work done on them, I do that. I'll do the dyeing that goes along with that...and any of the fabric treatment that needs to happen. [I] also handle all the restocking and organizing [and] if the design team needs me to go out and shop for items, I handle that as well [and] any returns that happen when we've established the whole show and the costumes."
Department
Costume + Wardrobe
Alternate Titles for Costume Assistant
Wardrobe assistant, costume trainee, wardrobe trainee
Crew Hierarchy
The costume assistant is generally the first role an individual holds when pursuing a career in the costume department. They report directly to the costume designer, however, much like a PA, they're supervised by just about everybody around them (assistant costume designers, wardrobe supervisors, etc). Depending on the size of the production, a costume department may only consist of a costume designer and an assistant, meaning the latter's responsibilities increase exponentially.
Costume Assistant Salary
According to a 2018 report, "starting level [and] junior-level costume designers," can expect to earn between $19,705 ($9.47 per hour) and $21,545 ($10.36 per hour) when just starting out.
Costume designers may be represented by the Costume Designers Guild, Motion Picture Costumers union (IATSE 705), or United Scenic Artists (Local USA 829), among other major unions, all of which set standard minimum rates on union productions.
How to Become a Costume Assistant
As for a clear-cut path toward this job and beyond, there is none. Many get their start outside of the industry and within the world of fashion, tailorship, and/or working in theater. A common first step in TV and film is to begin as a PA, working around the costume department and the designers within it. Most people who land the role of a costume assistant don't intend to remain in the job forever; from here, one generally climbs the ladder through the department (through hard work, passion, and networking, many ascend to 2nd assistant costume designer, assistant costume designer, and costume supervisor before landing the main gig of costume designer).
In terms of advancement in the department, assistant costume designer Alison Uhlfelder says, "The path of costume production assistant to assistant costume designer is pretty typical, but doing it in such a short timeline I would say is pretty atypical. You have to be pretty motivated and a bit of a hustler."
Required Costume Assistant Experience + Skills
It goes without saying, but a good costume assistant should be a wiz when it comes to all things sewing, needling, ironing, steaming, pattern making, and clothing alterations, as well as film production and how a costume department functions. He or she should be highly-skilled when it comes to drawing, color and design, and textiles, while also possessing a deep knowledge of the history of fashion, period costumes, and all sorts of costume accessories.
Top 8 Costume Design Training Programs
Outside of the threads, being a thorough and dedicated researcher and someone who handles high-pressure situations well, is able to multitask and solve problems quickly, and can meet deadlines is essential. A large portion of the job is communicating, so interpersonal skills are also key. While no formal education is usually required for the job, anybody with an undergraduate and/or graduate degree in any area relating to it (design, fashion, film production) is at an advantage. However, hands-on experience and having a strong, substantial costume portfolio is what those in the industry like to see.
As Lisa Phillips-Dodsworth ("Shameless," "Four Lions") says, "If you haven't gone to university, that shouldn't put you off. You're working with people and being adaptable, passionate, enthusiastic....don't sit back, don't think that you can't do it."
For more on how to get work on a film crew, visit Backstage's crew hub!