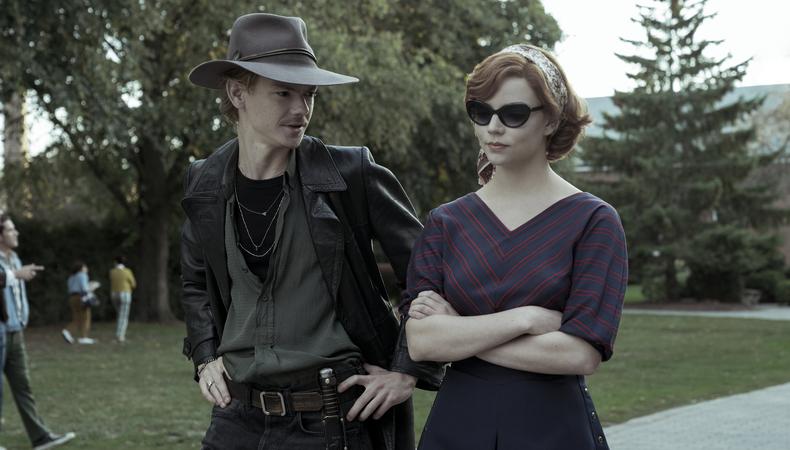 Reflecting a Hollywood attempting to right itself after over a year of COVID-fueled instability, the 2021 Creative Arts Emmy Awards Sept. 11–12 celebrated the small screen's best technicians and behind-the-camera artists in person, with safety measures firmly in place.
Presented by the Television Academy the weekend prior to television's biggest night of 2021, the Primetime Emmys, the three-part Creative Arts ceremony gave top honors to Netflix's hit "The Queen's Gambit" with nine wins, among them Ellen Lewis and her team for best casting of a limited series. Theo Park of Apple TV+'s "Ted Lasso" won the comedy casting Emmy, while Goloka Bolte and Ethan Petersen repeated their reality program casting wins for VH1's "RuPaul's Drag Race." The drama series casting Emmy, meanwhile, went to "The Crown" CD Robert Sterne, furthering Netflix's haul. Overall, the streaming giant totaled a dominating 34 wins, followed by Disney+ with 13 and HBO and HBO Max together earning 10.
Disney+'s "The Mandalorian" and NBC's "Saturday Night Live" will each go into the Primetime Emmys with seven wins already under their belts, both recognized for technical and design achievements. As hosts of the latter show, Dave Chapelle and Maya Rudolph won the guest comedy actor prizes, while Rudolph also took the outstanding voiceover performance prize for her work on Netflix's animated comedy "Big Mouth"—a double-win feat she also pulled off in 2020. Courtney B. Vance of HBO's "Lovecraft Country" and Claire Foy of Netflix's "The Crown" earned this year's drama guest actor honors.
Outstanding structured reality program went to Netflix's "Queer Eye" for the fourth year running, while RuPaul also continued his winning streak as the titular host of "Drag Race." Kristen Anderson-Lopez and Robert Lopez took home the Emmy for original music and lyrics in recognition of "Agatha All Along," their hit tune from Disney+'s "WandaVision." Accepting the honor, Anderson-Lopez took to the stage to say, "Every return to normalcy should come with a big party and a shiny statue."
An edited version of the Creative Arts Emmy ceremony will air Sept. 18 on FXX. Further results will be revealed Sept. 19 at the 73rd annual Primetime Emmys ceremony, broadcast in the U.S. by CBS and Paramount+ and hosted by Cedric the Entertainer. For a full list of nominees and winners and more on TV's biggest week, visit emmys.com.