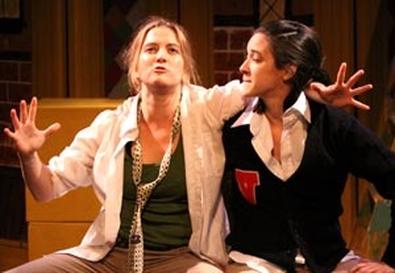 A man dressed as a woman on a Broadway stage is not even a hot topic anymore. Currently, Harvey Fierstein dons drag in the musical "La Cage aux Folles" and Brian Bedford portrays the aged Lady Augusta Bracknell in "The Importance of Being Earnest," which received a 17-week extension in January. Both performances have garnered extremely positive reviews, and the shows generate solid box-office numbers week after week.
Where is the praise, however, for the female actors playing diverse male characters in shows around New York? While men continue to be lauded for embodying the opposite sex, many women do so in obscurity.
Actor Gail Schaefer, a member of Actors' Equity Association's Women's Committee, said she's "fascinated" with cross-gender casting but sees a double standard in it. Many publications, she said, "celebrate men doing roles in drag, or female cast male, but not the other way around." On March 29 in Manhattan, Schaefer moderated an Equity panel discussion titled "Limitless Casting: Could the Best Man for the Part Be a Woman?" Theater professionals from across the spectrum participated—though no one from the casting community responded to Schaefer's invitations.
Schaefer opened the event by noting that, in Equity's nationwide casting notices on March 22, there were eight times as many opportunities for a man to perform in drag or portray a woman as there were for a woman to perform in drag or play a man. During the ensuing 90-minute discussion, the panel of six agreed on one idea: Mainstream theater leadership is conservative, which prevents female actors from branching out from their limited opportunities.
Tradition and Expectation
Panelist Randy Gener, senior editor of American Theatre magazine, suggested that the issue begins with theater's history. "Men playing women is a well-known tradition," Gener said, dating back to ancient Greek and Elizabethan works that are still commonly performed today.
Rebecca Patterson, artistic director of the New York–based Queen's Company, noted, however, that there is a "very rich history of women playing male characters." During England's Restoration period, it was common for female actors to appear as youths, shepherds, and other characters. When playing lead roles, women often portrayed characters considered more feminine, such as Romeo.
Over the centuries, at least 200 women have played Hamlet, according to Richard Schechner, a professor at NYU's Tisch School of the Arts. But the Danish prince is a special case because his sexuality is ambiguous, opening the door for women to portray him. The expectation of realism, though, continues to hinder theater, Schechner claimed: "Rather than thinking of roles as being structured art objects, we always measure them against real life." He argued that it is necessary to "reconfigure what popular audiences are expecting in terms of realism."
"There are many more women trying to be actors at Tisch," Schechner continued. "Yet the role opportunities for women are fewer. I don't see Claudius as a woman normally. We have to get used to that. We will quite quickly, once we get a generation doing it, learn to see something else on the stage." He added, "It's very important that they not change the gender of the role, though," such as turning King Lear into Queen Lear, because that is "giving up." In Schechner's opinion, the goal should be to see what an actor can do with the role as it is written.
Artistry and Ambiguity
There are artists who are certainly up for the challenge, such as Anna Deavere Smith, who plays multiple male and female characters to critical acclaim in her one-woman shows. Another example is Bedford. Though the British performer has received terrific reviews as Lady Bracknell, an elderly woman who embodies upper-class Victorian sentiments, he was initially reluctant to take the role.
Speaking to Back Stage last month, Bedford said, "I'm not a huge fan of drag and never was. I wasn't dying to get into frock and camp around." Eventually, though, he approached her as he would any other character: "I try to work out who she is and play her with dimension, seriousness, and reality." Bedford's case is unusual, however, because he also directed the play, giving him more creative control than an ordinary actor would have.
While studying at the Royal Academy of Dramatic Art, Bedford said, "we were taught that if we wanted to play leading men, we had to be 6 feet tall, aristocratic-looking, and speak with an Oxford accent." That narrow-minded view was reflected in the theater world, he said, and remnants of it may affect casting today.
Joanne Zipay founded New York's Judith Shakespeare Company to counter this bias and give women more acting opportunities. She ensures that the casts of all her shows are at least half female. "Ambiguity is the hardest thing—if you don't know if that's supposed to be a woman or man—because everyone wants everything in category, a nice neat place," Zipay said. "Audiences like clear categories." Her goal is to widen her viewers' perceptions: "You have to get people to see more possibilities, which will help to break down these straight guidelines."
"I've always wanted to play several male roles, especially in the classics," said Sheila Joon, who has worked with Judith Shakespeare Company. As a result of having played traditionally male roles, Joon feels more confident in her abilities as an actor, especially when playing men. When she goes into auditions now, she says, "sometimes I use male monologues if it's a general call for a classical piece. If they need a male character, I will definitely volunteer to read."
She does not, however, recommend this strategy to aspiring actors looking to stand out. Perform a piece meant for the opposite gender only "if you truly love the monologue," she advises. In exploring a variety of male roles, Joon learned that regardless of gender, "the actor needs to connect with the character more than anything else."