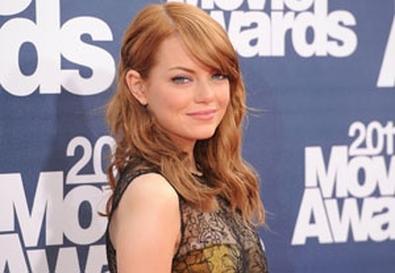 Emma Stone dropped out of high school to move to Los Angeles and try her hand at acting. But instead she ended up working part-time at a dog bakery and enrolling in online classes, she tells the August issue of "Vanity Fair."
She landed her breakout role in "Superbad" in what would have been her senior year.
"I was playing a senior, and had I graduated I would've missed that opportunity, and had I missed that opportunity I wouldn't be here right now," she says.
She also recalls her hardest Hollywood moment: losing out on a role for NBC's "Heroes."
"I could hear that, in the other room, a girl had just gone in and they were saying, 'You are our pick … On a scale of 1 to 10 you're an 11,'" says Stone, who then spotted Hayden Panettiere -- who starred as cheerleader Claire Bennet on the hit -- walking out of the room.
"I went home and just had this meltdown," says Stone, who calls the experience her "rock bottom."
Stone will star in "The Help," "Friends with Benefits," and "Crazy, Stupid, Love" this summer.
She says she has been under pressure to stay thin in Hollywood.
"I'm definitely more conscious of it as I've gotten older," she says. She points out Tracy Anderson's diet and workout plan, which is favored by Courteney Cox and Nicole Richie. "That diet, have you seen it? It's like: Eat this diet, which is a palm-size piece of chicken and some beans, and work out two hours a day for the rest of your life."
Stone, who keeps her figure by rock-climbing at Chelsea Piers in New York City, even says that weight training and Pilates with "Spider-Man" co-star Andrew Garfield "brings out anger in me."
– The Hollywood Reporter