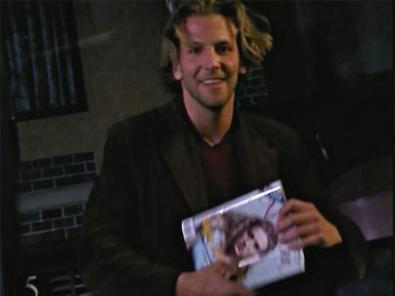 Considered a groundbreaking show when it premiered in 1998, "Sex and the City" followed sex columnist Carrie Bradshaw (Sarah Jessica Parker) and her friends Miranda (Cynthia Nixon), Samantha (Kim Cattrall), and Charlotte (Kristin Davis), as they navigated sex and romance in New York City.
But aside from the four main women, the iconic HBO show had its fair share of guest stars. For some, they were already famous. For others, however, their fame came post-"SATC."
While you wait for the next season of "Younger" (from "Sex and the City" creator Darren Star) and for SJP's upcoming show "Divorce" to hit HBO, get your fix by taking this trip down memory lane. Here are 31 famous actors you totally forgot (or could never forget because you love the show so much) guest-starred on "Sex and the City."
Bradley Cooper
When a deeply upset Carrie goes out for a night on the town after her New York Magazine cover with the headline "Single & Fabulous?" hits newsstands, she finds young, hot Cooper aka Jake. Are you sitting down? The Season 2 episode "They Shoot Single People, Don't They?" is the four-time Oscar nominee's first-ever onscreen role.
Matthew Morrison
In the same episode as Cooper, the "Glee" and "Finding Neverland" star is credited as "Young Busboy." Imagine if the two actors' roles were reversed!
John Benjamin Hickey
Soon to be seen in "Truth" starring Cate Blanchett and Robert Redford and Off-Broadway in the play "Dada Woof Papa Hot," Hickey has been a working actor since the '90s, so it should come as no surprise there's a "Sex and the City" credit on his résumé. In the Season 1 episode "Oh Come All Ye Faithful," Hickey guests as playwright Thomas John Anderson who must immediately shower after sex—something he blames a nun for teaching him. Needless to say, him and Miranda don't last as a couple.
Dean Winters
Way before "30 Rock," "Rescue Me," and "Oz," Winters was John McFadden, Carrie's friend with whom she has casual, no-strings-attached sex in the Season 2 episode "The Fuck Buddy." When she tries to make a relationship out of her non-relationship with John, however, she learns he's just good sex and bad jokes. "Sake to me!" he demands of the waiter in the Japanese restaurant. Oof!
Carrie Preston
This Emmy winner ("The Good Wife") appeared on the Season 2 episode "The Chicken Dance" as Miranda's interior designer Madeline Dunn. When Miranda's friend Jeremy visits, she hopes to sweep him of his feet, but it's Preston that does the sweeping!
Will Arnett
In the Season 2 episode "La Douleur Exquise!" Miranda meets a man in a bookstore who happens to enjoy sex in public places where they can get caught. Who's the guy? None other than five-time Emmy nominee Arnett ("BoJack Horseman," "Arrested Development").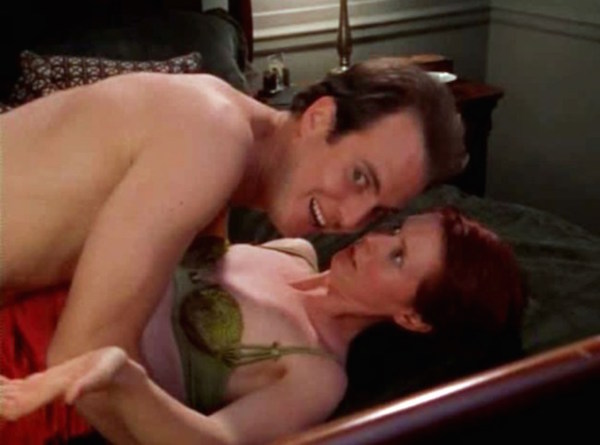 Justin Theroux
"The Leftovers" star guest-starred on "Sex and the City" as two different characters. (And they thought we wouldn't notice!) During the first season, Theroux appeared in the episode "The Monogamists" as Stanford's (Willie Garson) friend Jared, one of New York Magazine's "30 coolest people under 30." In the Season 2 episode "Shortcomings," the actors plays a man Carrie's dating who you-know-whats a little too quickly when they make love.
Elizabeth Banks
Considering her success now, it's hard to believe the HBO sitcom was one of this three-time Emmy nominee's first roles. In the Season 3 episode "Politically Erect," the "Hunger Games" star plays a politician's fiancée at a fundraiser.
Bobby Cannavale
Before he was the highly respected actor he's shaping up to be today, Cannavale played Adam Ball in the Season 3 episode "Easy Come, Easy Go" on "SATC." What was his gimmick, you ask? He played a film director with "the funkiest-tasting spunk," according to Samantha.
Kat Dennings
One of the best celeb cameos on the show, Dennings was just a teen when she graced "Sex and the City." In the Season 3 episode "Hot Child in the City," the "2 Broke Girls" actor plays a 13-year-old spoiled brat who hires Samantha to plan her Bat Mitzvah.
Eddie Cahill
Most recently seen on "Under the Dome," Cahill's first on-screen credit was "Sex and the City." In the Season 3 episode "Boy, Girl, Boy, Girl..." Carrie dates Sean (Cahill), a younger guy who's not afraid to admit he's bisexual. Bonus: Carrie totally kisses Alanis Morissette in the episode.
Matthew McConaughey
Back when McConaughey was doing rom-coms, he played himself on the Season 3 episode "Escape from New York." When he offers to help turn Carrie's columns into a big-budget Hollywood flick, the Oscar winner says he'd play Mr. Big. OK, now that's a version of "Sex and the City" we'd pay to see.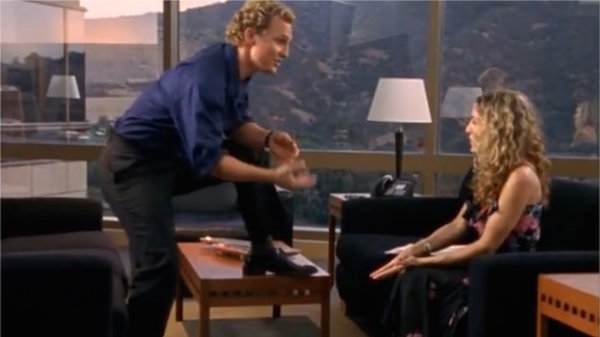 Sarah Michelle Gellar
In the same episode as McConaughey, the former "Buffy" star plays a film executive looking to bring Carrie's column to the silver screen.
John Slattery
Before he was a four-time Emmy nominee ("Mad Men"), Slattery was Bill Kelley, the politician who wanted Carrie to pee on him in two Season 3 episodes of "SATC." She didn't want to though, and suggests she dribble warm tea on him instead. Same diff!
Vince Vaughn
When the girls take a trip to Los Angeles, Carrie meets a handsome agent outside of a club (Vaughn) who impresses her with his fancy bachelor pad. The M. Night Shyamalan plot twist? He's just an assistant and the apartment belongs to his boss. Vaughn, you devil!
Jim Gaffigan
It's true! Even the star of the new "The Jim Gaffigan Show" was one of the "Sex and the City" men. In the Season 4 episode "Defining Moments," Gaffigan plays Doug, a guy Miranda dates who gets too comfortable too fast—meaning he leaves the door open when the uses the bathroom.
Tony Hale
You have to look close to spot the "Arrested Development" and "Veep" star on the hit HBO show. When Samantha poses for nude photos in the Season 4 episode "The Real Me," Hale plays a photo assistant on her shoot.
Margaret Cho
In the same episode, the hilarious comedian Cho plays a fashion designer who insists Carrie models her newest designs on the runway. "You're fucking doing my show," she tells her. (Any "Sex and the City" fan can hear that iconic line in their head perfectly!)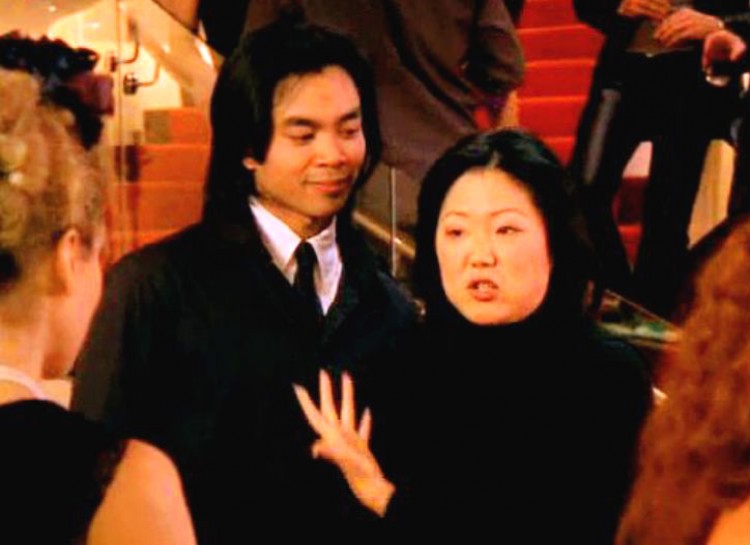 Alan Cumming
Man, the guest stars in this episode never end! Cumming is a critically acclaimed star of TV, film, and theater, so it's no surprise he appeared on "Sex and the City." When Carrie is in her fitting for the fashion show, Cumming is right there with her as O, a high-profile stylist and designer.
Lucy Liu
The "Elementary" actor made a quick cameo in the Season 4 episode "Coulda, Woulda, Shoulda" playing an assumedly exaggerated Queens, N.Y., version of herself. When Samantha takes her on as a PR client and uses Liu's name to buy herself a coveted Birkin bag, she's fired immediately. Not the classiest move, Sam.
Molly Shannon and Amy Sedaris
Shannon and Sedaris teamed up to play Carrie's book agents/publishers for three Season 5 episodes. Sedaris later returns in Season 6 to bump into Carrie on the street for a hilarious couple of lines. Would you expect anything less than hilarious from her though? Come on!
Daniel Sunjata
In the Season 5 episode "Anchors Away," the girls hit the town for Fleet Week and "Graceland" actor Sunjata plays a handsome and eligible sailor on shore leave. Sound familiar, theater lovers? "On the Town," duh!
Nathan Lane
The star of "The Birdcage" and "The Producers" plays a hilarious role in the Season 5 episode "I Love a Charade." Carrie and the girls are shocked when they learn nightlife entertainer Bobby Fine (Lane) isn't gay after all, but is marrying NYC socialite Bitsy von Muffling.
Kristen Johnston
"I'm so bored I could die" are Johnston's last words in the Season 6 episode, appropriately titled "Splat!" The "3rd Rock from the Sun" star plays notorious party girl Lexi Featherston, whose main complaint is that no one in New York knows how to have fun anymore. When she tries to open the window to smoke a cigarette... Well, that's where the title of the episode comes in.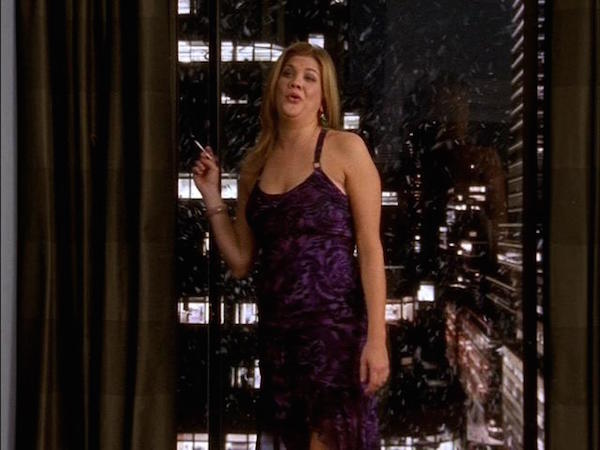 Wallace Shawn
In the same episode as Johnston, Shawn (who's been on everything from "Clueless" to "The Good Wife") plays Martin Garble. When Carrie's editor Enid asks her to bring an eligible bachelor, she's a little disappointed to meet the short, balding Martin.
Candice Bergen
Who better to play Carrie's intimating editor at Vogue than the incredibly talented Bergen? The Oscar-nominated actor ("Starting Over") plays Enid Mead (later Enid Frick) in three episodes of "SATC" and in the first film.
Jennifer Coolidge
Most recently seen on "Gravity Falls" and "2 Broke Girls," Coolidge played Victoria in the Season 6 episode "The Perfect Present," a woman who throws a handbag party the girls are forced to attend.
Blair Underwood
Underwood had a small arc during Season 6 as Miranda's hunky love interest Dr. Robert Leeds. She ultimately leaves him when she and Steve (David Eigenberg) realize they're meant to be (aka one of the best moments in the show's run)!
Anne Meara
The late Meara ("All My Children") appeared in four episodes of "Sex and the City" as Steve's mother Mary Brady. When she starts aging and losing her memory, the situation brings out a compassionate and caring side of Miranda.
David Duchovny
This Season 6 "SATC" episode borrows its title from the hit film starring Angelina Jolie and Winona Ryder. In "Boy, Interrupted," Carrie reunites with her high school boyfriend (Duchovny) only to learn he's checked himself into a mental hospital.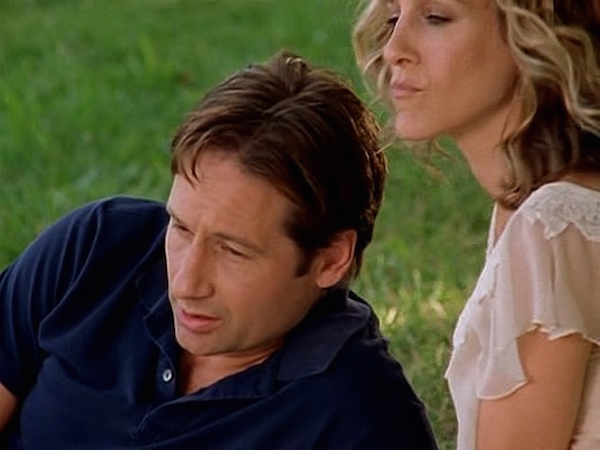 Inspired by this post? Check out our television audition listings!