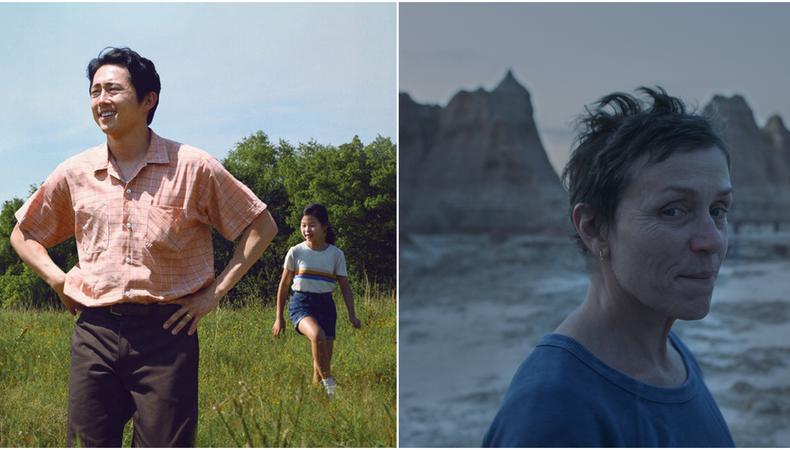 In what is now a full year of production pauses—and film festivals, movie theaters, and award ceremonies scrambling to adapt to a global pandemic—audiences, stuck at home, have depended on film more than ever. You may have seen enough movies to consider yourself a critic! As 2021's awards season forges ahead, albeit virtually, toward the March 15 Academy Award nominations announcement, let's see if your favorites line up with film buffs. Which titles and performances have major critics' groups across North America singled out as worthy contenders?
If this year's Oscar predictions can be gleaned from critic voters, there is no question that "Nomadland" qualifies as a best picture frontrunner. Seven out of 10 critics' groups chose the Searchlight Pictures van odyssey as their top film of 2020, which also triumphed at the Golden Globes for best motion picture drama and director; the latter win made writer-director-editor-producer Chloé Zhao the second woman and first woman of color to ever claim the category. The Toronto Film Festival, Venice Film Festival, and Telluride Film Festival all worked together to premiere the film last fall, along with public screenings in Los Angeles ahead of a Feb. 12 wide release. Furthermore, Zhao won the prestigious Golden Lion, the fifth woman in history to do so in the Venice festival's 77 years, and then the Toronto festival People's Choice Award, marking the first time a film has won both highly coveted honors.
According to the major critics' groups, however, another Academy contender in those same categories is A24's "Minari." The top choice of New York Film Critics Online, writer-director Lee Isaac Chung's quasi-autobiography about a South Korean–American family moving to an Arkansas farm won the Grand Jury Prize when it premiered at Sundance in January 2020, then the Golden Globe Award for Best Foreign Language Film—which last year's "Parasite" won before going on to take four top Oscars including best picture.
When it comes to the best director race, every notable critic organization turned back to "Nomadland." If Zhao wins the Academy Award, she would be only the second woman in Oscar history to do so alongside Kathryn Bigelow in 2009 for "The Hurt Locker." Critics are also widely praising Frances McDormand's performance as the lead of "Nomadland"; six out of these 10 groups honored her performance, while the other four were split evenly between Sidney Flanigan for Focus Features' "Never Rarely Sometimes Always'' and Carey Mulligan for "Promising Young Woman." It's worth noting that the latter also recently claimed best actress at the Critics' Choice Awards. (Interestingly, none of those three leading ladies won a Golden Globe; Andra Day for her depiction of Billie Holiday in "The United States vs. Billie Holiday" and Rosamund Pike of Netflix's "I Care a Lot" claimed the prizes for actress in a drama and comedy, respectively.)
The late Chadwick Boseman, for his leading performance in Netflix's "Ma Rainey's Black Bottom," also earned a Golden Globe and Critics' Choice honors in addition to four of the critics organizations below. Another four selected Riz Ahmed's performance in Amazon Studios' "Sound of Metal" as the best of 2020.
Will "Nomadland" or "Minari" take home Oscar gold? Will the Academy agree with most critics and posthumously honor Boseman? And which five names will be announced March 15 in the competitive leading actress category? Keep up with Backstage's award season coverage to find out!
Boston Society of Film Critics
The Boston Society of Film Critics, formed in 1981, awards films that have a theatrical release in Boston. Their organization works to ensure Boston's unique critical perspective is heard on a national level.
Best Picture: "Nomadland"
Best Director: Chloé Zhao, "Nomadland"
Best Actor: Anthony Hopkins, "The Father"
Best Actress: Sidney Flanigan, "Never Rarely Sometimes Always"
Chicago Film Critics Association
Founded in 1990, the Chicago Film Critics Association boasts the only film festival entirely programmed by a critics' group.
Best Picture: "Nomadland"
Best Director: Chloé Zhao, "Nomadland"
Best Actor: Chadwick Boseman, "Ma Rainey's Black Bottom"
Best Actress: Frances McDormand, "Nomadland"
Los Angeles Film Critics Association
Comprised of Los Angeles-based professional film critics and founded in 1975, this group is also known for including a Career Achievement Award and New Generation Award.
Best Picture: "Small Axe"
Best Director: Chloé Zhao, "Nomadland"
Best Actor: Chadwick Boseman, "Ma Rainey's Black Bottom"
Best Actress: Carey Mulligan, "Promising Young Woman"
New York Film Critics Circle
The New York Film Critics Circle Awards are the oldest given by film critics in the country, and are considered a significant harbinger of recognition by the Academy Awards.
Best Picture: "First Cow"
Best Director: Chloé Zhao, "Nomadland"
Best Actor: Delroy Lindo, "Da 5 Bloods"
Best Actress: Sidney Flanigan, "Never Rarely Sometimes Always"
LISTEN: Delroy Lindo joins Backstage's "In the Envelope" podcast!
New York Film Critics Online
Founded in 2005, this organization is solely comprised of internet, NYC-based critics of film.
Best Picture: "Minari"
Best Director: Chloé Zhao, "Nomadland"
Best Actor: Riz Ahmed, "Sound of Metal"
Best Actress: Carey Mulligan, "Promising Young Woman"
San Francisco Bay Area Film Critics Circle
This organization is comprised of local Bay Area publications' critics and was founded in 2002.
Best Picture: "Nomadland"
Best Director: Chloé Zhao, "Nomadland"
Best Actor: Chadwick Boseman, "Ma Rainey's Black Bottom"
Best Actress: Frances McDormand, "Nomadland"
Seattle Film Critics Society
Newly founded in 2016, The Seattle Film Critics Society supports local efforts in critically engaging cinematic arts and represent print, radio, television, and online critics based in Seattle and throughout Washington.
Best Picture: "Nomadland"
Best Director: Chloé Zhao, "Nomadland"
Best Actor: Riz Ahmed, "Sound of Metal"
Best Actress: Frances McDormand, "Nomadland"
Toronto Film Critics Association
Established in 1997, the Toronto Film Critics Association is affiliated with the International Federation of Film Critics (FIPRESCI). Its Toronto-based journalists and broadcasters comprise the membership and they also present the Clyde Gilmour Award to a Canadian who has enriched the understanding of film in Canada.
Best Picture: "Nomadland"
Best Director: Chloé Zhao, "Nomadland"
Best Actor: Riz Ahmed, "Sound of Metal"
Best Actress: Frances McDormand, "Nomadland"
Washington D.C. Area Film Critics Association
Founded in 2002 and comprised of over 50 professional D.C.–based film critics, this organization works to advocate freedom of expression in film and film criticism.
Best Picture: "Nomadland"
Best Director: Chloé Zhao, "Nomadland"
Best Actor: Riz Ahmed, "Sound of Metal"
Best Actress: Frances McDormand, "Nomadland"
Vancouver Film Critics Circle
The Vancouver Film Critics Circle was founded in 2000 in order to help promote Canadian films and the British Columbia film and television industry. In their honors they include both international and Canada-specific categories.
Best Picture: "Nomadland"
Best Director: Chloé Zhao, "Nomadland"
Best Actor: Chadwick Boseman, "Ma Rainey's Black Bottom"
Best Actress: Frances McDormand, "Nomadland"