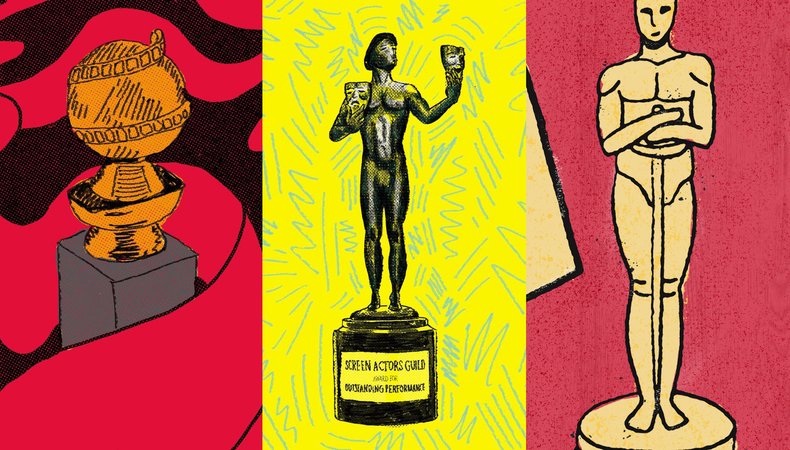 Want the inside scoop on all things awards? Welcome to Letter From the Awards Editor, our series in which Backstage's Jack Smart takes a look at the latest film and television news, industry trends, and awards projections that matter to today's working actor.
Dear Backstage awards enthusiast,
How are you in the middle of this awards season? Its pandemic-induced extension, stretching the Oscars and all precursors into late April, means there's more opportunity to check in with each other. We have the breathing room to take stock of Hollywood, its overall direction and trends, the ways it's responding to upheavals that will surely change the industry forever. Last year's film and guilds season, over and done with by March, was a 100-meter dash. This year's is an easygoing charity 5K. I've still got my running shoes on, the difference is I have more time to stop and think of random metaphors.
In a typical film awards season, Phase 1 nominating and Phase 2 voting are more or less delineated by the starting gun: the Golden Globes. Their function—a glitzy soiree broadcast on TV for all, including Oscar voters, to see—has everything to do with their timing, giving a high-profile boost to the movie stars contending in other races. So I'm curious to see how this year's Globes, airing in late February, affects Screen Actors Guild Award voting, underway until March 30. Since we have yet to even see nominations from BAFTA and several guilds, the season's first big ceremony could, unlike last year's compressed schedule, sway results.
As for Oscar nominating—which begins today!—remember that although the Globes' Hollywood Foreign Press Association and the Academy of Motion Picture Arts and Sciences have no membership overlap, half of the Oscar best picture winners in the last decade first earned either of the two possible best picture Globes. And it's the Globes' film drama races, rather than comedy or musical, that often line up better with the Academy Awards. (Last year, Awkwafina and Taron Egerton joined the ranks of Globe winners who missed the Oscar cut-off, so don't lock 2021 Globe victors Rosamund Pike and Sacha Baron Cohen into your Academy ballot just yet.)
Another key Globes takeaway, reflective of this bizarre season: the later the arrival, the better. To be perfectly transparent, I was skeptical about the prospects of delayed projects, as it seemed to indicate a slapdash adaptation to a chaotic film season rather than an intentional campaign strategy. But winners Daniel Kaluuya of "Judas and the Black Messiah" (Feb. 12), Jodie Foster of "The Mauritanian" (also Feb. 12), Pike of "I Care a Lot" (Feb. 19), and Andra Day of "The United States vs. Billie Holiday" (Feb. 26) may have all benefited from this year's drawn-out voting windows, with their films' buzz peaking at just the right moment.
The same is true for the night's big drama winner, Searchlight Pictures' "Nomadland," which garnered steady momentum through most of last year's major film festivals but did not premiere widely until that magical date, Feb. 12. While Globe champs "Borat Subsequent Moviefilm," "Ma Rainey's Black Bottom," and "The Trial of the Chicago 7" premiered earlier, last fall, it's now safe to bet all will be in the mix for Oscar. SAG and WGA voters recognized all three, and I'd wager next week's guild announcements, the DGA and PGA, will help solidify the frontrunner status of all the above. The Critics' Choice Awards, chiming in this weekend, will also provide some clarity.
These results are telling of several current trends, like the continued preference for titles available on streaming services, or this year's race being mostly void of big-budget blockbusters. But I'm more interested in the enduring narrative we've seen at last year's Oscars and Emmys, and surely more awards to come: the increasingly mainstream conversation around diversity, inclusion, and equity in media. When the nominations from major awards organizations garner more and more vocal criticism from artists and pundits more and more concerned with racism, misogyny, and other systemic biases, it throws the essential purpose of awards shows into question.
Last week's realization that the 80-something membership of the HFPA hasn't included Black journalists in years (and has allegedly engaged in corrupt voting practices) provides yet another microcosm of a fundamental identity crisis facing Hollywood. To what extent could and should awards bodies rethink or rebuild to reflect audiences? Is it the chicken or the egg, whether voters need to recognize more diverse storytellers or Hollywood needs to greenlight more diverse stories? The same discussions are happening with AMPAS, which has launched several diversity initiatives in the wake of the persistent #OscarsSoWhite outcry, and with the Television Academy's Emmys, which are making what I called baby steps to address a rapidly evolving culture and conversation.
It makes sense that particularly amid this now year-long pandemic, a time of individually and collectively being forced to stop and remember and reassess our values, Hollywood's awards bodies are realizing the ways they no longer have their finger on audiences' pulse (or are wondering if they ever did). And as always, the awards are emblematic of their industry, currently undergoing a sea change of historic proportions. At this rate, with so much in flux and so much scrutiny of long-lasting institutions, this letter is a time capsule that will feel like the distant past even a year from now.
Who are you rooting for amid this unusual awards race, dear reader? If you could rewrite the 2021 Globe results, who would you recognize? And if you are a SAG-AFTRA member in good standing, remember (friendly reminder here!) that you have the power to shape these ongoing narratives and select the actors and ensembles that truly reflect the best this industry has to offer.
Sincerely,
Jack
Some More Smart Stuff:
Speaking of SAG Award voters, it's OK to admit you need a refresher on this year's nominees! Don't be shy! You've come to the right place. Our voting guides break down the different SAG categories and are updated throughout the season, so the archives are great for bookmarking.
Backstage's succession of the starriest of cover stars continues, with the charismatic Tom Holland, the Golden Globe–winning Gillian Anderson, and the hilarious Kenan Thompson.
Attention, performers: The Actor's Toolkit is our newest video series providing expert advice on how to use Backstage to grow your career. Check out the recent episode on voiceover and user-generated content, and stay tuned with our ongoing series of on-camera seminars and Q&As here.
Looking for remote work? Backstage has got you covered! Click here for auditions you can do from home!