If you're a filmmaker who's just starting out, deciding which festival(s) to submit your movie to can be a daunting experience. Smaller festivals and side competitions from the majors can be exciting places to launch a film. Whether you've wrapped up your first project or are dreaming up your next, here are a few festivals to consider submitting to.
If you're submitting a short film:
While most fests have shorts programs, it can be hard for a short to distinguish itself among the more highly publicized narrative and documentary features—which is why a specialized fest like Aspen Shortsfest might be a better option for you. Not only do short films get the spotlight here, but the festival's selections are eligible for Academy Award consideration.
Raindance is both a film school and festival. Its educational arm has hubs in Mexico City, Dubai, and London, while the festival itself takes place annually in London. Though all kinds of films are featured here, Raindance's shorts programming is regarded as particularly strong due to its connection to the film school. As a result, it gives young filmmakers an opportunity screen their movies to a specialized audience of industry executives and buyers to help jump-start their careers.
RELATED: How to Make an Indie Film
If your film captures a marginalized experience:
Every summer, queer filmmakers from around the world gather in the heart of Hollywood for Outfest. The festival's programs showcase shorts, features, documentaries, and even episodic TV shows from around the world. It also gives queer filmmakers and storytellers the chance to showcase their work and make industry connections. Other LGBTQ+ fests include the Seattle Queer Film Festival, Atlanta's Out on Film, and New York City's NewFest. A quality film can be selected for multiple fests during the year, building its reputation as it goes along.
In addition to these specialty festivals, Cannes and Venice offer the Queer Palm and the Queer Lion, respectively. These independent awards are named after each festival's premiere award, and LGBTQ+ films in all sections are eligible. The Berlin International Film Festival has a similar award, the Teddy.
One of the latest additions to the film festival calendar is BlackStar, a Philadelphia-based gathering that showcases the work of Black, Brown, and Indigenous storytellers. With an emphasis on the stories of those who have traditionally been overlooked, BlackStar has filled a vital niche. Though it's only about a decade old, this festival has become a favorite of filmmakers from the Global South.
Similarly, the New York Latino Film Festival offers Latinx filmmakers from around the world a venue for their films. Like BlackStar and Outfest, it offers professional development programs and networking opportunities, as well as a chance to highlight films for the local and national press. This festival also offers creators access to NYC's discerning movie audiences, art institutions, and industry ties.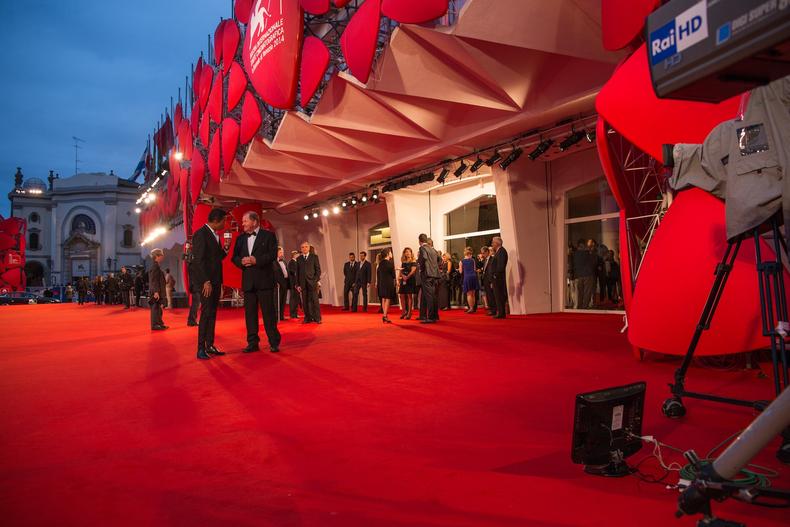 taniavolobueva/Shutterstock.com
If you are from—or your film is about—a specific region:
Festivals are more likely to feature and promote the work of filmmakers from their own communities. In fact, during the submission process, many organizations will ask if the filmmaker is local. The Atlanta Film Festival is one of the biggest in the U.S., and it favors filmmakers from Southern states. Its location in the hub of Georgia's thriving film industry—where many Hollywood blockbusters and high-profile TV shows are now shot—makes it an appealing destination.
Austin is best known for its film conference at South by Southwest, recently renamed the SXSW Film & TV Festival to reflect its history of premiering both television series and movies. SXSW is open to filmmakers of all levels, with additional offerings including panels, mentorship sessions, and workshops. There's also the lesser-known Austin Film Festival, which takes place in the Texas capital every autumn. The fest's writing competition puts a special concentration on writers and garners thousands of entries across the screenplay, teleplay, playwriting, and podcasting categories. If your film isn't ready but you've written the screenplay, this is one of your better options.
If your film is genre-specific:
Horror is enjoying a resurgence thanks to filmmakers like Jordan Peele and Ari Aster. People just want to get that collective jolt in the dark—perhaps with a side of social commentary. Montreal's Fantasia bills itself as the "vanguard of international genre cinema." Famous for its inclusive, fan-welcoming atmosphere, the fest is considered a central destination for horror aficionados. This grounded, congenial community culture makes Fantasia the antidote to film snobbery.
Fantasia's U.S. equivalent is Fantastic Fest, which takes place in Austin. The vibe is similarly all about appreciating genre fans, and the programming is elastic enough to include both the latest gross-out horror sensations and artful genre movies that may appear in more cinephile-focused festivals.
If you're ready for the big leagues:
Arguably the most prestigious film festival in the world, Cannes takes place along the French Riviera and attracts top international auteurs. This is where the likes of Jane Campion and Bong Joon-ho unveil their latest masterpieces, but its sidebar programs are more open to budding filmmakers. If you're just starting your career, it's wise to consider the Un Certain Regard (features and documentaries) or La Cinef (short films) sections, as well as two long-running parallel sections: Directors' Fortnight and Critics' Week, both of which highlight more daring films from around the world. Filmmakers who have broken out in these sections include Chloé Zhao, Jim Jarmusch, Pablo Larraín, and the Safdie brothers.
The Venice International Film Festival—or Mostra Internazionale d'Arte Cinematografica, as it's known in Italian—has the distinction of being the oldest film festival in the world. Along with Cannes, Berlin, Toronto, and Sundance, it's one of the "Big Five" fests globally. Like Cannes, Venice's main competition only plays world premieres from major international filmmakers, reserving its sidebars for up-and-coming titles. The Orizzonti section showcases experimental work, and at Venice Days, you'll find more unconventional films.
If you're looking to join the latest in world cinema "under the stars," then consider submitting to the Locarno Film Festival. Its biggest screenings happen outside during the summer in the Piazza Grande in Locarno, Switzerland. Perhaps the most experimental of the big European festivals, it's smaller than Cannes or Venice. It's also less glitzy and industry-focused while being a friendlier environment for cinephiles.
A staple of American independent film for 44 years, Sundance is considered the premier American film festival. Thanks to its January timing, it's also the conversation starter for the cinematic year, announcing trends and exciting new writers and directors. The best way for a new filmmaker to make it to Sundance is by applying to one of its lab or mentorship programs, where you can polish off that unfinished screenplay or rough cut of a new film.
This story originally appeared in the Sept. 8 issue of Backstage Magazine.