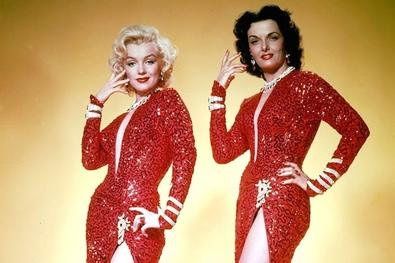 This Friday, the second installment of the Channing Tatum, Jonah Hill-starring buddy cop film "22 Jump Street" is out in theaters. Audiences already know the "bromance" film formula, but what about some famous on-screen "Womances"? Check out our slideshow highlighting some of film's best examples of dynamic lady duos.
Thelma and Louise, "Thelma & Louise"

This Oscar-winning film is probably the most well-known lady duo example. Starring Susan Sarandon and Geena Davis, the 1991 flick follows two women—a waitress and a housewife—running away from the law and life after they shoot a rapist and take off into the sunset in a '66 Thunderbird.
Sally and Gillian Owens, "Practical Magic"
In 1998 Nicole Kidman and Sandra Bullock had us under their spell in "Practical Magic," where they play sisters with the gift of sorcery after being taught a little "practical magic" when they were girls. Now women, the two must learn to navigate their different personalities and the obstacles of love with a little help from their wacky aunts (Stockard Channing, Dianne Wiest).
Nisi and Mickey, "B*A*P*S* [Black American Princesses]"
Though "B*A*P*S" might be often overlooked or forgotten, Nisi and Mickey—played by Halle Berry and Natalie Desselle, respectively—are the ultimate duo. When these tacky girls move to L.A. to become dancers, they somehow end up scamming a millionaire and becoming B.A.P.S., Black American Princesses.
ZaSu Pitts and Thelma Todd, "On The Loose"

One of the original BFFs, ZaSu Pitts and Thelma Todd starred in dozens of films together in the 1930s including "Let's Do Things," "On The Loose," and "Catch as Catch Can." The two had each other's backs when they found themselves in nightclubs with dumb men, on the beach at Coney Island, or face-to-face with a runaway lion.
Lauren and Sandy, "Outrageous Fortune"
Some of the best friendships are ones that form from the pressure of necessity. When an abrasive actor (Bette Midler) and a former ballerina (Shelley Long) team up to find the man they're both dating, the two embark on an adventure that spans states to find him. While at the end of the film, the two become great friends, it seems being on set was a little "rougher."
Dorothy Shaw and Lorelei Lee, "Gentlemen Prefer Blondes"
Are diamonds or Dorothy your best friend? Starring Marilyn Monroe and Jane Russell, this film includes Monroe's rendition of the famous tune "Diamonds Are A Girl's Best Friend," and follows best friends and singing duo Lorelei and Dorothy when they go to Paris so Lorelei (Monroe) can get hitched to a French millionaire. Things get wacky in the 1953 film when they find they're being pursued by a private detective hired by her soon-to-be husband.
Max and Page Conners, "Heartbreakers"
It's all in the last name. "Heartbreakers," starring Sigourney Weaver and Jennifer Love Hewitt, is the ultimate in mother-daughter team work; the two gold diggers work together to scam rich men out of their money. The 2001 film also stars Gene Hackman and Ray Liotta.
Beverly Donofrio and Fay Forrester, "Riding in Cars With Boys"

Starring Drew Barrymore and the late Brittany Murphy, "Riding in Cars With Boys" takes place in 1965 and follows two best friends who support each other after both getting pregnant at a young age. Although circumstance forces the two apart, their friendship has long-lasting effects.
Kate and Angie, "Baby Mama"
Another friendship born (ha, get it?) from necessity. Real life friends Tina Fey and Amy Poehler got together to make this funny flick back in 2008 about a woman who finds out she can't bear children and hires a trashy woman to be her surrogate mother. Nothing brings people together like babies!
Nicole Horner and Christina Delassalle, "Diabolique"
As we saw in "Outrageous Fortune," sometimes a common lover can bring women together. Add a dash of murder and now you're more in the vein of this 1955 French film about the wife of a callous headmaster who teams up with his mistress to kill him. After the deed is done, the diabolical duo begin to experience supernatural events before the truth is uncovered.
Minny Jackson and Aibileen Clark, "The Help"
Based on the novel of the same name, the film about two African American maids living in 1960s Mississippi is the role that landed Octavia Spencer an Oscar and her co-star Viola Davis a nomination. The two play best friends in this story about a writer who decides to write a book about racism through the lens of the maids' view on the white families they work for and their daily struggles.
For info on another great on-screen woman, check out "Maleficent" Screenwriter Linda Woolverton!