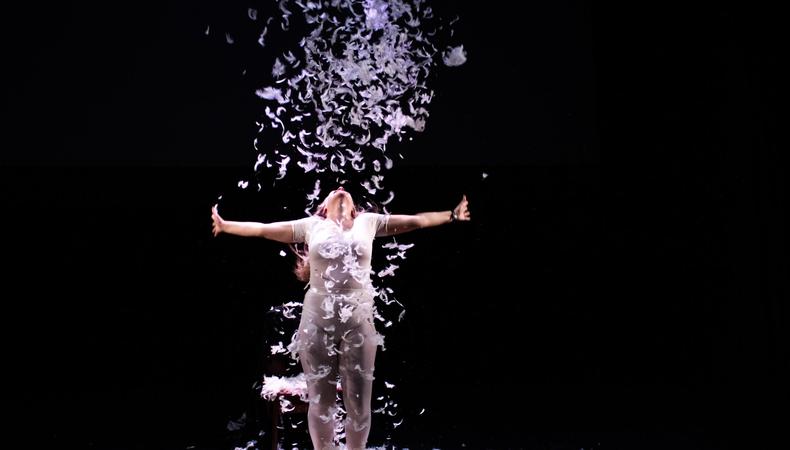 Nanna Gunnars didn't set out to run her own performance festival. Just a few years back, the European performer was waist-deep in her own artistic company, looking for ways to share her one-on-one artist-to-audience piece of theater. But when the chance to not only get involved with but found and run the Reykjavík Fringe festival crossed her path, she knew an opportunity when she saw one. Here's how Gunnars turned an idea into an artistic haven for hundreds of artists, and how every performer can and should seize their space.
What is your role in the RVK Fringe?
I came up with the crazy idea to run it, so I get to give myself the super cool title "Festival Director and Founder."
How did you first become involved?
The idea of starting the Reykjavík Fringe festival isn't originally mine. I think of myself as a performer first and foremost, that has by chance ended up in producing and as a festival director. I run a theater-digital arts company called Huldufugl with my partner, and we had made a one-on-one theater show in virtual reality for the Reykjavík Culture Night in 2017 called Kassinn ("A Box In The Desert" in English). With such a niche show we thought that a fringe festival would be the perfect place to show it again, but there had never been a Fringe festival in Iceland. Seeing as the show is only for one person at a time—and therefore completely unprofitable—we didn't want to splurge on taking it abroad, and as we were a newly-established company it would be hard to get funding to take it anywhere. Then I saw an advertisement for Reykjavík Fringe on social media and applied for the festival and got in. I remember thinking what a great initiative it was and a platform that was sorely missing in the Icelandic art scene. However, the festival got cancelled.
I kept thinking to myself what a shame it was that the Reykjavík Fringe didn't take place for a few months after. Then in early 2018 I thought, Why don't I just do it? I got in touch with the previous team and asked if I could either join their team, or take over from them if they had given up on the idea. After getting a lot of tips and pointers I ended up taking over. The previous team had done a lot of groundwork, but I still needed a team to help me with this. After mentioning the idea to a few friends I managed to recruit Jessica LoMonaco as a co-producer and Sindri Þór Sigríðarson as a finance manager. When we were a team of three we decided to give it a go. So the first RVK Fringe festival took place in July 2018, after only about three or four months of planning. Somewhat to our surprise, it all went pretty smoothly, and we are determined to keep on going with a yearly festival that will only get better each year.
Why do you think RVK Fringe is an essential performance festival?
It is mainly essential for the locals. Iceland has an immensely creative art scene. Despite its small population, there is a great number of fantastic performers, musicians, designers, filmmakers and artists in other fields. However, most festivals in Iceland cater to a particular artform, and the majority of the bigger ones focus on music. With RVK Fringe artists from all genres can come together and perform at the same festival. By creating an atmosphere where all the artists can mix and mingle, the festival can lead to some new collaboration and cross-disciplinary art being created.
READ: How Actors Can Use This International Fringe Festival to Reclaim Their Voice
What does RVK Fringe offer that no other festival nor performance space does?
RVK Fringe benefits from the fact that Iceland is a popular tourist destination. There's also a lot of interest in Nordic culture. It's an open-access festival, so as long as we can find a venue to fit the applications we receive, then it's an easy way for foreign artists to get a taste of the Icelandic art scene and enjoy what the country has to offer at the same time. The festival takes place at the height of summer, when we are blessed with the midnight sun and we try to make the most of the 24 hour daylight. The festival is small in size and very personal. We try our best to get to know all the artists and see as many shows as we can between the organizing team. Our first year we had 50 acts and in our second year we had 100, and likely we will stay between 50-100 in the coming years. As a result, I personally know the name of every artist that has participated in the festival.
What are the things that you look for and what stands out in prospective talent for the festival?
We do want to encourage local artists to apply, and we also encourage artists to "bring their own venue," which means seeing performances in unusual performance spaces, such as in garages, living rooms, bus stops, boats. Diversity will always be a big part of the festival, with artists coming from every corner of the world and performing in every imaginable art sector. And of course every fringe supports artwork from any and all marginalized groups!
For the performers, what is gained from taking part in RVK Fringe?
Besides being a lot of fun, we try to create a supportive environment and a strong sense of community between the artists. All artists receive an Artist Pass, that gives them free entry to each other's shows. That way they all get to see each other's work and end up developing friendships and promoting one another. Additionally, we're working on several international collaborations in order to help artists tour their work. RVK fringe has only taken place twice—and is entirely run by volunteers with hardly any funding—and we're still implementing new and exciting things to strengthen this community. So far we have sent performances to the Brighton Fringe, several shows have made the most out of touring the Nordic Fringe Network, and in 2020 we'll be sending a show to San Diego Fringe and to the Act Alone festival in the Westfjords of Iceland. We are currently in talks about getting a "sister" festival in North America, too.
What advice would you give to performers interested in participating in any fringe festival?
The fringe festival can only do so much for you; a lot of the work needs to be done by yourself. Make sure you have great marketing material, be active on social media, but most importantly, get to know other artists. Attend every free workshop, lecture, and networking event the festival offers. If at all possible, try to show up a few days before your first performance just to get to know the city, put up your posters, try to score a local interview with the press and talk to locals and other performers about your show to get word of mouth going.
In general, why do you think fringe performance is important for the broader artistic landscape?
Fringe festivals are extremely important to give newcomers a stage. Everyone needs some place to start, and by participating in a festival, performers may polish their performance and gain the confidence to take their work further.
Is there anything you think is misunderstood about fringe performance? (Now is your chance to clear it up!)
I've met a lot of people that believe a fringe festival only focuses on one type of artistry ("it's a comedy festival" or "it's a theater festival"). What I think is the greatest thing about fringe festivals is they include everything that could possibly be considered art or performance, and you are bound to find something that's hard to classify and that you've never seen before. Also, just because it is "fringe" doesn't mean it can't be mainstream. Some people think it is only something weird and out of the ordinary that they are not interested in, whereas the truth is that many big name artists regularly participate in fringes around the world, and a fringe festival is often where they got their big break. Basically, there is something for everyone at a Fringe festival!