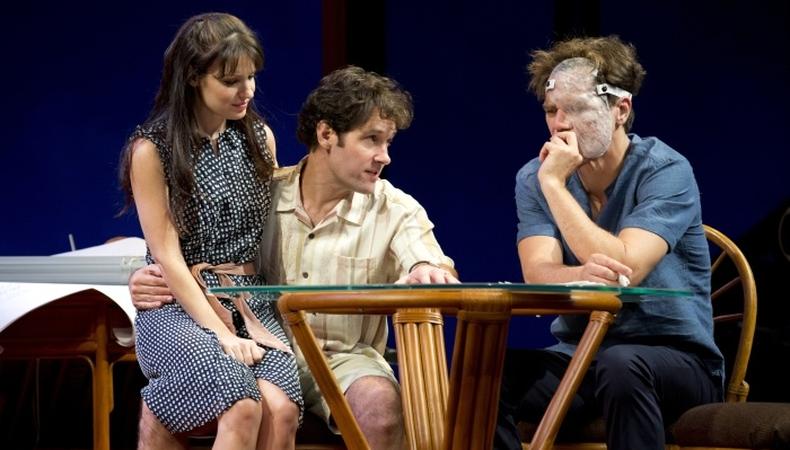 "Grace" starts and ends with the same bang. The moment is the low point for the characters—no spoilers here, so infer what you will about the source of that bang—and a high point for the play, as it's the only real moment of action. But by opening with the final scene, which is played in reverse as if in literal rewind mode, then re-starting the events from the beginning and moving forward chronologically, playwright Craig Wright highlights his own muddled plot and rocky character development. Combine that with some disorganized staging and an overly metaphorical scenic design, and you're likely to fall from "Grace" faster than its characters.
Steve and Sara have just moved from Minnesota to Florida to start a chain of gospel-themed motels called "Crossroads Inns" (a name Sara hates, but Steve makes all the decisions). The couple meets Karl, an exterminator and Holocaust survivor who bristles when Steve tries to convert him, and their neighbor, Sam, a lonely computer genius who recently lost his fiancée in a car wreck that also caused irreparable cosmetic damage to the left side of his face. Sara and Sam forge a clandestine friendship, though they hardly interact onstage until they are "breaking up." And as Karl and Sam gain faith, Sara and Steve start to lose theirs, with drastic results.
Wright relies on harsh evangelical stereotypes to define the married couple. Steve is pushy and ignorant, trying to bring the gospel to everyone who crosses his path. Sara is a baby-starved housewife who is bored at home all day. Karl and Sam are the more interesting characters, though their arcs feel more like foils for Steve and Sara's epiphanies.
Paul Rudd, while engaging and commanding onstage, is miscast as Steve. At times, it seems like he's just reprising his distant husband character from "Knocked Up," and he struggles to find what little humanity Steve has. Kate Arrington plays the stereotype exactly as written, though she and Michael Shannon share a lovely scene in which their characters actually have an honest conversation about faith. Ed Asner's supporting role as Karl endeavors to answer the eternal question, "If there is a God, then why is there evil?" Asner struggles with a German accent, though his comic timing has never been better and he adds a few laughs to an unfunny evening. Shannon's acting is the light in the tunnel. He delivers a gentle and moving performance, one that will hopefully be the first of many on Broadway.
Director Dexter Bullard grabs hard for the overreaching religious metaphor, and Beowulf Boritt's too-sparse scenic design clashes with an absurd, clichéd heavenly backdrop. Although the play takes place in two apartments, there is only one represented on stage; characters that are supposed to be in two different locations are actually walking around in the same one, which creates confusion. The wicker furniture and sliding glass doors are nice though expected Florida details, and Tif Bullard's costumes are simple, though appropriate.
Faith is a heated issue and Wright deserves credit for trying to breach the discussion, but he doesn't bring up any revolutionary talking points.
Presented by Debbie Bisno, Fox Theatricals, Paula Wagner, Jed Bernstein, and Jessica Genick, in association with Christian Chadd Taylor, Miles Marek/Peter May, Bruce Bendell/Scott Prisand, William Berlind/Amanda Dubois, and Alex DiClaudio/LaRue-Noy at the Cort Theatre, 138 W. 48th St., NYC. Oct. 4–Jan. 6. (212) 239-6200 or www.telecharge.com. Casting by Caparelliotis Casting.
Critic's Score: C-